Asphalt Shingle Roof Installation
Nationwide Services
Asphalt shingle roof installation emerged as a popular and cost-effective system during the early 1900s.
Property owners needed a commercial shingle roofing system that provided sound water removal and fire resistance at a reasonable cost.
The process and materials used to craft asphalt shingles, as well as the efficiency of a new installation or asphalt shingle roof replacement made them a go-to solution.
If you have an aging roof or one that may have sustained roof hail damage or roof damage from a high-wind storm, it's crucial to schedule a roof inspection before the building suffers water damage.
Let's take a closer look at asphalt shingle roofing.
Call Now For Emergency Services
What is an Asphalt Shingle Roof?
An asphalt shingle roof installation continues to dominate residential and commercial buildings. Upwards of 80 percent of single-family homes and commercial buildings with a pitch rise of 3 inches over 1 foot of horizontal run or greater employ asphalt shingle roofing systems. The overlapping shingles provide excellent water removal and an aesthetically pleasing appearance.
Each shingle includes uses a hot asphalt process that creates a determined moisture barrier known to prevent water damage. Stone granules are embedded into the shingle's face to provide an added layer of protection against severe weather, debris, and premature degradation. Asphalt shingle roof installers typically suggest the following types for commercial properties.
3-Tab Asphalt Shingle Roofing Installation
In this type of roof, the materials lay flat, and each strip presents three symmetrical tabs.
Property owners may select 3-tab shingles for their appearance and cost-effectiveness.
Architectural Asphalt Roofing System
This installation also uses shingles that provide excellent water removal. Architectural shingles offer wide-reaching design opportunities that can emulate wood shake, tile, or slate roofs.
Architectural shingles are the most popular choice for shingle roof installation due to their diversity of design options.
Designer Roof Shingles
Technological advancements have been integrated by roofing materials manufacturers.
Designer roof shingles rank among the premium options and are typically larger than others in their class.
They offer the ambiance of old-world designs without the increased labor expense.
50-Year Roof Shingles
Considered an industry-leading asphalt roofing material, an installation requires a certified expert.
When constructed by an expert asphalt shingle roof installation contractor, property owners enjoy a 50-year warranty.
It's important to keep in mind that an asphalt shingle roof replacement or new installation involves a great deal more than just the top layer. The primary function of a commercial shingle roofing system is to protect that structure and contents against pest infiltrations and water damage. Accomplishing this task requires experienced and diligent asphalt shingle roof installers to construct the following.
Roof Deck
Roof Flashing
Underlayment
Drip Edge
Ice and Water Damage Shield
Asphalt Shingles
Ridge Cap
Seal Roof Vents
An expert asphalt shingle roof installation contractor builds each layer with precision to maximize water removal effectiveness and longevity. When a commercial building sustains damage from extreme weather or a hard hail impact, asphalt shingle roof replacement or repair decisions call for a thorough inspection.
When You Need Asphalt Shingle Roof Installation
The two primary reasons asphalt shingle roofing systems need replacement revolve around life expectancy and damage.
Commercial shingle roofing installations typically last 20-25 years.
A reputable asphalt shingle roof installation contractor generally advises property owners to replace an asphalt shingle roof when it reaches 80-85 of its life expectancy, based on a roof inspection.
That's largely because waiting too long often results in a leaking roof, water damage to structural elements, and expensive building restoration.
The other reason involves severe weather events inflicting damage and causing shingle roof leaks.
Hail, high winds, hurricanes, and tornado roof damage rank among the leading reasons for early asphalt shingle roof replacement.
Shingle Roof Installation After Hail Damage
About 70 percent of insurance claims in the U.S. result from hailstorm incidents. It's essential for commercial building owners to schedule a roof inspection following a hailstorm.
A misconception exists that relatively small hailstones do not damage roofs. Unfortunately, ice stones the size of a quarter cause shingle roof hail damage by loosening the protective granules.
Ice stone strikes the size of hen eggs or baseballs inflict heavy shingle roof hail damage by puncturing and cracking materials. And hail impacts also diminish the effectiveness of sealants, and that leads to a leaking roof and water damage.
Once the protective outer layer, flashing, or vent sealants have been compromised, delaying a roof inspection and shingle roof repairs may ruin the roof deck, insulation, and rafters. Property owners who delay typically incur the expense of widespread restoration.
Shingle Roof Installation After Wind Damage
Asphalt shingle roof wind damage can occur even when a storm doesn't get named by meteorologists. For instance, a Category 1 hurricane must reach a wind speed of 74 mph or greater. Shingle roof wind damage typically starts at approximately 45 mph.
It's also important to note that wind gusts may not necessarily be recorded through local or national weather reports. That means asphalt shingle roofing systems could be compromised even when the weather reports predict moderate wind speeds. Shingle roof wind damage can be difficult to measure, making a roof inspection crucial after a storm.
Shingle Roof Installation After Hurricane Damage
A Category 1 hurricane produces wind speeds that exceed 74 mph.
When a commercial shingle roofing system endures that level of air pressure, some level of damage is almost a certainty.
A Category 2 storm delivers wind speeds of 96 to 110 mph.
These extreme weather events also bring torrential downpours and send debris flying into siding, gutters, and shingles. That's why hurricane roof damage is almost a certainty.
It's critical for commercial building owners to review their policies and make certain they are covered for hurricane damage roof restoration should they need it.
If you are unsure whether your insurance carrier will pay a claim following a roof inspection, we routinely connect property owners with a public adjuster firm.
A public adjuster can review your policy and negotiate a full, fair settlement with the insurance corporation to cover the cost of hurricane roof damage.
Shingle Roof Installation After Tornado Damage
Property owners feel a sense of relief when a twister does not destroy their building. But the notion that tornado roof damage only occurs from a direct hit results in owners spending exorbitant sums of money on tornado damage restoration later.
Tornado roof damage is usually the result of a twister passing nearby a building. Its vortex creates an incredible vacuum effect that pulls at everything around it. This includes asphalt shingle roofing systems.
The shingles are generally raised and loosened, thereby reducing their water removal capacity. Flashing, sealants, and gutters may also be affected, opening the door to moisture penetrations and water damage.
It's also important to keep in mind the fast-spinning twister hurls hard objects that crack commercial shingle roofing materials and building siding as well. Anytime a tornado leaves a nearby wake of destruction, it's necessary to have a roof inspection conducted.
My Shingle Roof Leaks
Asphalt shingle roof leaks can be challenging to trace back to their origin. A leaking roof allows water to penetrate.
The moisture then follows gravity and a path of least resistance.
It can accumulate in insulation and trail across roof rafters before occupants notice water damage on ceilings and walls.
These are common reasons shingle roof leaks happen.
Damaged, Torn, or Missing Shingles
Loose Shingles and Fasteners
Deteriorating or Damaged Flashing
Dried Out or Cracked Sealants
Gutters Backed Up Due to Granule Accumulations
Hailstone impacts, high wind, hurricane, and tornado roof damage negatively impact asphalt shingles and lead to a leaking roof. But trying to get a few extra years out of an aging system usually results in asphalt shingle roof leaks as well.
Signs You Might Need Roof Replacement
The decision to make minor repairs or invest in an asphalt shingle roof replacement proves complicated for people outside the construction trades.
What may seem like a minor leaking roof may be a telltale sign of a much larger problem.
If you see any of the following signs of a leaking roof, contact an asphalt shingle roof installation services firm and schedule a roof inspection.
Ceiling Discolored by Water Spots
Moisture Around Interior of Windows
Asphalt Roof Shingles Damaged by Hailstone Strikes or Falling Debris
Damaged Gutters or Water Removal Issues
Screens and Siding Torn Due to High Winds
Asphalt Shingles Curled Up
Crooked or Torn Asphalt Shingles
Gaps Form Where Shingles Overlap
It's also important to consider scheduling an annual roof inspection to ensure minor water damage is repaired before full-blown restoration is required.
Things like algae or moss growing on roofs point to an underlying problem.
Asphalt Shingle Hail & Wind Damage Photos
What a Commercial Asphalt Shingle Roofing Company Does
By working with an experienced asphalt shingle roof installation services firm, property owners can schedule a roof inspection and gain a detailed report.
The findings of the asphalt roof inspection expert provide insight into the damage and cost to take corrective measures.
During the roof inspection, an experienced asphalt shingle roof installation services provider checks the shingles, overall roof deck, insulation, flashing, gutters, sealants, and structural supports.
A thorough review of the building's energy consumption may be conducted to determine the level of heating and cooling losses.
In many cases, repairs can correct weather-related wind and hail roof damage that results in a leaking roof.
Aging roofs and those with significant water, hailstone, or high wind damage may require asphalt shingle roof replacement.
At this juncture, an asphalt shingle roof installation contractor explains the options and costs associated with each type of asphalt roofing system.
Once the asphalt shingle roof installation has been completed, everything will meet current building and safety requirements.
What is an asphalt roof shingle made of?
A typical asphalt shingle is made of a base fiberglass mat that is saturated on both sides by hot asphalt. It is then coated with stone granules for increased durability.
How long does an asphalt shingle roof last?
An asphalt shingle roofing system generally lasts 25-30 years with adequate maintenance and repair. Some modern asphalt roofing systems are warrantied up to 50 years.
The key to maximizing the life expectancy of an asphalt shingle roof is regular inspections and making minor repairs as needed.
What is a lifetime shingle roofing system?
Asphalt shingle roofing installations can employ premium materials that enjoy a life expectancy north of 50 years.
To gain a 50-year warranty, the commercial shingle roofing installation would need to be constructed by a certified contractor and use industry-leading materials.
Do you work with insurance claims for asphalt shingle roof replacement?
Commercial property insurance usually covers wind, hurricane, hailstone, and tornado roof damage. As experienced contractors, we connect impacted property owners with a reputable public adjuster firm.
The public adjuster conducts a review of the policy and can negotiate with an insurance company on your behalf to ensure you receive a full, fair settlement.
How often should my asphalt shingle roof be inspected?
We strongly recommend scheduling an annual roof inspection. By assessing the asphalt shingle roof condition every 12 months, minor repairs can be implemented that prevent a leaking roof and water damage.
Conducting an annual roof inspection also creates a photo record of your roof in the event a storm causes damage that warrants replacement.
Do you offer emergency roof repair for asphalt shingle roof damage?
Our asphalt shingle roof installation services also include ongoing inspections, maintenance, and repairs. When a severe weather storm causes catastrophic damage, we dispatch emergency repair teams to secure roof leaks with tarps, shrink wraps, and other strategies to protect equipment, inventories, and prevent water damage to load-bearing beams and walls.
When appropriate, an experienced asphalt shingle roof installation contractor can put down loose-lay materials as a stop-gap measure until a permanent solution can be implemented.
How to Select an Asphalt Shingle Roof Installation Contractor
If your roof has suffered hail or wind damage, you will want a contractor that can work with you every step of the way.
You need a team of professionals that can spring into action and mobilize immediately with the resources needed to get the job done and help you plan for a future permanent roof replacement solution.
It's important to get a professional roof inspection prior to completion of emergency roof repairs. You also want to select a roofing company with extensive experience installing your type of roof.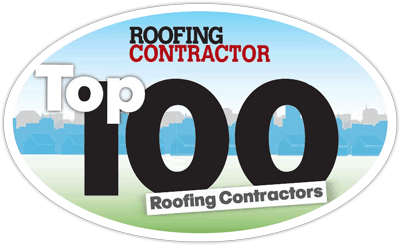 Look for an asphalt shingle roof installation contractor with the following qualifications:
Is licensed, bonded, and insured
Experience in emergency roofing & repair services
Experience installing the permanent roof solution your property will require
Experience managing staged roofing projects that may require parallel tear-off and installation
Experience working with insurance companies on roof damage claims
An experienced emergency roofer can help you avoid leaks and major problems and provide a permanent roofing solution that lasts for decades.
In 2022, RestoreMasters was ranked #29 of the Top 100 Roofing Contractors in the nation.
In addition to asphalt shingle roof installation, RestoreMasters offers: all common types of roofing systems, shrink wrap roofing, roof tarping, loose lay membrane roofing, emergency roofing & repair, water removal, water damage restoration, mold remediation, catastrophic damage inspections, property damage documentation, testing & damage reports, fencing & perimeter security, disaster recovery services, permanent roof replacement, interior restoration services, church roof repair, and general contractor services.
Call Now For Emergency Services
Do you need roofing help?
If you are worried about storm damage or think you may have a roof leak...
Contact us for a complimentary roof inspection & damage assessment ›
RestoreMasters is an experienced full-service restoration contractor - offering turnkey solutions including roofing, siding, windows & doors, interior restoration, exterior repairs & more. With offices nationwide, we are here to serve you!
CALL ››››› (800) 400-ROOF