Asphalt Shingle Roof Repair
Nationwide Services
An asphalt shingle roof ranks among the most cost-effective systems to protect a facility from severe weather and maximize energy usage.
But asphalt shingle roof repair may be required after hailstone strikes or a high-wind storm results in missing shingles, leaks, and water damage.
Commercial property owners deserve the best asphalt shingle roof repair services possible, and this guide can prove an invaluable resource.
Call Now For Emergency Services
Types of Asphalt Roof Shingles
Asphalt shingles became popular during the 20th century because they filled a building need for an economical and fire-resisted roofing product.
Having grown to prominence as the go-to material, a commercial roofing contractor can quickly repair a leaking roof or replace missing shingles on a budget.
The cost of an asphalt shingle roof repair project largely depends on the extent of the high wind or roof shingle hail damage, as well as the slope and type of materials.
These rank among the popular types an asphalt shingle roofing contractor can repair or replace.
3-Tab Roof Shingles
This product earned its name by having three asphalt tabs per shingle. Designed as a flat-layer shingle, each tab overlaps one underneath it to prevent moisture penetrations and water damage. 
The rectangular shape and tight groupings minimize 3-tab asphalt roof shingle repair.
Architectural Roof Shingles
An asphalt shingle roofing contractor may recommend this roofing style for churches and to commercial property owners who value a stylish appearance that helps drive property values. Sometimes called "laminated" or "dimensional shingles," these products are among the highest quality available today. Should architectural roof shingle repair be required following a severe weather event, it's essential to work with an experienced commercial roofing contractor.
Designer Roof Shingles
Designer products are typically comprised of two layers fused together to provide maximum protection against shingle roof leaks and the need to replace roof shingles. Known for their diverse colors, textures, and layered ambiance, designer roof shingle repair calls for a commercial roofing contractor with an eye for precision.
50-Year Roof Shingles
Technological advancements have not been lost on building materials manufacturers. Recently developed products now include asphalt shingles backed by a 50-year guarantee. Given an asphalt shingle roofing contractor can cost-effectively install a system or replace torn shingles, this type provides a significant return on investment value. And 50-year roof shingle repair is rare, with the exception of a high-wind or hailstone storm.
Composed of heavy fiberglass matting covered by ceramic mineral granules, the tightly compressed materials deliver excellent water removal and durability.
However, extreme weather incidents can cause asphalt roof shingle wind damage to even the most secure roofing system.
It's essential to understand the type of shingles on your roof when filing a roof insurance claim, speaking with a public adjuster, and hiring a reputable emergency roof repair specialist.
When You Need Asphalt Shingle Roof Repair
Deciding whether a catastrophic storm requires a roof shingle repair company to remove the existing roof deck and affect an entire replacement or deal with torn shingles should not be taken lightly.
In fact, scheduling a prompt inspection with a certified asphalt roof shingle repair professional usually saves commercial property owners money in the long run.
If your building was impacted in one of the following ways, asphalt shingle roof repair services might be necessary.
Shingle Roof Repair for Hail Damage
Asphalt roof shingle hail damage typically presents with dents or darkened areas when looking from a distance.
A hailstone storm can pummel a commercial roof with ice the size of baseballs or larger.
Even golf ball-sized ice stone hits result in roof shingle hail damage that requires property owners to replace roof shingles across the entire roof deck.
A hailstone storm ranks among the leading causes of shingle roof leaks.
Shingle Roof Repair for Wind Damage
High winds can lift and curl asphalt shingles, leaving the roof deck vulnerable to moisture penetrations, water damage, and hazardous mold growths.
Gusts of 40 mph can result in torn shingles and shingle roof leaks that are difficult to trace.
Asphalt roof shingle wind damage can go undetected in many cases.
That's why commercial building owners would be well-served to enlist the help of a commercial roofing contractor to conduct an inspection following a high wind event.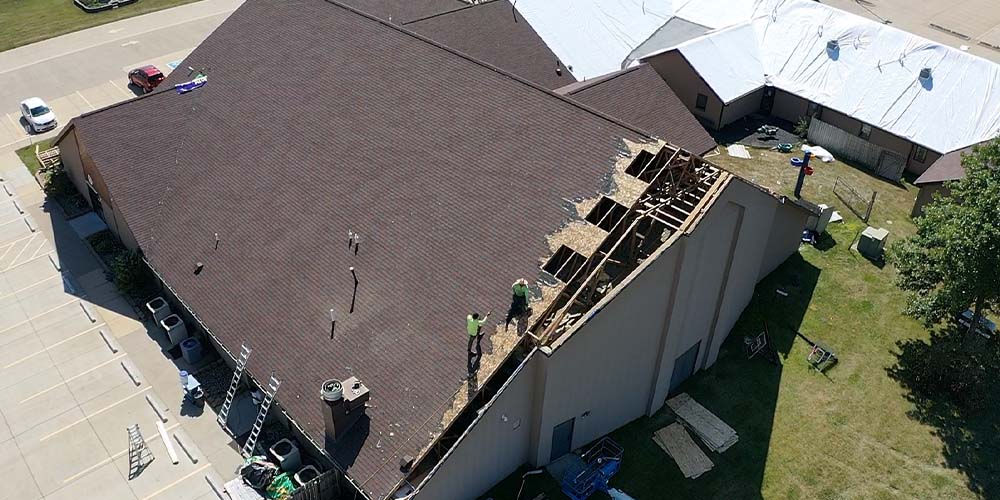 Shingle Roof Repair for Hurricane Damage
For an extreme weather event to qualify as a hurricane, wind speeds must reach a minimum of 74 mph, and a Category 5 can exceed 150 mph.
Given that wind gusts of 40 mph routinely result in torn shingles, asphalt hurricane roof damage is to be expected.
Protecting a commercial building following a hurricane calls for emergency roof repair to secure leaks and promptly replace roof shingles.
Once the roof deck is stabilized and can prevent water damage, an experienced commercial roofing contractor can guide you through the most cost-effective way to repair the roof shingle wind damage.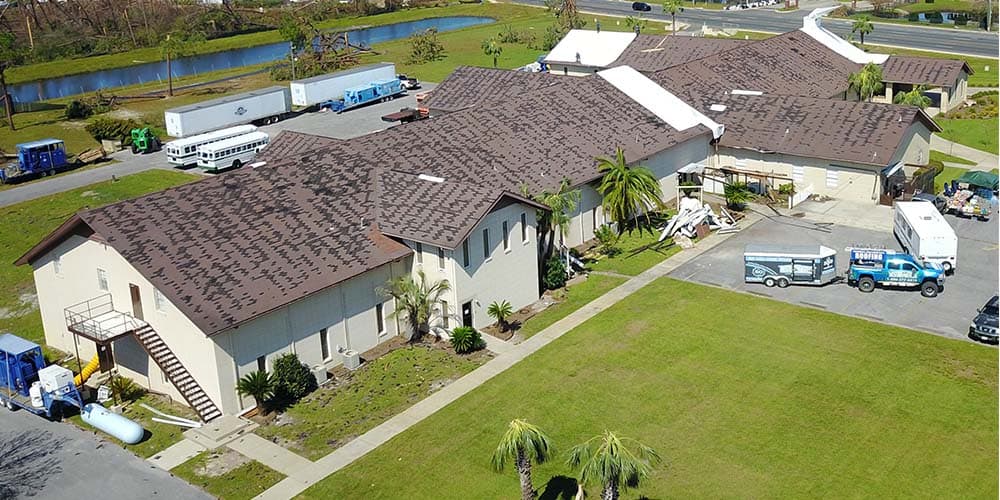 Shingle Roof Repair for Tornado Damage
Tornado roof damage to asphalt shingle systems can be very different from the effects of any other storm.
If a tornado makes a direct hit, total building restoration may be in order.
A near miss usually batters the roofing system with flying objects, requiring debris restoration to the damaged asphalt shingle roof.
But tornado roof damage also occurs when a twister cuts a path away from a commercial structure.
Tornados generate a vacuum force that pulls at the very fabric of an asphalt roof and its supports.
Tornado roof damage can sometimes be difficult to initially detect by those outside the roofing trades.
My Commercial Shingle Roof is Leaking
Torn shingles, missing shingles, falling hailstone, a wind-related storm, and other damage can leave building owners with a leaking roof and water damage.
The moment asphalt shingle roof leaks start, the following steps are to contact an emergency roof repair contractor and file an insurance roof claim.
An asphalt shingle roofing contractor inspects the surface damage and the roofing system for the leak source.
Identifying the origin of the leaking roof allows a commercial roofing contractor to accurately estimate the cost of the asphalt shingle roof repair and help the property owner get a claim fairly assessed by the public adjuster.
When your asphalt shingle roof starts leaking, contacting a certified emergency roof repair contractor can prevent further damage and help you get full, fair compensation from your insurance carrier.
I've Got Missing Shingles
Missing shingles do not necessarily mean a commercial building requires a new roof.
But missing shingles usually means the roof's water removal abilities have been compromised, and water damage has affected structural supports.
Missing shingles also open the door for the rain to infiltrate and spur dangerous mold behind walls, in attics, and under flooring.
It's essential to enlist asphalt shingle roof repair services to schedule a thorough inspection to uncover underlying damage.
Promptly file a roof insurance claim to replace roof shingles and mitigate other damage.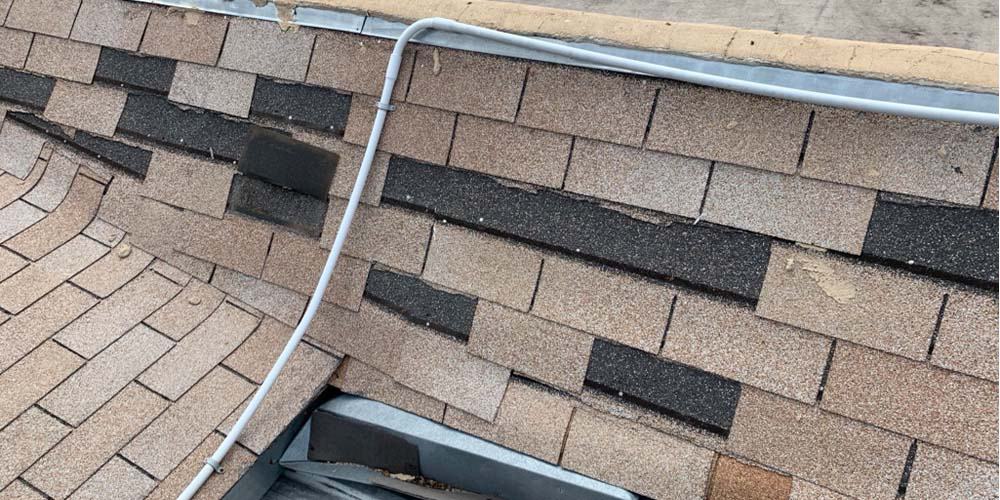 Signs You Might Need Roof Repair
There are telltale signs that commercial property owners can identify without needing a background in the construction trades. Some may point to roof shingle hail damage, others may indicate asphalt roof shingle wind damage, and yet others mean you need an asphalt roof replacement. If you see any of the following, contact a commercial roofing contractor.
Sagging Roof: When an asphalt roof dips, that typically means water damage has weakened structural supports. A leaking roof will continue to negatively impact the building until the roof damage has been cured.
Missing Shingles: Seeing vacancies left by missing shingles indicates building owners need to replace roof shingles. Unless missing shingles are promptly replaced, owners can anticipate extensive and costly water damage will follow.
Utility Bills Spike: Torn shingles and a leaking roof do not only allow moisture to penetrate. These conditions also enable climate-controlled air from HVAC systems to escape. Asphalt roof damage leads to unnecessarily high energy bills.
Debris in Gutters: Age and roof shingle hail damage are primary drivers in asphalt losing its dark and gritty granules. When asphalt shingle sediment begins to accumulate in gutters, the roof may be failing.
Visible Moisture: Water damage is not always as obvious as needing to place a bucket on the floor to capture rain. A leaking roof involves water following a path of least resistance, which typically is not straight down. Should moisture or water damage appear on or around ceilings, walls, windows & doors, chances are you need asphalt shingle roof repair.
Other telltale signs that indicate it's time to contact an asphalt shingle roofing contractor include cracked shingles, missing shingles, curled shingles, torn shingles, and daylight shining through. Even if a building has not sustained wind or hailstone storm damage, building owners are urged to have an asphalt shingle roof repair services technician conduct an inspection every three years.
Asphalt Shingle Hail & Wind Damage Photos
What a Commercial Shingle Roofing Company Does
A commercial roofing contractor performs an invaluable service for property owners following severe weather events.
When owners discover missing shingles, torn roof sections, or notice their asphalt shingle roof leaks, services usually involve emergency roof repair.
But the most experienced and skilled asphalt shingle roofing contractor can also provide the following.
Conduct a thorough roof inspection that covers shingles, roof deck, gutters, and more.
A roofing contractor verifies the building's structural infrastructure is intact.
Review energy consumption based on utility bills to determine the health of the roofing system.
Secures a leaking roof following a severe weather incident.
Makes cost-effective roof repairs and complete replacements when necessary.
A commercial roofing contractor who possesses a wealth of experience understands that repairs and roof replacements need to meet today's rigorous building standards.
The best may also handle gutter and siding replacement.
Can my asphalt shingle roof be repaired?
The simple answer is usually: Yes. But catastrophic roof damage typically calls for an asphalt roof replacement in many cases.
Can torn or missing shingles be replaced?
Some people try to cut corners by asking a handyman to replace missing or torn shingles. Mismatched colors, styles, and poor installation practices prove expensive in the end.
It's essential to have a professional asphalt shingle roofing contractor provide thorough services and get it right.
How long does a shingle roof last?
With proper ventilation, maintenance and upkeep, property owners can anticipate up to 20 years from a 3-Tab roof, 25-30 years from architectural shingles, and up to 30 years for some designer products.
The 50-year asphalt shingle roof systems are generally guaranteed for a half-century.
Do you work with insurance claims for asphalt roof repair?
If an asphalt roof inspection uncovers hail or wind roof damage, those costs are often covered by property insurance.
We can connect you with a public adjuster to coordinate payment and move forward with asphalt roof repairs.
How often should my asphalt roof be inspected?
An asphalt single roof should generally undergo an inspection every three years or less.
What type of maintenance should be done on my asphalt shingle roof?
It's essential to keep an asphalt roof free of debris and moss.
Sweeping and seasonal power washing can help maximize the life expectancy of a shingle roof.
Do you offer emergency roof repair for asphalt shingle roofs?
High winds and roof shingle hail damage start the clock ticking, and emergency roof repair specialists work diligently to secure the roof deck and implement water removal strategies.
The first step in emergency roof repair involves preventing water damage by deploying tarps and shrink wrap materials.
Once the imminent danger has passed, a roof insurance claim can be filed, and permanent asphalt shingle roof repair follows.
How to Select an Asphalt Shingle Roof Repair Contractor
If your roof has suffered hail or wind damage, you will want a contractor that can work with you every step of the way.
You need a team of professionals that can spring into action and mobilize immediately with the resources needed to get the job done and help you plan for a future permanent roof replacement solution.
It's important to get a professional roof inspection prior to completion of emergency roof repairs. You also want to select a roofing company with extensive experience installing your type of roof.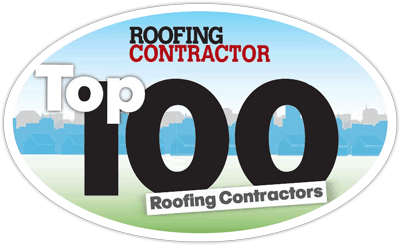 Look for an asphalt shingle roof repair contractor with the following qualifications:
Is licensed, bonded, and insured
Experience in emergency roofing & repair services
Experience installing the permanent roof solution your property will require
Experience managing staged roofing projects that may require parallel tear-off and installation
Experience working with insurance companies on roof damage claims
An experienced emergency roofer can help you avoid leaks and major problems and provide a permanent roofing solution that lasts for decades.
In 2022, RestoreMasters was ranked #29 of the Top 100 Roofing Contractors in the nation.
In addition to asphalt shingle roof repair, RestoreMasters offers: all common types of roofing systems, shrink wrap roofing, roof tarping, loose lay membrane roofing, emergency roofing & repair, water removal, water damage restoration, mold remediation, catastrophic damage inspections, property damage documentation, testing & damage reports, fencing & perimeter security, disaster recovery services, permanent roof replacement, interior restoration services. and general contractor services.
Do you need roofing help?
If you are worried about storm damage or think you may have a roof leak...
Contact us for a complimentary roof inspection & damage assessment ›
RestoreMasters is an experienced full-service restoration contractor - offering turnkey solutions including roofing, siding, windows & doors, interior restoration, exterior repairs & more. With offices nationwide, we are here to serve you!
CALL ››››› (800) 400-ROOF
Headquarters
2401 N Commerce St, Ste A
Ardmore, OK 73401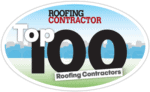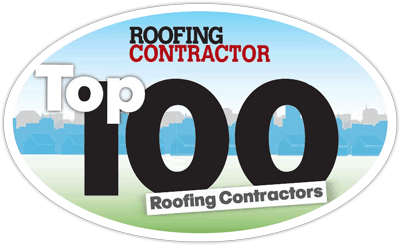 Got Damage?
Request a no fee inspection to assess roof or property damage.