EPDM Roofing
The Complete Guide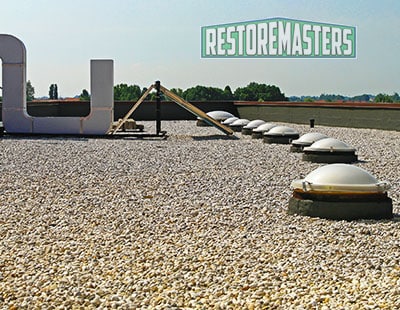 EPDM roofing has been a 'go-to' choice for flat and low-slope roof installation projects for almost 60 years. If you are considering an EPDM roof...
This guide is for you.
In this EPDM roofing guide ››
You're going to learn everything you need to know about:
What EPDM roofing material is made of
How to choose the right EPDM flat roof system
EPDM hail resistance & other benefits of EPDM roofing
How to select an EPDM rubber roofing contractor
And lots more
Let's get started.
What is EPDM Roofing?
Ethylene Polypropylene Diene Monomer (EPDM) is a resilient single ply membrane formulated primarily from propylene and ethylene.
Sometimes called a "rubber roof," EPDM roofs can offer long-term coverage of 50 years or more with proper maintenance.
Once installed, a fully adhered EPDM roofing system is highly flexible and remarkably versatile in its uses. However, rubber roofing is most desirable for low-slope roofs or flat commercial roof structures.
Featuring four distinct layers, EPDM roofing material is 100% waterproof and will not pollute rainwater runoff whatsoever.
EPDM Roofing Membrane Details
You may be wondering...
What is EPDM roofing material made of?
Let's take a closer look.
EPDM roofing consists of four layers, making it one of the most durable and long-lasting roof membranes available.
EPDM Elastomeric Base Layer
AFR Fire Retardant Middle Layer
FRM Polyester Fiber Reinforced Top Layer
Optional White EPDM Roofing Top Layer
Because they include fully adhered vapor barriers and fiber glass and polyethylene reinforcements, an EPDM roofing system can withstand some of the toughest environmental weather-related elements such as high wind and hail storms.
There are several different installation methods. Some EPDM roofing systems are installed using a stone or paver ballast sitting on top of the membrane.
Ballasted EPDM Roofing Detail
EPDM Roof Membrane Thickness and Color Options
EPDM roof membrane comes in rolled sheets that are wide and long and manufactured in three common thicknesses:
45 Mil EPDM rubber roofing
60 Mil EPDM rubber roofing
90 Mil EPDM rubber roofing
With some manufacturers also offering a 75-mil EPDM membrane.
When considering membrane thickness for single ply roofing installation...
There are several factors your roofer will consider when making a recommendation.
Thickness directly correlates with the material's resistance to damage.
Those in high-risk zones for flying debris and severe storm conditions will want to choose a robust thickness for their EPDM rubber roofing.
Fully Adhered EPDM Roofing Detail
White EPDM Roofing vs Black EPDM Roofing
EPDM membranes are available in black and white.
The color is determined by compounding different ingredients used to enhance UV resistance.
To make a black EPDM membrane, carbon black is added which converts UV rays into heat.
To make a white EPDM membrane, titanium dioxide is generally used to reflect UV rays.
How essential is EPDM membrane color?
Dark colored roofing system are more prone to absorbing heat, while white is more reflective of the sun's rays.
Color choice should depend on the specific needs and uses of the structure as well as the region's typical climate, because heating and cooling costs can add up.
Mechanically Fastened EPDM Roofing Detail
The Benefits of an EPDM Roofing System
Ethylene Propylene Diene Monomer is suitable for just about any roof type, and it's one of the most cost effective options that promises decades of use. Beyond outperforming competitors, additional advantages of an EPDM roof installation include:
Fast and Easy Installation
EPDM rolls are large and light-weight, allowing them to cover more area in a shorter time for quick installation. This ultimately means a lower bottom line price for customers.
EPDM Roof Repair is Cost-Effective
While structural failures are uncommon, the design of rubber roofing makes repairs somewhat simple compared to other materials such as shingles or metal roofing. Punctures and leaks often only require a few tools and seam tape or seam overlays to fix.
Highly Resilient and Durable
Hail, snow, heavy wind and big trees pose hazards that can result in punctures, leaks and expanding or contracting materials. However, thicker choices such as 90 Mil or 60 Mil EPDM rubber roofing membrane with a ballasted layer and external fleece reinforcement can prevent element-related damage up to 300 times better than thinner or lower quality systems.
Optimal Energy-Efficiency
Regardless of whether your region is cold or warm, there's a good chance that a EPDM flat roof system can help lower heating and cooling costs. As mentioned previously, warmer climates will enjoy the greatest benefits with white EPDM roofing while cold dwellers or those who use for energy might choose black membranes. An added benefit is that these materials have a superior ozone-resistant rating grade of an 'A' in temperatures up to 100º F.
Long-Term Lifespan
Rubber roofing's longevity depends on three factors: quality installation, climate, and membrane thickness. Roofing installation experts will recommend 45 Mil EPDM rubber roofing membrane in moderate climates and in situations where there's a low risk of penetrations. While these typically last 12-15 years, by going with a 90 Mil option can get users 25-years or more easily.
EPDM vs TPO Roofing
TPO stands for thermoplastic polyolefin that is a combination of ethylene-propene and polypropylene. Essentially TPO roofing systems are growingly common single ply roofing membrane option to EPDM. Both are crafted of environmentally friendly rubber and synthetics that are adhered to insulation or ballasted to form a durable protective roofing layer.
TPO membranes are also offered in varying thicknesses, which will affect the material's longevity similarly to EPDM. Which leads to a common question…
How long will TPO singly ply roofing really last and how does it stack up to EPDM?
The longevity of TPO single-ply membrane roofing systems are reportedly 20+ years while EPDM can last 50 or more.
Newer systems like TPO simply haven't been around long enough to know exactly how long they'll ultimately withstand the elements and maintain their waterproof qualities.
However, there's no denying the proven long-term results of EPDM roofs. Major differences in these single ply membrane roofing systems include:
TPO roofing seams are hot air heat fused while EPDM roofing utilizes seam tape.
TPO most often reflects sunlight while standard black EPDM retains heat.
EPDM is traditionally available in black or white while TPO options also include gray, tan and others.
EPDM roofs are mechanically fastened, and TPO systems are chemically adhered.
TPO warranties range between 10-20 years while EPDM is warrantied 25-30 years on average by manufacturers.
Learn More About RestoreMasters
Call Now For Emergency Services
EPDM Roof Warranties
GUARANTEED BY THE MANUFACTURER
As a Certified Roofing Contractor for multiple manufacturers, RestoreMasters offers warranties up to 30 years on EPDM roofing systems.
How long does an EPDM roof last?
In the absence of catastrophic hail or wind damage, a new premium EPDM roof can last up to 50 years. Roof life can be significantly affected by climate, attic ventilation, insulation, and quality of installation.
How is an EPDM roof installed?
There are numerous installation techniques depending on the structure's design and the EPDM supplier. EPDM can be installed either fully-adhered, mechanically-attached or ballasted with smooth river-washed stone or pavers. Seams are sealed with liquid adhesive or special tape. Some EPDM manufacturers provide an adhesive backed membrane. A roofing expert is best consulted to determine the best design for your building.
On what type of surface can you install EDPM roofs?
Membranes can be adhered to structural concrete and wood decks or via mechanical anchors atop steel decks. As long as the structure can support intended weights, ballasted assemblies such as a roof deck can add versatility to the space.
What maintenance does EPDM rubber single ply roofing require?
Routine care is recommended to include periodic cleanings througout the year. The roof should be professionally inspected every 1-3 years. These are best left to pros who can simultaneous inspect the membrane for any signs of compromises like tears, cracks, separating seams, etc.
Is EPDM roof edging or trim necessary?
These additions serve two functions: preventing ponding water and boosting aesthetic appeal. That being said—for all practical purposes EPDM trimming is highly recommended for a long-lasting roof. There are metal, plastic and kerb styles of edging that cloak the fascia that can also hold convenient drip trims that keep patrons dry and improve appearance.
How to Select an EPDM Roofing Contractor
While many companies offer roofing services, EPDM roof installation requires an experienced roofing contractor. If you're looking for a long-lasting roof, you will want to employ the services of a highly-experienced roofing company, familiar with local roofing requirements.
You need a team of professionals that can spring into action and mobilize immediately with the resources needed to get the job done and help you plan for a future permanent roof replacement solution.
It's important to get a professional roof inspection prior to completion of emergency roof repairs. You also want to select a roofing company with extensive experience installing your type of roof.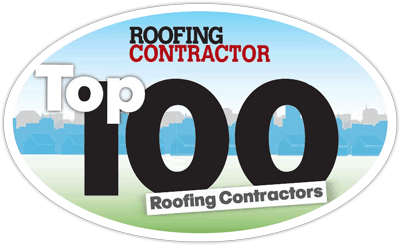 Look for an EPDM roofing contractor with the following qualifications:
Is licensed, bonded, and insured
Experience in emergency roofing & repair services
Experience installing the permanent roof solution your property will require
Experience managing staged roofing projects that may require parallel tear-off and installation
Experience working with insurance companies on

 

roof damage claims
An experienced emergency roofer can help you avoid leaks and major problems and provide a permanent roofing solution that lasts for decades.
In 2022, RestoreMasters was ranked #29 of the Top 100 Roofing Contractors in the nation.
In addition to EPDM roofing, RestoreMasters offers: all common types of roofing systems, shrink wrap roofing, roof tarping, loose lay membrane roofing, emergency roofing & repair, water removal, water damage restoration, mold remediation, catastrophic damage inspections, property damage documentation, testing & damage reports, fencing & perimeter security, disaster recovery services, permanent roof replacement, interior restoration services. and general contractor services.
Hillman Square Center - Jacksonville, FL
Asphalt Shingle Roof - Panama City Beach, FL
Fire Restoration - Tulsa, OK
Sunnyside Business Park - Idaho Falls, ID
Resort Restoration - Panama City Beach, FL
Highland Park Baptist Church
View other resources related to EPDM roofing systems. If you have any specific questions, please don't hesitate to reach out to our team.
We hope you enjoyed this EPDM roofing guide!
If the answer is YES ›› do us a favor and share this guide with your friends and colleagues on social media. Thank you! 🙂
If you have a website ›› feel free to share snippets of the article. We just ask that you provide a link back to this post as a thank you.
We appreciate you!
Do you need roofing help?
If you are worried about storm damage or think you may have a roof leak...
Contact us for a FREE roof inspection & damage assessment ›
RestoreMasters is an experienced full-service restoration contractor - offering turnkey solutions including roofing, siding, windows & doors, interior restoration, exterior repairs & more. With offices nationwide, we are here to serve you!
CALL ››››› (800) 400-ROOF