Flat Roof Repair
Nationwide Services
Property owners need to make informed decisions about whether they need commercial flat roof repair or a new installation.
Locating flat roof leaks and taking prompt corrective measures can extend its life and save money.
That's why the interests of commercial building owners are best served by enlisting a flat roof repair contractor to conduct a roof inspection after a severe weather event and on a routine basis.
If you are unsure about the integrity of your flat roof or see signs of water damage, consider the following information before taking critical next steps.
Call Now For Emergency Services
Can my flat roof be repaired?
Flat roof leaks and surface damage can usually be corrected without property owners incurring a major expense. But when water damage persists, support structures can weaken and a new installation may prove necessary.
The same holds true of flat roofs that are at or past their life expectancy. Property owners who conduct routine maintenance and schedule an annual roof inspection are more likely to experience reduced flat roof repair costs.
What is the best material for a flat roof?
It's important to understand that the best roofing material requires property owners to make informed decisions. Cost, building type, weather patterns, and other factors must be accounted for when choosing a flat roof material.
That's why a property owner would be well-served to consult with a commercial flat roof repair and installation professional.
How long does a flat roof last?
An adequately maintained flat roof can last up to 20 years, and low slope metal panels may not require replacement for 35 years.
The key to maximizing return on investment revolves around an annual roof inspection and working with a flat roof repair services outfit should damage occur
How do you keep a flat roof cool?
Like higher-pitched roofs, insulation remains a critical temperature control element. Flat roofing systems typically utilize foam insulators to manage heat and cold. A build up roof also includes insulation as a base layer for this purpose.
Commercial buildings located in regions with extreme heat can also utilize white roofing materials to deflect the sun's rays.
How often should my flat roof be inspected?
It's advisable to schedule an annual flat roof inspection to identify and correct emerging cracks, damage, or pooling water.
Property owners can avoid the costly expenses associated with water damage remediation by making ongoing flat roof repairs.
What type of maintenance should be done on my flat roof?
A commercial building's roof remains its front line of defense against water damage and pest infestations.
During an annual roof inspection, a contractor identifies small cracks, loose seams, decaying materials, and other issues.
Routine maintenance typically involves making minor flat roof repairs to correct these and other issues. It's also essential to clear debris from the roof deck and drains.
How to Select a Flat Roof Repair Contractor
Flat roof repair requires an experienced commercial roofing contractor. Flat roofing is a specialty field of roof repair, and complex roof systems require careful craftsmanship and adherence to strict manufacturer standards.
If your roof has suffered hail or wind damage, you will want a contractor that can work with you every step of the way.
One that is able to perform emergency roof repairs as needed, loose lay metal temporary roofing if necessary and total installation.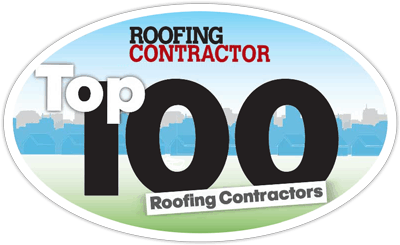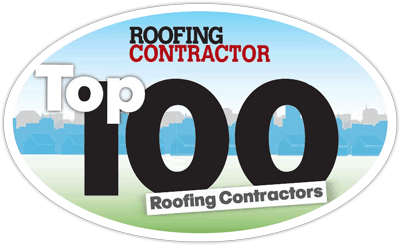 Look for an asphalt shingle roofing contractor with the following qualifications:
Is licensed, bonded, and insured in your state
Trained & certified by the manufacturer to offer the best quality and warranty options
Experience installing your type of flat roof on multiple projects
Experience managing staged roofing projects that may require parallel tear-off and installation
Experience working with insurance companies on damage claims
An experienced roofing contractor can help you avoid leaks and major problems and provide a roofing systems that lasts for decades.
RestoreMasters has been honored with multiple years on the Inc. 5000 List of America's Fastest Growing Companies and consistently ranks among the Top 100 Roofing Contractors in the nation.
In addition to flat roof repairs, RestoreMasters offers: all common types of roofing systems, shrink wrap roofing, roof tarping, loose lay membrane roofing, emergency roofing & repair, water removal, water damage restoration, mold remediation, catastrophic damage inspections, property damage documentation, testing & damage reports, fencing & perimeter security, disaster recovery services, permanent roof replacement, interior restoration services. and general contractor services.
We have roofing & restoration locations across the country to serve you better.
Do you need roofing help?
If you are worried about storm damage or think you may have a roof leak...
Contact us for a complimentary roof inspection & damage assessment ›
RestoreMasters is an experienced full-service restoration contractor - offering turnkey solutions including roofing, siding, windows & doors, interior restoration, exterior repairs & more. With offices nationwide, we are here to serve you!
CALL ››››› (800) 400-ROOF