PVC Roof Installation
Nationwide Services 
PVC roofing systems rank among the more popular and cost-effectively employed in commercial, industrial, and institutional facilities.
The use of a PVC roof installation for low-slope and flat roofs began about 60 years ago and the materials and products used have only improved over the years.
A well-constructed PVC roofing installation can last for 30 years or longer, making it a smart investment.
When property owners exercise due diligence by scheduling an annual roof inspection and adequately maintaining a flat PVC roof, it provides excellent water removal and UV ray protection.
If your roof is nearing its life expectancy or has been damaged, it may be time for a PVC roof replacement or new installation.
Call Now For Emergency Services
What is a PVC Membrane Roof?
A PVC roof installation employs a single-ply membrane made from multiple layers of PVC that are bonded together with polyester for reinforcement.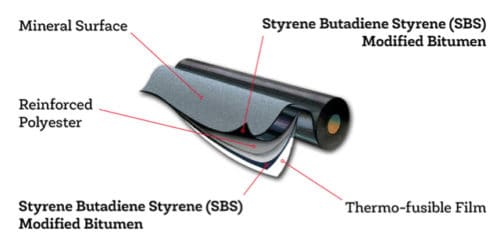 This outer layer provides an excellent water removal system and protects commercial, industrial, and institutional buildings from damage caused by a leaking roof.
Often white or light-colored, a PVC commercial roofing system deflects intense UV rays while improving the energy efficiency of a facility.
Those are reasons why a PVC roofing installation ranks among the most popular and cost-effective opportunities.
PVC roof installers start by laying down insulation board over the supports and sheathing that comprise the roof deck.
An experienced PVC roof installation contractor usually leverages ISO or EPS foam boards with R-values between R4 and R6 per inch of insulation thickness.
This layer helps reduce energy loss and maximize the effectiveness of HVAC systems.
Roofing contractors generally rely on three types of PVC membrane roof materials.
These include a standard single-ply membrane with Energy Star certification known to deflect heat and protect against water damage.
A PVC KEE membrane utilizes Ketone Ethylene Ester to create a more flexible material, sometimes referred to as a rubber roof.
PVC KEE roofing systems can also be used with asphalt to enhance their durability.
A fleece-backed PVC membrane roof allows installers to roll out materials and reduce labor costs.
That's because the fleece element is already attached to the underside of the membrane.
A meticulously constructed PVC roof installation can last for approximately 30 years when adequately maintained.
PVC systems are renowned for their ability to withstand intense weather and temperature swings.
Commercial property owners are advised to schedule an annual roof inspection and make any minor changes before they prove problematic.
It's also crucial to schedule a roof inspection following a storm to promptly manage any wind or PVC roof hail damage.
When You Need PVC Roof Installation
There are two driving reasons commercial, industrial, and institutional buildings require PVC roof replacement — age and damage.
A PVC membrane roof generally lasts for at least three decades, and property owners and managers are advised to consider replacement when it reaches 80-85 percent of its life expectancy.
The second reason for a PVC roof replacement involves high wind incidents, hailstone strikes, and the impact of flying debris during a volatile storm.
A diligent roof inspection from a PVC roof installation services provider identifies deficiencies regarding age or the following types of storm damage.
PVC Roof Installation After Hail Damage
The inherent flexibility of a PVC membrane roof allows it to absorb impacts without tearing.
A hailstone the size of a quarter is unlikely to cause PVC roof hail damage unless it's driven by high winds. But when ice the size of a baseball or larger makes a hard impact, property owners and managers need to contact a PVC roof installation contractor.
Hailstone strikes dent the underlying material of the roof deck, split welded seams, crack parapet sealants, and negatively impact the water removal system.
It's not uncommon for moisture to accumulate within the flat PVC roof layers. There, hazardous mold growths flourish, and water damage is inflicted on structural supports.
PVC roof hail damage can quickly require a new PVC roof installation if left unchecked.

PVC Roof Installation After Wind Damage
A high-wind storm may not necessarily tear the outer layer of a PVC membrane roof off. But the flying debris associated with this type of storm can harm the sometimes delicate sealants and flashing that help prevent water damage.
PVC roof wind damage can also occur when aging or loose membranes are lifted and stretched beyond their capacity.
It's important to keep in mind a storm can generate tremendous wind speeds before a meteorologist furnishes it with a name.
It's critical to schedule a roof inspection following an extreme storm to identify any PVC roof wind damage and take corrective measures.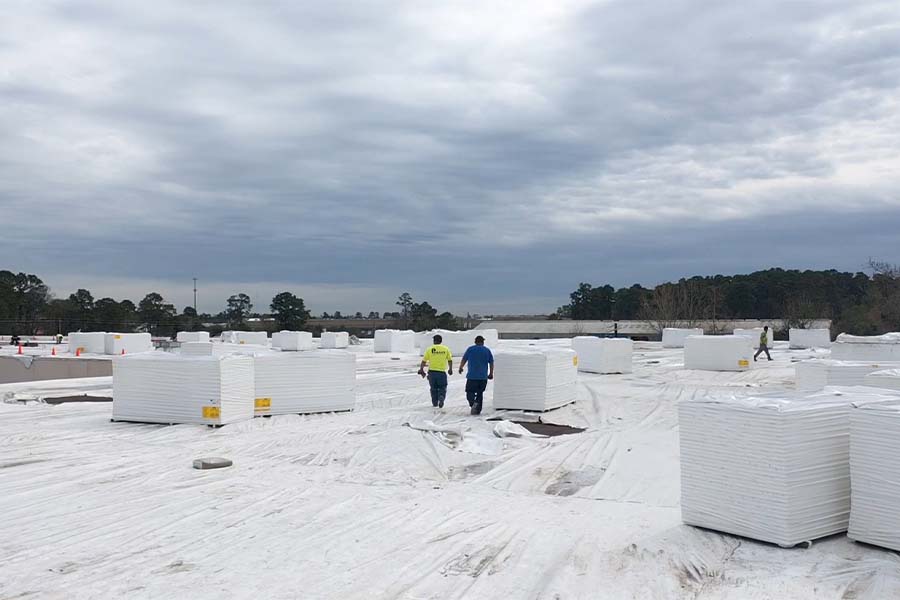 PVC Roof Installation After Hurricane Damage
Even the most determined system cannot always withstand hurricane roof damage.
A Category 1 hurricane achieves wind speeds above 74 mph.
At this rate, a storm picks up loose debris and objects that pelt siding, gutters, and the membrane of PVC roofing systems.
Some level of hurricane roof damage usually occurs when a Category 2 storm drives winds of 96 to 110 mph across residential areas and business districts.
Property owners and stewards of institutional buildings would be well-served to review their insurance policies regarding hurricane roof damage.
If the sometimes overly technical jargon in the policy leaves you unsure, we can connect you with a public adjuster firm to clarify your coverage.
A public adjuster can also help expedite a hurricane roof damage claim, following a roof inspection, and negotiate a full, fair settlement on your behalf.
It's critical to file claims quickly so that a certified PVC roof installation services provider can make emergency repairs and prepare for a prompt PVC roof replacement if necessary.
PVC Roof Installation After Tornado Damage
Property owners too often sustain tornado roof damage without realizing it until they need costly building restoration.
When a twister passes through an area, it generates an intense vacuum-like force that tugs at everything in and around its path.
The force lifts objects and slings debris at building siding and gutters that require restoration and replacement.
But the sucking force of a twister that passes near a business district typically lifts the membrane of a PVC roofing installation.
This weakens its adhesive connection to the layers built over the roof deck.
Once strong welded seams can become compromised. Flat PVC roof bubbling and water pooling often follows.
If your building experienced a near miss, it's very likely some level of tornado roof damage occurred.
By scheduling a roof inspection, minor repairs can be made before an entire PVC roof replacement is required.
My PVC Roof is Leaking
Identifying the source of a leaking roof requires years of hands-on experience conducting inspections and PVC roof replacement.
Because a PVC roofing installation utilizes layers of durable material, water penetrations can seep through a small crack and build up for months, even years.
These are common reasons behind PVC roof leaks.
Cracked and Missing Sealants Around a Vent Pipe or Parapet
Misaligned or Damaged Flashing
Tears in the PVC Membrane Roof from a Hailstone Strike
Compromised Materials from a High-Wind Storm and Debris Hits
Stretched Materials and Welded Seams from Tornado Force
Outdated PVC Roofing Systems and Materials
Water follows a path of least resistance that gravity dictates.
The origin of a PVC roof leak could be far away from where water damage presents.
And once tenants or property managers believe they have a leaking roof, significant damage may have transpired.
Signs You Might Need Roof Replacement
Although identifying the source of a leaking roof calls for a PVC roof installation services professional, there are telltale signs everyday people can identify.
If you notice any of the following water damage and leaking roof indicators, contact a PVC roof installation services specialist immediately.
Water Spots Appear on Ceilings or Walls
Areas Around Windows Feel Moist or Look Discolored
Water is Ponding on the PVC Roofing System
Dents from Hailstone Strikes Can be Seen on Flat PVC Roof
Gutters and Siding Damaged from Flying Debris
Screens or Window Panes Damaged from Extreme Storm
Sections of the Roof Membrane are Bubbling
Welded Seams Appear Compromised
Roof Appears to be Sagging or Soft in Some Places
The decision to implement minor flat roof repairs or invest in a PVC roof replacement can seem complex to people outside the construction trades.
But the telltale signs of a leaking roof are often symptoms of a larger structural problem.
The best way to make an informed decision is to schedule a roof inspection and review the findings with a reputable PVC roof installation services provider.
PVC Roof Hail & Wind Damage Photos
What a Commercial PVC Roofing Company Does
An experienced PVC roof installation services organization provides commercial, industrial, and institutional building stakeholders with options.
Following a thorough roof inspection, decision-makers can anticipate a detailed report that identifies the strengths and weaknesses of their PVC roofing system.
The findings are based on close scrutiny of the roof membrane, layers, structural integrity of the roof deck, signs of high wind or PVC hail roof damage, as well as the impact of water penetrations.
PVC roof installation specialists also calculate the energy use of a building.
When utility bills do not match the average cost per square foot, PVC roofing systems may suffer from subpar or compromised insulation.
If a replacement is deemed necessary, a responsible PVC roof installation contractor brings everything up to the current building, energy, and safety codes.
By enlisting the services of a PVC roof installation contractor with years of experience, other building restoration components such as gutter and siding replacement can be completed at the same time.
Essentially, the best PVC roof installation services firm completes the roof installation and other necessary restoration on time and on budget.
Can you walk on a PVC roof?
Although people may walk on a flat PVC roof, taking precautions is important to prevent unnecessary damage. It's wise to avoid heavy foot traffic and wear soft-soled shoes when possible. Be careful not to drop or place equipment on the surface. Safety also dictates everyday people should take notice that a flat PVC roof can be slippery.
How is a PVC roof membrane welded?
A process known as hot air welding is typically employed to merge membrane materials into a single resilient outer layer.
Heat is used to create welded seams by heating each seam until they separate sections soften and can be merged together.
How long does a PVC roof last?
A PVC roofing system enjoys a life expectancy of up to  25-30 years when properly maintained.
The key to maximizing the investment involves scheduling an annual roof inspection and making as-needed minor repairs.
How long can you warranty a PVC roofing system?
While warranties vary by manufacturer, RestoreMasters is a certified installer for several industry-leading manufacturers of PVC roofing materials and can offer premium coverage and warranties up to 30 years on the thickest membranes.
Do you work with insurance claims for PVC roof replacement?
RestoreMasters dispatches emergency repair crews when catastrophic storms cause widespread high-wind and hail roof damage. We can connect impacted commercial property owners with a reputable public adjuster firm to inspect your policy.
The public adjuster helps fast-track emergency repairs and a PVC roof replacement when needed. A public adjuster can also communicate directly with the insurance company on your behalf to negotiate a full, fair settlement.
How often should my PVC roof be inspected?
Annual inspections serve an important purpose in terms of maintenance, repair, longevity, and insurance coverage.
RestoreMasters creates a photographic record of each roof inspection that can be used to document the state of PVC roofing systems before and after a storm hits.
We also offer an Overwatch program that includes real-time weather monitoring, an insurance policy review, and rapid response in the event of a catastrophic storm.
Do you offer emergency roof repair for PVC roofs?
Emergency roof repair services remain a pillar of our business model, and RestoreMasters technicians respond when severe weather events cause property damage.
Our experienced emergency roof repair specialists prevent water damage by strategically using tarps, shrink wrap, and can deploy a loose-lay PVC roof installation as a stop-gap measure in some cases.
How to Select a PVC Roof Installation Contractor
PVC roof installation requires an experienced commercial roofing contractor. PVC is a specialty field of roof installation and complex roof systems require careful craftsmanship and adherence to strict manufacturer standards.
If your roof has suffered hail or wind damage, you will want a contractor that can work with you every step of the way. One that is able to perform emergency roof repairs as needed and total installation.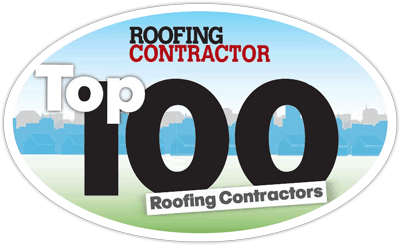 Look for a PVC roof installation contractor with the following qualifications:
Is licensed, bonded, and insured in your state
Trained & certified by the manufacturer to offer the best quality and warranty options
Experience installing your type of flat roof on multiple projects
Experience managing staged roofing projects that may require parallel tear-off and installation
Experience working with insurance companies on damage claims
An experienced roofing contractor can help you avoid leaks and major problems and provide a roofing systems that lasts for decades.
RestoreMasters has been honored with multiple years on the Inc. 5000 List of America's Fastest Growing Companies and consistently ranks among the Top 100 Roofing Contractors in the nation.
In addition to PVC roof installation, RestoreMasters offers: all common types of roofing systems, shrink wrap roofing, roof tarping, loose lay membrane roofing, emergency roofing & repair, water removal, water damage restoration, mold remediation, catastrophic damage inspections, property damage documentation, testing & damage reports, fencing & perimeter security, disaster recovery services, permanent roof replacement, interior restoration services. and general contractor services.
We have roofing & restoration locations across the country to serve you better.
Do you need roofing help?
If you are worried about storm damage or think you may have a roof leak...
Contact us for a complimentary roof inspection & damage assessment ›
RestoreMasters is an experienced full-service restoration contractor - offering turnkey solutions including roofing, siding, windows & doors, interior restoration, exterior repairs & more. With offices nationwide, we are here to serve you!
CALL ››››› (800) 400-ROOF