PVC Roofing
The Complete Guide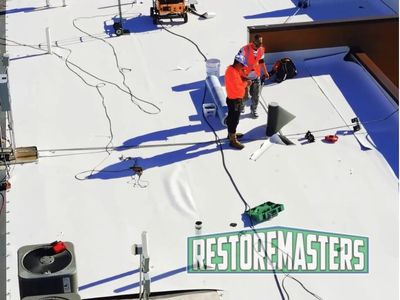 The PVC roof has been widely adopted by commercial, industrial, and institutional buildings for six decades.
Its prominence has been attributed to longevity, ability to withstand severe weather, and cost-effective installation and repair.
If your roof was recently damaged or is approaching its life expectancy, a PVC roof installation delivers wide-reaching benefits.
These are things to consider about PVC membrane roofing systems.
What is PVC Membrane Roofing?
A PVC roof employs a single-ply PVC roof membrane consisting of two layers of specially-formulated vinyl bonded to a polyester reinforcement scrim layer.
The PVC membrane roof is often white or light-colored to deflect intense UV rays and improve energy efficiency.
Everyday people typically think of PVC as the hard plastic pipes used in plumbing. Called "PVC" by industry insiders, the term refers to "polyvinyl chloride."
This synthetic polymer can be manufactured as a rigid or flexible construction material.
A PVC roofing contractor utilizes flexible products to cover a low-slope or flat roof with layers that last upwards of 30 years.
A PVC roof installation begins by laying down a layer of insulation board over the roof deck.
The more commonly used products include ISO or EPS foam boards that possess an R-value between R4 and R6 per inch of insulation thickness.
This essential PVC roofing element minimizes energy losses and helps keep utility costs low.
There are three basic ways a PVC membrane roofing installation can be accomplished. These involve fully-adhered materials, mechanically fastened, or an induction welded PVC roof.
Fully Adhered PVC Roofing: The PVC membrane roofing material is essentially glued directly to the existing substrate using a strong commercial adhesive. This method usually comes into play when a structure cannot easily hold fasteners or property owners wish to minimize penetrations into the roof deck.
Mechanically Attached PVC Roofing: This process involves employing heavy-duty screws and plates to secure the PVC membrane roofing materials in place. A preferred choice in areas prone to severe weather events such as hurricanes and tornados, an attached PVC roof withstands high winds.
Induction Welded PVC Roofing: This process involves heating equipment deployed to the PVC membrane roofing above metal plate locations. The induction welding tool sends electric pulses that heat the metal plate, causing the materials to cling to it. An induction welded PVC roofing system requires fewer fasteners and tends to be less labor-intensive than others in its class.
In all three processes, the seams of PVC membrane roofing sheets are welded together to form a cohesive barrier against the elements.
It's also important to understand that PVC membrane roofing materials are relatively thin compared to other systems. Manufacturers produce products that include thicknesses from 40 mil (0.04 inches) to 90 mil (0.09 inches). Common membrane thicknesses are 60, 80 or 90 mil.
A large number of PVC roofing installations use white materials to reflect the sun's rays. However, alternative colors such as gray, tan, brown, red and green are available. Niche materials can emulate the appearance of roof shingles and certified products are fire-resistant.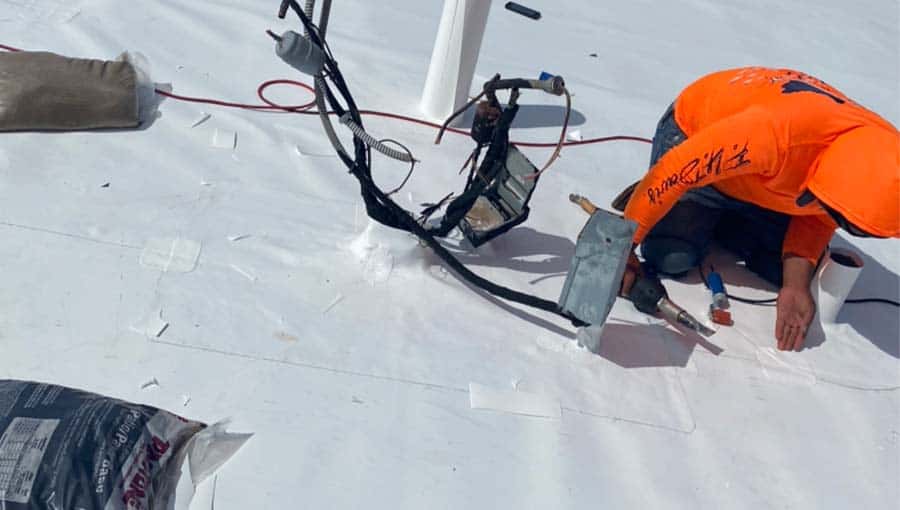 Types of PVC Roofing Membranes
This class of materials has been popular in low-slope and flat roof installations since the 1960s.
The rise of PVC roofing systems was driven by cost-effective installation, reduced weight on structural elements, and the ability to withstand inclement weather. These are commonly employed types.
Standard PVC Roof Membrane
Standard PVC roofing membrane comes as a single-ply product.
Designed to deliver long-term heat reflection and water damage protection, industry-leading PVC membrane roof materials are Energy Star rated.
A standard PVC roofing system is generally comprised of two layers of membrane, with polyester in the middle for reinforcement.
Additives increase flexibility and standard PVC can usually be installed using fasteners or adhesives.
PVC KEE Roof Membrane
When PVC roof membrane materials are manufactured, rigid elements must be modified to make them more flexible.
The liquid plasticizers used to make this happen can evaporate over time. That's why Ketone Ethylene Ester (KEE) was introduced.
KEE PVC membrane roofing products employ a concentrated polymer additive that exceeds many liquid plasticizers.
Essentially, a PVC KEE membrane maintains its elasticity longer and adds to a roof's life expectancy.
This class of PVC membrane roofing products can also be used in conjunction with asphalt and reflects the sun's rays efficiently over time.
Fleece Backed PVC Roof Membrane
By securing high-quality fleece elements to the bottom of a PVC membrane roofing product, it gives a low-slope or flat roof additional support.
Fleece-inclusive materials are easier to install because they can be rolled out directly on the roof.
This process reduces labor costs while delivering an effective protective PVC roofing layer.
A PVC roof installation that leverages fleece-backed products enjoys the flexibility of being secured by adhesives or fasteners.
Buildings in an area prone to high winds often prefer the adhesive PVC roofing installation for its resistance to severe weather storms.
It's important for property owners and managers to know that standard and KEE products can also be selected with a fleece backing.
The decisions surrounding the products used in a PVC roof installation are largely driven by architectural design, structural integrity, and weather conditions. A PVC roofing expert can walk you through the process and answer any questions.
Components of a PVC Roofing System
A PVC roof involves more than a simple membrane.
Each PVC roofing installation requires layers of materials designed to serve a specific purpose.
These include the following.
Roof Deck: The roof deck is the layer of hard material secured to structural supports. It provides a foundation for other PVC roofing elements.
Insulation: Each PVC roof employs a layer of insulation that typically rests on the roof deck. The thickness and type are driven by regional weather patterns and energy efficiency.
Fasteners and Plates: The use of fasteners and plates provides a secure connection between the membrane sheets and roof deck.
Bonding Adhesives: Adhesives may be the best way to install a PVC roof, based on weather conditions, and other factors. Adhesives sometimes prove a suitable choice in places that frequently experience windstorms.
It's also essential to note that flashing and sealants are used where a ventilation pipe, HVAC unit, or parapet extends through the roof.
A high-quality PVC roof installation calls or experienced technicians to properly seal and flash around a parapet to prevent moisture penetrations and water damage.
PVC Roof Manufacturers
RestoreMasters installs only the best PVC roofing systems from the nation's top manufacturers. While we work regularly with the manufacturers below, we also provide PVC roofing systems from several other PVC manufacturers.
If you need a specific type of PVC roofing product, just ask. Other PVC manufacturers include: Owens Corning, GAF, TAMKO, IKO, Certainteed, Firestone, Malarkey, Johns Manville, Atlas, Mule-Hide, Versico, Soprema, Polyglass & others.
PVC Roof Warranties
GUARANTEED BY THE MANUFACTURER
As a Certified Roofing Contractor for multiple manufacturers, RestoreMasters offers warranties up to 30 years on PVC roofing systems.
PVC Roof Hail & Wind Damage Photos
Benefits of a PVC Roofing System
The PVC roof remains a popular choice for a commercial, industrial, and institutional building with a low-slope or flat roof.
That's because a PVC roof provides property owners and stakeholders with lasting benefits, such as the following.
 Cost-Effective Installation
A PVC roofing system ranks among the least labor-intensive options. Reducing the number of work hours it takes to diligently install a PVC roof lowers the cost to property owners.
 PVC Roof Repair is Simple
A flat roof allows PVC repair technicians open access to areas that may have been impacted by hailstone strikes, falling debris, or an extreme weather event. Access and easy-to-apply repair materials minimize cost and maximize emergency roof repair response.
 Durable and Weather Resistant
One of the true tests of any roofing system stems from its ability to withstand temperature swings and severe weather. A PVC low-slope or flat roof provides natural resistance to high winds. When properly secured by an experienced roofing contractor, the surface area deflects high winds. Even if hail the size of baseballs makes impact, PVC roof repairs can be made quickly to prevent water seepage.
 Maximize Energy Efficiency
The PVC membrane roofing materials all serve an energy-related purpose. White and light-colored surface areas reflect harsh UV rays to minimize the need for air conditioning. The insulation layer traps heating and cooling energy inside the facility.
 PVC Roof Lasts Decades
For a PVC roof installation to achieve its maximal life expectancy, three things are necessary. An experienced and certified roofing contractor is required to ensure the installation is conducted with precision. Loose fasteners or inadequate flashing result in unnecessary damage.
The climate where the building is situated also matters. Areas prone to hurricanes and hailstorms may require ongoing repairs. Lastly, the type of installation and PVC membrane roofing materials must correctly meet climate and other expectations. When everything is in place, a properly maintained PVC roof can last 30 years or longer.
Can you walk on a PVC roof?
The short answer is: Yes. However, hard-soled boots and equipment can negatively affect a PVC roof surface.
It's crucial to wear soft shoes and avoid unnecessary foot traffic.
How long does a PVC roof last?
A PVC roof can last for 30 years or longer. Its life expectancy is determined by a variety of factors. However, regular roof inspections and routine repairs help maximize its longevity.
What is the difference between TPO and PVC roofing?
A
TPO roof installation
is made from thermoplastic polyolefin. A PVC roofing membrane melds polyvinyl chloride with other elements into materials. Both roofing systems provide substantial benefits. If you are considering a TPO or PVC roof installation, discuss your best option with an expert.
Is PVC membrane roofing chemical resistant?
A PVC membrane roof stands up to a wide range of chemicals. The PVC KEE membrane earned a reputation for excellent chemical resistance.
Is PVC membrane roofing fire-resistant?
The compounds used to make PVC membrane roofing products are inherently fire-resistant. So, Yes.
Can you repair a PVC roof?
A low-slope or flat roof provides open access for technicians to inspect and implement repairs. Because a PVC roofing system deploys layered sheets, surface cuts and dents are easily repaired. However, catastrophic damage from a hurricane, tornado, or massive hailstone strike may require PVC roof replacement.
Are PVC roofing systems considered green-friendly?
The materials used in a PVC roof installation can be recycled numerous times. They also last 30 years or longer, making them a green-friendly material that reduces carbon emissions and landfill accumulations.
Are PVC roofs considered cost-effective in the long run?
A PVC roof delivers a long-term return on investment on two fronts. First, a diligent PVC roof installation can improve energy efficiency by upwards of 40 percent. The second reason is that a PVC roof lasts 30 years or longer when properly maintained. Bringing those money-saving elements together makes a PVC roof worth the initial investment.
How to Select a PVC Roofing Contractor
PVC roofing requires an experienced commercial roofing contractor. PVC roofing is a specialty field of roof installation and complex roof systems require careful craftsmanship and adherence to strict manufacturer standards.
If your roof has suffered hail or wind damage, you will want a contractor that can work with you every step of the way. One that is able to perform emergency roof repairs as needed and total installation.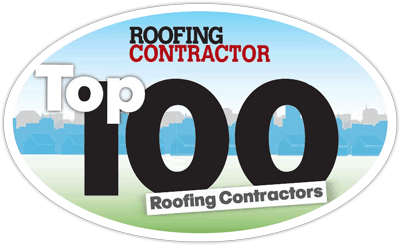 Look for a PVC roofing contractor with the following qualifications:
Is licensed, bonded, and insured in your state
Trained & certified by the manufacturer to offer the best quality and warranty options
Experience installing your type of flat roof on multiple projects
Experience managing staged roofing projects that may require parallel tear-off and installation
Experience working with insurance companies on damage claims
An experienced roofing contractor can help you avoid leaks and major problems and provide a roofing systems that lasts for decades.
RestoreMasters has been honored with multiple years on the Inc. 5000 List of America's Fastest Growing Companies and consistently ranks among the Top 100 Roofing Contractors in the nation.
In addition to PVC roofing, RestoreMasters offers: all common types of roofing systems, shrink wrap roofing, roof tarping, loose lay membrane roofing, emergency roofing & repair, water removal, water damage restoration, mold remediation, catastrophic damage inspections, property damage documentation, testing & damage reports, fencing & perimeter security, disaster recovery services, permanent roof replacement, interior restoration services. and general contractor services.
We have roofing & restoration locations across the country to serve you better.
View more resources related to
PVC
roofing systems
. If you have any specific questions, please don't hesitate to
reach out to our team
.
We hope you enjoyed this PVC roofing guide!
If the answer is YES ›› do us a favor and share this guide with your friends and colleagues on social media. Thank you! 🙂
If you have a website ›› feel free to share snippets of the article. We just ask that you provide a link back to this post as a thank you.
We appreciate you!
Call Now For Emergency Services
Do you need roofing help?
If you are worried about storm damage or think you may have a roof leak...
Contact us for a complimentary roof inspection & damage assessment ›
RestoreMasters is an experienced full-service restoration contractor - offering turnkey solutions including roofing, siding, windows & doors, interior restoration, exterior repairs & more. With offices nationwide, we are here to serve you!
CALL ››››› (800) 400-ROOF
Headquarters
2401 N Commerce St, Ste A
Ardmore, OK 73401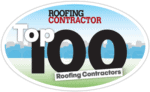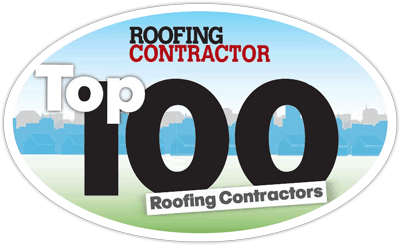 Got Damage?
Request a no fee inspection to assess roof or property damage.