Roof Coatings
The Complete Guide
There is more to roofing than total replacement.
When considering lifecycle costs, it can make sense to prolong the life of the roof with coatings and qualify for a fresh NDL
warranty on an existing roof.
Reflective roof coatings extend the service life of a mature roofing system.
Lasting restoration or repair delays capital
expense until an expensive tear off or overlay is necessary.
In this roof coatings guide ››
You're going to learn everything you need to know about the benefits and possibilities for extending you roof life with roof coatings.
What are Elastomeric Roof Coatings?
Elastomeric roof coatings are an ideal way to protect your roof from damage. In fact, some can prolong a roof's lifespan by up to twenty years.
Silicone, asphalt, polyurethane, and acrylic elastomeric roof coatings are the most common options.
These are typically applied by a roller or spray. Roofers will use multiple gallons per 100 square feet to ensure the roof is fully sealed.
Elastomeric roof coatings should not be mistaken for paint.
They're both liquids, but that is where the similarities end.
Elastomeric roof coatings are far more effective than paint for a number of reasons:
They are thicker than paint

They are specifically designed to protect the roofing from inclement weather and the ravaging effects of too much water, wind, and UV light

They are made using top-tier resin to ensure elasticity

They effectively seal small cracks and seams in the roof

Elastomeric roof coating is eco-friendly. It insulates the roof in extreme weather to keep a building at the ideal temperature
An elastomeric roof coating can be used on a range of roofing materials.
However, some preparatory work is required to ensure the coating is as effective as possible.
The roof should be cleaned before applying an elastomeric coating.

The roof should be inspected for signs of damage. Even the best roof coating cannot fully protect a roof in need of significant repairs.

Concrete, masonry, gypsum, block, brick, and metal surfaces need a coat of primer before roof coating is applied. The roof must be completely clean and dry before applying the primer. An expert may need to check the roof substrate to select the best type of primer to use for the project.
Types of Elastomeric Roof Coatings
Silicone Roof Coatings
Silicone roof coatings have much to offer. They are 100% waterproof, long-lasting, and do not require much maintenance. 
Silicone is also impervious to the elements. It is waterproof and limits UV damage to roofing materials.
Its quick cure time makes it an ideal option for those applying coating right before a severe weather event.
Silicone roof coatings are suitable for a range of surfaces. These include:
Polyurethane foam

EPDM

TPO

Aged PVC

Aged acrylic coatings

Concrete

Metal

Asphalt built-up roofs

Granulated modified bitumen roofs
 Silicone coatings are the best choice when:
There is a two-roofing system in place

Your roof tends to collect and hold water

Your roof is complex and would thus pose installation problems for conventional membrane roofing
Acrylic Roof Coatings
Acrylic roof coatings are incredibly durable and offer a high level of UV stability.
They also get high marks for flexibility, making them the coating of choice for buildings in low-temperature environments.
Acrylic roof coatings can be used on the following materials:
Modified bitumen

Smooth asphalt built-up roofs

EPDM

TPO

PVC
Acrylic coatings are the best choice:
If you have a limited budget

Your roof does not have a problem with water accumulation

You have a metal roof with little or minimal rust
Rubber roof coatings also fall under this category, but differ from acrylic in a few important ways. 
Liquid rubber roof coatings are ideal for metal roofs as they can be applied over mildly rusty surfaces.
They also don't require as many paint coats as acrylic paints.   
SEBS Roof Coatings
Styrene Ethylbutlyene Styrene (SEBS) is specifically designed for use on metal roofs.
Its highly reflective surface keeps buildings at a comfortable temperate while also offering maximum protection from ultraviolet rays.
SEBS roof coatings are also waterproof, able to conform to building movement, have a high tensile strength to allow for roof traffic, and are made using antioxidants and light stabilizers to prolong a roof's lifespan.
It is perfect for use on rusty metal roofs as it prevents corrosion.
SEBS coatings are the best choice when:
You have a metal roof, especially if it is rusty

You have a metal roof in a cold climate. Bear in mind, however, that you cannot apply the coating if the temperature is below freezing. 
Facts About Roof Coating Application
Coatings alone will not fix a leaky roof
An elastomeric roof coating can cover small cracks and seams. However, that doesn't mean it's an alternative for repairing a leaky roof.
If your roof is deteriorated in some areas and/or has a leak, you'll want to hire a roofing repair company to address the problem.
A roof coating may provide temporary relief, but it won't address serious issues. 
The existing roofing system must be repaired with like materials before applying a coating
It's a good idea to have your roof inspected before using a roof coating. Make sure the inspection not only addresses visible signs of problems but also the root cause of these problems.
A leaky roof can cause serious damage to a building's structure if left unattended.
If your roof has leaks or other forms of damage, these need to be repaired with like materials to ensure the roof is 100% watertight.
Once you're satisfied your roof is in top-tier condition, you can apply for an NDL warranty for up to twenty years, ensuring your investment in roof coating pays off long-term.
Moisture trapped below a coating will try to get out through the coating
An important aspect of roof inspection is conducting a moisture scan to ensure the roof is 100% dry. If moisture gets trapped under your roof coating, it will try to get out and likely ruin your new coating job.
If your moisture scan detects moisture in one or more areas of the roof, you'll need to take core cuts to find the extent of the damage.
All moist and wet materials should be fully replaced before using roof covering.
Coatings don't stick to everything
Once you know your roof is in good shape, you'll need to thoroughly clean it. Any dirt, dust, and debris under the coating will damage the coating and reduce its lifespan.
A power wash is a good option, but it's not enough to get the roof as clean as it's meant to be. You'll need to use a cleanser to scrub the roof down.
Be sure to check with a roofing expert if you aren't sure which cleanser is the best option for your roofing material.
If your roof hasn't been cleaned in a while or has gotten heavily soiled since the last cleaning, you may need to scrub it more than once before applying the roof coating. 
Where Can You Apply Roof Coatings
Metal Roof Coatings
A metal roof must be in good repair to protect workers applying the coating and ensure the coating is as effective as it is meant to be.
If your roof is mildly rusted, apply acrylics and silicones before the coating process. Alternatively, you can use a SEBS coating without prior treatment for rust unless your roof is severely rusted.
Bear in mind that fiberglass skylights also pose a hazard to workers.
Make sure the skylight isn't painted the same color as the roof to prevent accidents in the future.
TPO Roof Coatings
Because TPO membranes do not have much surface energy, it is difficult for roof coatings to stick properly to the surface without prior treatment.
To ensure your roof coating lasts long-term, you may want to sand down the surface.
You'll also want to apply a suitable primer before applying the roof coating.
Asphalt and Modified Bitumen Roof Coatings
An asphalt or modified bitumen roof will need special care before applying roof coating.
New bitumen and asphalt roofs will need to age for at least ninety days to allow excess oil to dry off before applying primer and/or roof coating.
Asphalt or bitumen roofs that are more than ninety days old don't have as much retained oil as new roofs.
However, they do have some, so you'll need to apply a stain blocker before coating to ensure the oil does not stain your roof coating.
PVC Roof Coatings
PVC is naturally rigid, making it hard to coat a new PVC roof.
If you have a roof made from this material, you'll need to allow the PVC to age before applying either a silicon or acrylic coating.
EPDM Roof Coatings
EPDM roofs are incredibly durable. They're ideal for any climate with severe inclement weather.
Unfortunately, they aren't very compatible with solvents used in roof coatings, as the chemicals in the solvents cause the EPDM to swell.
This doesn't mean you can't coat an EPDM roof.
However, it does mean you'll need to choose a solvent with care. Consult a roof coatings installer if you need help selecting a solvent. 
Roof Coating Manufacturers
RestoreMasters applies only the best roof coatings from the nation's top manufacturers. While we work regularly with the manufacturers below, we also provide roof coating products from several other roof coating manufacturers.
If you need a specific type of roof coatings product, just ask. Other roof coating manufacturers include: GAF, Certainteed, Firestone, Johns Manville, Mule-Hide, Versico, Soprema, Polyglass, TOPPS Products, APOC, Rhino Linings, GE Silicones, Inland Coatings, Gaco, Viking Products Group, TAMKO, Lexis, Pro-Tech Products, Henry & others.
Roof Coating Warranties
GUARANTEED BY THE MANUFACTURER
As a Certified Roofing Contractor for multiple manufacturers, RestoreMasters offers warranties up to 20 years on roof coating application.
Benefits of Roof Coatings
Roof coatings offer substantial benefits over other roofing systems in key areas.
Here are a few benefits of roof coatings:
 Keeps Your Building Cooler
Because roof coatings have a reflective surface, they won't absorb the summer heat or winter chill. This helps to keep the building insulated, thus lowering energy bills year-round.
 Reduces Energy Consumption
A roof coating keeps energy bills low, which is in itself a great advantage. However, even more importantly, it reduces a company's carbon footprint. As buildings account for up to 40% of all energy used and a whopping 33% of global GHG emissions, anything that can be done to reduce energy consumption goes a long way in protecting the environment.
 Increases Energy Star Rating
Even a building that was originally designed to be energy efficient can become less efficient over time. As the structure changes due to weather, improvements, the addition of new employees, or what have you, energy efficiency levels can plummet, sometimes drastically so.
Coating a roof is a relatively simple yet effective way to raise a building's Energy Star rating. This not only helps a building owner stay in step with local regulations but can also boost a building's value when sold.
 Improves Green Reputation
Individuals the world over are becoming increasingly aware of the need to preserve the environment and lower emissions.
Applying an eco-friendly coating to your roof shows your employees, clients, and business partners that you care about your community and are happy to do your part to keep it clean.
 Protects Against Roof Leaks
As was touched on earlier, coating a roof is not a substitute for fixing leaks. However, a good roof coating can prevent a roof from developing leaks. What's more, it also protects the roof from mold and mildew damage that could cause serious structural damage that may be difficult and/or expensive to repair.
 Extends The Life Of Your Roof
Coating a roof can be costly, but it will save you money in the long run. You won't need to replace your roof as often as would have been needed otherwise. Your roof will require less maintenance than before as the coating protects the roofing material from many types of damage.
Prolonging your roof's lifespan saves you the hassle and inconvenience of having to shut down while the roof is being replaced. It also protects the environment by keeping excess roofing materials out of local landfills. In the end, everyone wins when a building owner uses roof coating.
How to Select a Roof Coatings Contractor
Roof coatings application requires an experienced commercial roofing contractor. Roof coatings application requires careful craftsmanship and adherence to strict manufacturer standards.
If your roof has suffered hail or wind damage, you will want a contractor that can work with you every step of the way. One that is able to perform emergency roof repairs as needed and total installation.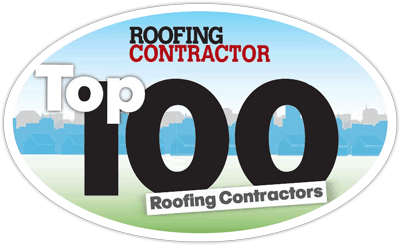 Look for a roof coatings contractor with the following qualifications:
Is licensed, bonded, and insured in your state
Trained & certified by the manufacturer to offer the best quality and warranty options
Experience installing your type of flat roof on multiple projects
Experience managing staged roofing projects that may require parallel tear-off and installation
Experience working with insurance companies on damage claims
An experienced roofing contractor can help you avoid leaks and major problems and provide a roofing systems that lasts for decades.
In 2021, RestoreMasters was ranked #31 of the Top 100 Roofing Contractors in the nation.
In addition to roof coatings application, RestoreMasters offers: all common types of roofing systems, shrink wrap roofing, roof tarping, loose lay membrane roofing, emergency roofing & repair, water removal, water damage restoration, mold remediation, catastrophic damage inspections, property damage documentation, testing & damage reports, fencing & perimeter security, disaster recovery services, permanent roof replacement, interior restoration services. and general contractor services.
We have roofing & restoration locations across the country to serve you better.
Roof Coatings Application
Watch this video to learn more about roof coatings application.
View more resources related to roof coatings. If you have any specific questions, please don't hesitate to reach out to our team.
We hope you enjoyed this roof coatings guide!
If the answer is YES ›› do us a favor and share this guide with your friends and colleagues on social media. Thank you! 🙂
If you have a website ›› feel free to share snippets of the article. We just ask that you provide a link back to this post as a thank you.
We appreciate you!
Call Now For Emergency Services
Do you need roofing help?
If you are worried about storm damage or think you may have a roof leak...
Contact us for a complimentary roof inspection & damage assessment ›
RestoreMasters is an experienced full-service restoration contractor - offering turnkey solutions including roofing, siding, windows & doors, interior restoration, exterior repairs & more. With offices nationwide, we are here to serve you!
CALL ››››› (800) 400-ROOF