Shrink Wrap Roof Seal
Disaster Response Services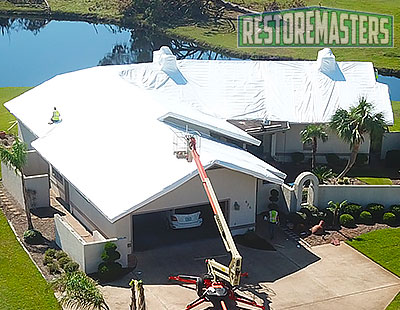 A shrink wrap roof seal has become the preferred roof tarp alternative for emergency leak protection in disaster areas after a large-scale hail storm, hurricane, tornado, derecho, or other high-wind event.
Shrink wrap can offer protection from catastrophic water damage that occurs immediately following roof wind damage or hail damage caused by a major storm.
What exactly is a shrink wrap roof?
A shrink wrap roof is just as it sounds. It consists of a large plastic membrane that shrinks tightly to the contours of your roof using heat. Seams are heat-welded to create a water-tight seal over the entire roof. It is a superior alternative to blue roof tarps.
If you need an emergency roof tarp to stop water leaks, you need to consider shrink wrapping the roof as the better alternative.
Before & After Shrink Wrap Roof Application
About RestoreMasters Roofing Operation
Watch this video to learn more about RestoreMasters
Call Now For Emergency Services
Shrink Wrap Roof vs. Blue Roof Tarp
For years, the traditional material of choice to temporarily stop roof leaks has been the blue roof tarps you see dotting the rooftops of homes and buildings after a natural disaster.
And while roof tarps provide protection from water leaks, they do have some weaknesses. When you're looking for a longer-term temporary solution, a roof shrink wrap may be the best choice.

Blue roof tarps are generally attached using furring strips and nails to hold the tarps down. This creates more holes in your roof. Seams can be a mess, and tarps degrade quickly under the UV rays of the sun.
By comparison, heat shrink material is waterproof, resistant to UV rays, and can shrink to a drum-tight fit - offering better protection against pooling and subsequent strong winds.
If you've been in a disaster site area, you've probably noticed more and more shrink wrapped buildings.
Disaster Site Shrink Wrap Services
Shrink wrapping is not just for covering your roof.
In addition to your roof, sometimes other parts of the structure get ripped apart by strong winds.
In the immediate aftermath of a disaster, when contractors and adjusters are working at full capacity, a temporary solution is needed.
For instance, after a hurricane you may want to wrap your building in shrink wrap until permanent hurricane damage repairs can take place.
In that case, you would have a shrink wrapped temporary roof along with sealed windows and doors.
What types of roofs can be shrink wrapped?
Shrink wrap can be used on nearly any type of roof. Shrink wrap works great on commercial and residential properties. Roof types includes: flat roofs, sloped roofs, asphalt shingle, shake shingle, tile, TPO, metal, EPDM, BUR & others. Common property types include: homes, apartments, resorts, retail, condos, churches, restaurants, office buidings, industrial spaces & others.
How long does a shrink wrap roof last?
A shrink wrap roof tarp is a temporary solution to prevent water leaks, while you are waiting for your roofer to install a permanent roof. In areas hit by a major disaster, sometimes roofers are backed up for several weeks or months. Some shrink wrap roofs are guaranteed for a year or longer, up to certain wind speeds. Check with your project manager.
What material is used for a shrink wrap roof?
Shrink wrap for roofs have been specifically engineered for the application. Roof shrink wrap material is a fire-resistant LDPE plastic material that comes on rolls for easy handling. Shrink wrap film is a thick mil material, that when subjected to heat shrinks in all directions, giving the roof a taught membrane.
How are seams handled on a shrink wrap roof?
Seams are heat-welded to create a continuously bonded membrane over the roof.
How much does it cost to shrink wrap a roof?
A ballpark cost for an installed shrink wrap roof would be $3.50 to $6.00 per square foot. Keep in mind this would be a rough estimate, and project costs can vary. There are several factors that go into shrink wrap roofing costs. Those cost factors include:
Job location & site access
Size & height of building
Shape and slope of roof
Number of penetrations like vents, HVAC, etc.
Mil thickness of shrink wrap material (when considering how long it needs to last before permanent repairs can be made)
How to Select a Shrink Wrap Contractor
While shrink wrapping is a temporary roofing solution, you don't want to take chances with an inexperienced contractor offering a cheap shrink wrap price.
It's important to get a professional roof inspection prior to shrink wrapping to document roof damage. You also want to select a roofing company with experience shrink wrapping multiple types of properties.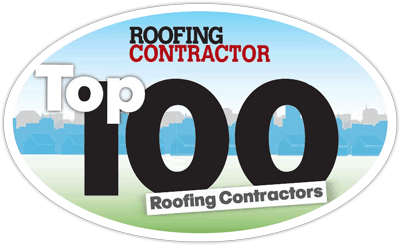 Look for a roofing contractor with the following qualifications:
Is licensed, bonded, and insured
Experience installing emergency roof shrink wrap on multiple projects
Experience installing the permanent roof solution your property will require
Experience managing staged roofing projects that may require parallel tear-off and installation
Experience working with insurance companies on damage claims
An experienced roofing contractor can help you avoid leaks and major problems and provide a roofing systems that lasts for decades.
RestoreMasters has been honored with multiple years on the Inc. 5000 List of America's Fastest Growing Companies and consistently ranks among the Top 100 Roofing Contractors in the nation.
In addition to shrink wrap roofing, RestoreMasters offers: roof tarping, loose lay membrane roofing, emergency roofing & repair, water removal, water damage restoration, mold remediation, catastrophic damage inspections, property damage documentation, testing & damage reports, fencing & perimeter security, disaster recovery services, permanent roof replacement, interior restoration services. and general contractor services.
Shrink Wrap Roofing Projects
Do you need emergency shrink wrap roofing help?
If you are worried about storm damage or think you may have a roof leak...
Contact us for a complimentary roof inspection & damage assessment ›
RestoreMasters is an experienced full-service restoration contractor - offering turnkey solutions including roofing, siding, windows & doors, interior restoration, exterior repairs & more. With offices nationwide, we are here to serve you!
CALL ››››› (800) 400-ROOF