Slate Roof Tiles
The Complete Guide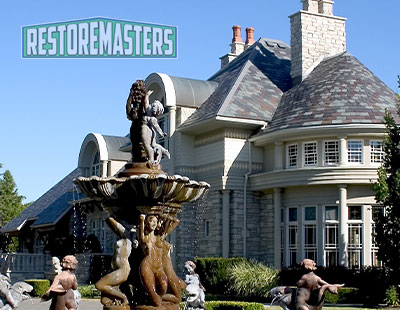 If you notice that you have missing or broken slate roof tiles or you have a roof leak, you landed in the right place.
This guide is for you.
In this slate roof tile guide ››
You're going to learn everything you need to know about:
The different types of slate roof tile materials
The different types of slate roof tile styles
Color options with slate roof tiles
How to select a slate tile roofing contractor
And lots more
Let's get right to it.
What is a Slate Roof?
A slate roof is comprised of overlapping slate roof tiles securely attached to a solid substrate or roof deck on a sloped roof.
Sometimes called a hundred-year roof, when a slate roof is installed properly - it could last 100 years or longer.
Slate tile roofing is a very specialized field of roof installation...
And requires a contractor that is experienced in working with and installing slate roof tiles on various types of projects.
You will find slate tile roofing systems on all kinds of residential, commercial, and historical properties - from resorts to museums and roofing for churches to educational institutions.

What are slate roof tiles made of?
Slate roof tiles are a natural roofing product made of hard rock known as metamorphic rock.
The genesis of this type of rock starts deep in the earth, where heat and pressure transform minerals, clay, volcanic materials and other compounds into very dense rock.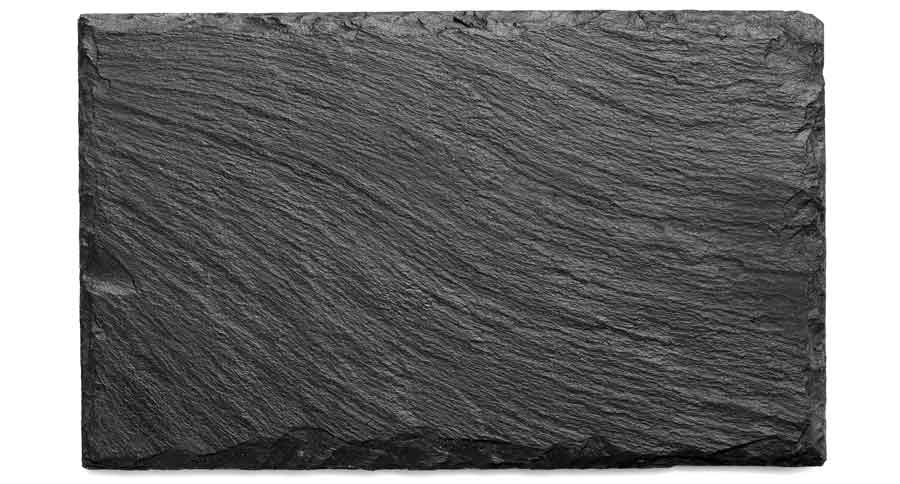 Black and gray slate roof tile colors indicate high carbon content, while minerals such as hematite and iron give some slate colored hues.
Natural slate can be sourced in shades of blue, purple, red, green, brown, tan, and others.
In the United States, slate roof tiles first appeared in the northeastern part of the country, where large slate deposits were found.
Due to the popularity of the aesthetic created by slate roofing, there are also many "faux" slate roof tile options...
Designed to create the look of slate using materials like clay, composite, rubber, asphalt shingles, and more.
It is important, however, to educate yourself on the type of materials used in construction of any synthetic slate roof tile products you may be considering.
While there are some excellent synthetic slate roofing products available, there is no substitute for the real thing.
To get started, let's take a look at some common types of materials used to manufacture slate roof tiles.
Natural Slate Roof Tiles
Natural slate roof tiles are sourced from a variety of slate quarries across the world.
Some slate roof installations use a consistent tile color across the entire roof, while others combine slate from various sources to create beautifully blended roof colors and textures.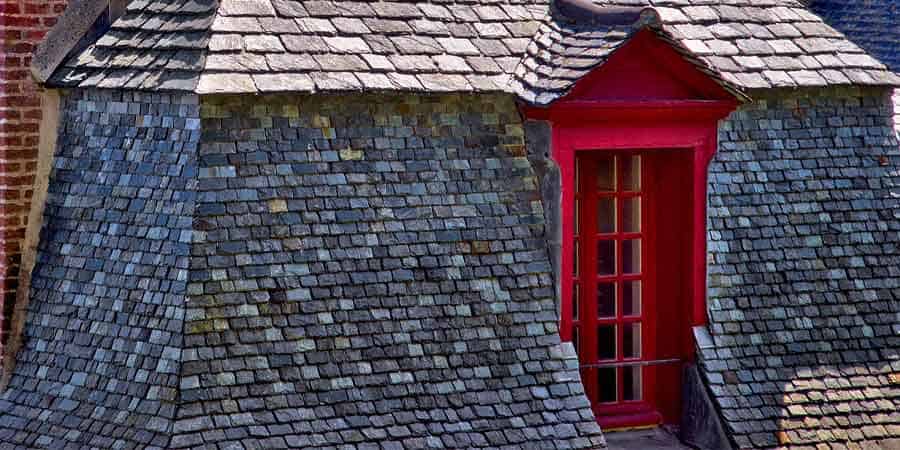 Natural slate comes in multiple shapes, thicknesses, and colors depending on the source and how it's processed.
Slate is extracted from open quarries or from tunnels in a slate mine. Significant sources of slate roof tiles can be found all across the world including Spain, Italy, Germany, the UK, and Brazil.
In the United States, natural slate has been commercially quarried since the early 1700s, starting in Pennsylvania. Other major domestic slate production areas include: Vermont, New York, and Virginia.
North America's largest roofing slate producer is the Glendyne Quarry in Quebec, Canada.
Watch this video to learn more about how roofing slate is quarried and processed.
Concrete Slate Roof Tiles
Concrete slate roof tiles are a popular tile option as well.
Concrete slate roofing tiles are a mixture of portland cement, sand, water, and sometimes various dyes (for color).
Due to its fluid nature prior to curing, concrete tiles are factory-molded into a wide variety of shapes and textures to simulate slate tiles.
They offer excellent resistance to wind or roof hail damage.
However, when comparing natural slate roof tiles vs. concrete slate roof tiles, it's important to note that natural slate lasts longer than concrete.
Metal Slate Roof Tiles
With the durability of metal roofing systems, metal offers another alternative when seeking the look of slate with the convenience of metal.
Metal slate roof tiles offer a nearly unlimited variety of shape and color options.
While most metal roofing options are fabricated from steel, metal slate roof tiles can also be made from aluminum and copper.
Below is an example of brown colored metal slate roof roof tiles installed on an industrial building.
Composite Slate Roof Tiles
Composite slate roofing tiles are made of plastics and other sustainable products.
Some roofing installers prefer them over natural slate or concrete because they are lighter and easier to work with.
Composite slate tile manufacturers are offering some products Class 4 impact resistance, Class A fire rating and 110mph wind ratings.
While natural slate tile has many benefits over other materials, there may be situations where a composite product makes the most sense.
Asphalt Slate Shingles
If you're looking for roof shingles that have a slate look, you may want to consider one of several designer shingle options.
Slate is one of the looks you can achieve with asphalt shingles.
These shingles come with bold shadows and deep cutouts to create the look of slate at a much lower cost.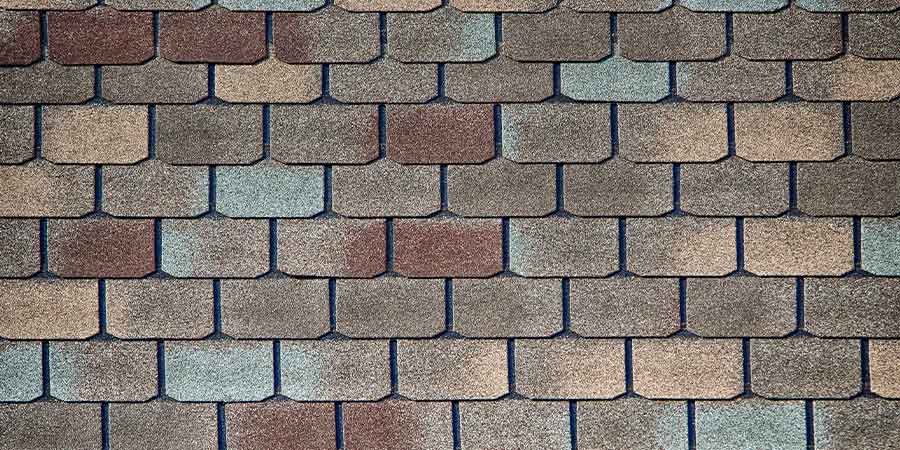 That covers the primary materials of construction when it comes to slate roofing options.
Now, let's look at some of the more common shapes of slate tiles in use...
How long do slate roof tiles last?
In the absence of catastrophic hail damage, many slate tile roofs can last 100 years, 150 years or longer. In fact, there are multiple examples of slate roofs in Europe that are over 400 years old. Some slate manufacturers offer 100-year warranties on their products.
How do you walk on a slate tile roof?
First, we recommend that you do not walk on a tile roof, unless you are a trained roofing professional with experience in tile roofing. Overlapping roof tiles are prone to break under load. However, if you must walk on a tile roof, we recommend stepping near the edges on overlap areas that are supported directly underneath. 
What is meant by fading (weathering) or unfading (semi-weathering) slate?
Unfading (semi-weathering) slate is that which changes very little from its freshly installed color. The color holds fairly consistently through decades, sometimes centuries. Fading (weathering) slate is a slate roof tile that experiences color and shade changes over time. It should be noted that the strength and durability of fading slate is unchanged.
Can you install slate tile on a flat roof?
Slate tile roofing systems require a slope. Using roofing tiles on a flat roof is generally not recommended. Slate is commonly used as cladding on exterior walls as well.
What are slate roof tiles made of?
Natural slate roofing tiles are made from metamorphic rock with varying natural minerial composition which gives slate its colors. Synthetic or faux slate tile materials include: terracotta clay, ceramic, concrete, steel, aluminum, copper, plastic, composite, polymer sand, and others.
Can you replace a shingle roof with a slate tile roof?
Yes, in some cases you can replace a shingle roof with a slate tile roof. However, when choosing your next roof system material, weight is a consideration. It's important that your structure is designed or reinforced to handle the heavier weights associated with certain slate roofing products. If you roof structure cannot handle the weight of natural slate, there are lighter weight synthetic slate alternatives.
How to Select a Slate Roofing Contractor
Slate tile roof installation requires an experienced roofing contractor. Slate roofing projects require indepth knowledge of tile handling and installation practices that are only learned through years of experience. And complex slate roof systems require careful craftsmanship using techniques far different from more common roofing practices.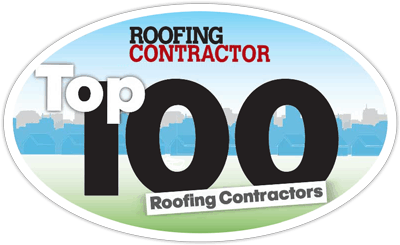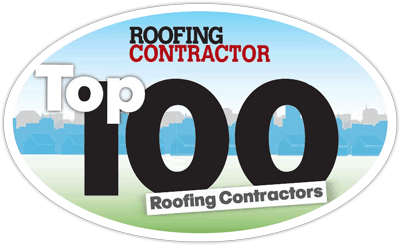 Look for a slate tile roofing contractor with the following qualifications:
Is licensed, bonded, and insured
Experience installing your type of slate roof on multiple projects
Experience managing staged roofing projects that may require parallel tear-off and installation
Experience working with insurance companies on damage claims
An experienced contractor can help you avoid leaks and major problems and provide a roofing systems that lasts for a lifetime.
RestoreMastes is an award-winning roofing and restoration contractor.
RestoreMasters has been honored with multiple years on the Inc. 5000 List of America's Fastest Growing Companies and consistently ranks among the Top 100 Roofing Contractors in the nation.
In addition to slate tile roofing, RestoreMasters offers: all common types of roofing systems, shrink wrap roofing, roof tarping, loose lay membrane roofing, emergency roofing & repair, water removal, water damage restoration, mold remediation, catastrophic damage inspections, property damage documentation, testing & damage reports, fencing & perimeter security, disaster recovery services, permanent roof replacement, interior restoration services. and general contractor services.
We have roofing & restoration locations across the country to serve you better.
The photos and videos below show slate roofing projects in various stages of construction.
Call Now For Emergency Services
Concrete Tile Roof - Jacksonville, FL
Stone Coated Steel Tile - Jacksonville, FL
Stone Coated Steel Tile - Panama City Beach, FL
Tile Roof - Panama City Beach, FL
Black Spanish Tile - Historical Roof
Historical Roof - Scranton, PA
Custom Tile Roof - Tulsa, OK
Specialty Tile - Historical Roof
Green Clay Tile - Total Restoration
Historical Tile Roof Repair - Buffalo, NY
Red Clay Tile & Stucco - Clearwater, FL
View more resources related to slate tile roofing systems. If you have any specific questions, please don't hesitate to reach out to our team.
We hope you enjoyed this slate roof tile guide!
If the answer is YES ›› do us a favor and share this guide with your friends and colleagues on social media. Thank you! 🙂
If you have a website ›› feel free to share snippets of the article. We just ask that you provide a link back to this post as a thank you.
We appreciate you!
Do you need roofing help?
If you are worried about storm damage or think you may have a roof leak...
Contact us for a complimentary roof inspection & damage assessment ›
RestoreMasters is an experienced full-service restoration contractor - offering turnkey solutions including roofing, siding, windows & doors, interior restoration, exterior repairs & more. With offices nationwide, we are here to serve you!
CALL ››››› (800) 400-ROOF