Stone Coated Steel Roofing
The Complete Guide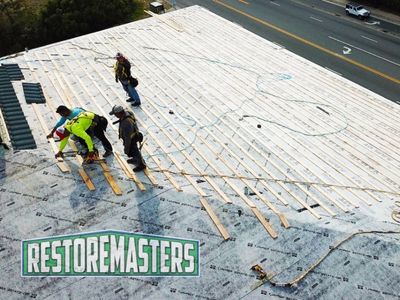 A stone coated steel roofing installation provides the curbside appeal that raises commercial property values while delivering a robust defense against catastrophic weather events.
Stone coated steel roof materials come in a wide variety of styles and color-matching options that are perfect for a commercial or institutional building.
If you recently suffered roof damage or need to replace an aging system, stone coated steel tile, shingles, or shakes rank among the most cost-effective and popular options.
What is Stone Coated Steel Roofing?
Stone coated metal roofing blends the strength of granite and steel with the traditional styles of shingles, shakes, and tiles to deliver a weather-resistant system that improves commercial property values.
Stone coated steel shingles and tiles start with a 26 gauge galvanized steel sheet.
Multiple layers are added to maximize a stone coated steel roofing installation's ability to resist winds up to 120 mph and hailstones the size of tennis balls.
The layered material includes a zinc coating, epoxy primer, high-temperature sealant, and granite chips.
The stone coated steel tile and shingles are then covered with an acrylic overglaze that can be selected in an array of aesthetically pleasing colors.
Stone coated steel roofing systems are considerably lighter than cement, asphalt, and slate, reducing the stress on rafters and support infrastructure.
Unlike some other metal installations, the fasteners are concealed under the shingles or tiles as they overlap on the slope.
Able to deter UV rays while offering a Class A fire rating, a stone coated steel roof installation remains a preferred energy-efficient and sustainable opportunity.
Types of Stone Coated Steel Roofing
The advanced technology used to create stone coated steel roof materials allows manufacturers to mirror desirable traditional styles.
This trend has led to commercial property owners selecting cost-effective modern products that meet or exceed yesteryear materials.
Stone coated steel has emerged as a darling among property owners who understand their building makes a first impression.
These rank among the leading stone coated roofing materials on the market today.
Stone Coated Steel Shingles
Stone coated steel shingles provide an excellent opportunity for commercial buildings with a slope that naturally suits asphalt.
Unfortunately, asphalt shingles are among the least resilient in terms of severe weather and have a shorter lifespan than metals.
Transitioning to stone coated steel shingles allows owners to maintain the building's original look while enhancing its durability.
Today's products include traditional cottage styles and come and are available in colors to accentuate the property.
The inherent difference between asphalt and stone coated steel shingles involves fewer repairs, roof leaks, and decades of longevity.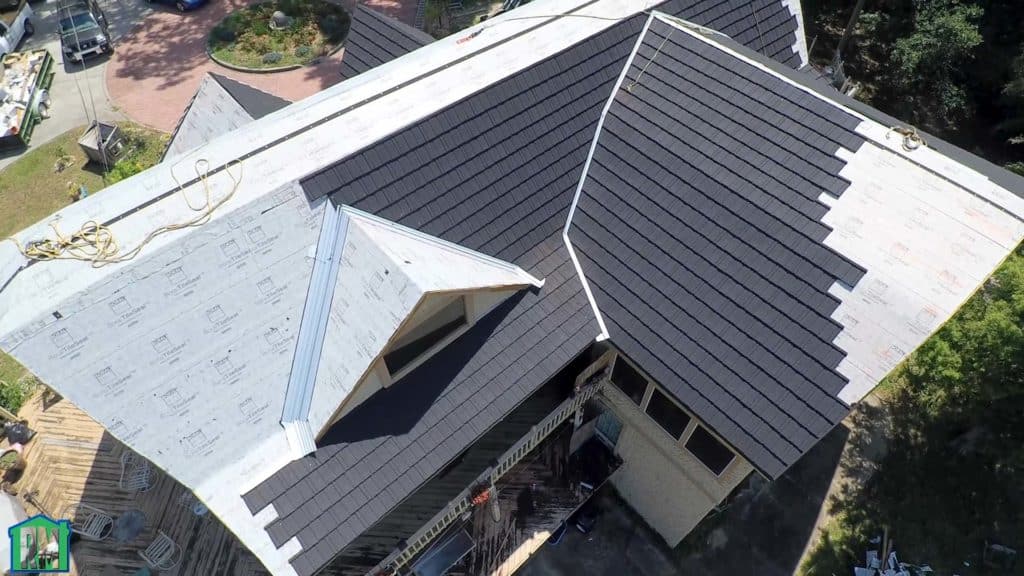 Stone Coated Steel Shakes
Wooden shake roofing systems may look amazing, but the upkeep, storm damage, and relatively short life expectancy make them an unenviable option.
Commercial property owners can now restore outdated roofs with stone coated steel shakes that require minimal maintenance, last decades, stand up to intense weather, and provide an awe-inspiring appearance.
The next-generation technologies used by companies that produce stone coated steel shakes simulate historical roofing systems.
Property owners have wide-reaching aesthetic choices that involve shakes that look like natural cedar, color blends, bronze, and a variety of natural hardwoods.
The key difference is stone coated steel shakes won't rot or crack.
Stone Coated Steel Tile
Few roofing systems rival the rich appearance of clay tiles.
While considered reasonable sound materials to handle the heat and the sun's rays, some of the more extreme weather can negatively impact clay.
Hailstone strikes typically crack, chip, or shatter clay, resulting in a leaking roof.
That's why an increased number of commercial and institutional property managers are transitioning to stone coated steel tile roofs.
Without missing a beat — aesthetically speaking — stone coated steel tile materials enhance the curbside appeal of buildings.
Whether the roof has a high or low slope, stone coated steel tile meets or exceeds the appearance of clay, barrel, flat, or French styles.
Components of a Stone Coated Roofing System
A stone coated steel roofing installation typically involves laying down a series of battens or attaching the tiles directly to the roof deck.
In a batten installation, slim lumber is attached to the roof deck to create a horizontal network to fasten the shingles, tiles, or shakes down.
Each length of stone coated roof material interlocks with the one next to it.
A layer overlaps the top so that rain, moisture, and debris can effectively flow to the gutters.
A direct installation involves fastening the stone coated steel to the roof deck without the added batten system.
This process generally lowers the labor and, to some degree, the materials costs of the installation.
A direct stone coated steel roof installation is generally best suited to areas that see little high-wind activity.
That's largely because a batten installation usually improves wind resistance.
Each stone coated steel roofing installation requires a secure roof deck, water-resistant underlayment, flashing, and sealants.
Experienced contractors are adept at sealing spaces where ventilation pipes protrude through the roof.
Stone Coated Steel Roof Manufacturers
RestoreMasters installs only the best stone coated steel roofing systems from the nation's top manufacturers. While we work regularly with the manufacturers below, we also provide stone coated steel roofing systems from several other stone coated steel manufacturers.
If you need a specific type of stone coated steel roofing product, just ask. Other stone coated steel roof manufacturers include: Westlake Royal Roofing Systems, Decra Metal Roofing, McElroy Metal, Boral, Edco, Tilcor, Tefute, Brava, Roser 
Stone Coated Steel Roof Warranties
GUARANTEED BY THE MANUFACTURER
As a Certified Roofing Contractor for multiple manufacturers, RestoreMasters offers warranties up to 50 years on stone coated steel roofing systems.
Roof Hail & Wind Damage Photos
Benefits of a Stone Coated Steel Roofing System
A stone coated steel roofing contractor gives property owners a cost-effective installation option.
The granite chips hardened to galvanized steel render stone coated steel tile, shingles and shakes durable and weather-resistant.
The acrylic coating and style make them attractive. These are other proven stone coated steel roofing benefits to consider.
Life Expectancy
A stone coated steel roofing installation can last more than 50 years when adequately maintained. By contrast, asphalt shingle roofs require replacement at about 25 years, and cedar shakes last up to 40 years when rigorously maintained.
Energy Efficient
This multilayered roofing product blocks UV rays and effectively transfers heat. A stone coated steel roof can reduce the effect of summer heat on a building by 70 percent when employing a batten installation. The gap between the stone coated tiles and the roof deck provides a buffer to transfer heat.
Sustainable Products
Metal roofing product manufacturers widely recycle materials that prevent previously used items from swelling landfills. Because the steel and other elements have already gone through mining and processing, stone coated steel shingles minimize environmental impact.
Reduce Stress on Roof
A stone coated steel tile installation generally involves less than 2 pounds per square foot of roof stress. Traditional tiles run between 8-12 pounds per square foot. Seemingly light asphalt shingles typically run as high as 4.5 pounds per square foot. The reduced stress of stone coated steel tile and shingles helps extend the life of the roof deck and load-bearing supports.
Weather Resistant
When installed by an expert roofing contractor, this system can withstand winds of 120 mph and hailstones the size of tennis balls.  High winds and hail are the leading reasons that property owners sustain roof damage and are forced to file insurance claims. It may come as something of a surprise but stone coated steel roofing ranks among the more budget-friendly installations.
The labor costs are generally consistent with other types of metal roof systems. The multilayered tiles, shingles, and shakes are often less expensive than their traditional counterparts. Given the extended life expectancies and warranties, a stone coated steel roof remains a preferred choice.
How long does a stone coated steel roof last?
A stone coated steel roof usually lasts for 50 years. It's not unusual for a well-maintained installation to exceed that threshold. The keys to maximizing a stone coated steel roof investment revolve around ongoing maintenance and scheduling an annual roof inspection.
Can you walk on a stone coated steel roof?
There are two ways of answering this question. Can you? Yes. Should you? No. Only a trained roofing installation professional understands the dangers involved in traversing a roof slope. Roofing contractors also know where to place their feet without damaging the stone coated steel shingles or loosening the fasteners.
Can you clean a stone coated steel roof?
The short answer is: Yes. But it's important to exercise care when washing a stone coated steel roof. Pressure washing can result in chipping the protective granite granules and excessively high temperatures can negatively affect the acrylic overlay. If seasonal soot or grit has accumulated on your stone coated roof, it may be prudent to work with a professional.
Is a stone coated metal roof noisy?
A myth about steel roofing systems persists that they are loud when it rains. That may hold true for thin, non-insulated metal sheds. But a complex stone coated steel roof provides the insulation and dense composition needed to reduce weather-related noise. The sound of rainfall on a stone coated steel roof runs about the same as other systems.
Does my entire roof need to be removed for a stone coated steel installation?
A new roof must be secured to a viable roof deck and load-bearing infrastructure. To determine whether a complete replacement is warranted, it's crucial to have an experienced contractor conduct a thorough roof inspection. If the roof deck, rafters, and load-bearing assets are in good condition, removal may not be required.
Why does a Class A fire rating make a difference?
A stone coated steel roof with a Class A fire rating minimizes the possibility of a nearby blazing spreading to your building. Fires send hot embers into the air that land on flat and sloped roofs. Should they land on a cedar shake roof, the facility could ignite. Asphalt shingles typically melt, leaving a roof vulnerable to moisture penetrations. A Class A rating protects against fire roof damage to the structure and may also reduce the cost of commercial building insurance.
Is a stone coated steel roof safe in an earthquake?
A stone coated steel roof ranks among the safest possible installations if you live in an area prone to earthquakes. Because stone coated steel tile and shingles reduce the weight load on the roof deck and beams, the risk of collapse is greatly diminished. All things being equal, the heavier your roof, the more likely it could cave in during an earthquake.
Will a stone coated steel roof lower my utility bills?
When installed by an experienced contractor, a stone coated steel roof will be properly vented and allow hot and cold are to flow efficiently. The better installation option in terms of energy efficiency is usually laying the tiles over a batten system. With adequate insulation, your HVAC system can provide maximal benefits without external temperatures straining energy usage.
How to Select a Stone Coated Steel Roofing Contractor
Stone coated steel roofing requires an experienced commercial roofing contractor. Stone coated steel roofing is a specialty field of roof installation and complex roof systems require careful craftsmanship and adherence to strict manufacturer standards.
If your roof has suffered hail or wind damage, you will want a contractor that can work with you every step of the way. One that is able to perform emergency roof repairs as needed and total installation.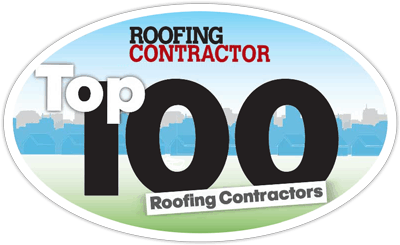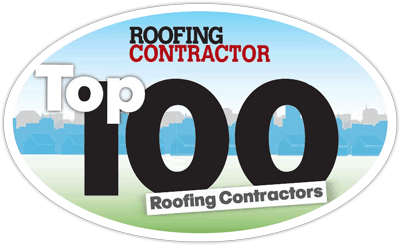 Look for a stone coated roofing contractor with the following qualifications:
Is licensed, bonded, and insured in your state
Trained & certified by the manufacturer to offer the best quality and warranty options
Experience installing your type of flat roof on multiple projects
Experience managing staged roofing projects that may require parallel tear-off and installation
Experience working with insurance companies on damage claims
An experienced roofing contractor can help you avoid leaks and major problems and provide a roofing systems that lasts for decades.
RestoreMasters has been honored with multiple years on the Inc. 5000 List of America's Fastest Growing Companies and consistently ranks among the Top 100 Roofing Contractors in the nation.
In addition to stone coated roofing installation, RestoreMasters offers: all common types of roofing systems, shrink wrap roofing, roof tarping, loose lay membrane roofing, emergency roofing & repair, water removal, water damage restoration, mold remediation, catastrophic damage inspections, property damage documentation, testing & damage reports, fencing & perimeter security, disaster recovery services, permanent roof replacement, interior restoration services. and general contractor services.
We have roofing & restoration locations across the country to serve you better.
View more resources related to stone coated steel roofing systems. If you have any specific questions, please don't hesitate to reach out to our team.
We hope you enjoyed this stone coated steel roofing guide!
If the answer is YES ›› do us a favor and share this guide with your friends and colleagues on social media. Thank you! 🙂
If you have a website ›› feel free to share snippets of the article. We just ask that you provide a link back to this post as a thank you.
We appreciate you!
Call Now For Emergency Services
Do you need roofing help?
If you are worried about storm damage or think you may have a roof leak...
Contact us for a complimentary roof inspection & damage assessment ›
RestoreMasters is an experienced full-service restoration contractor - offering turnkey solutions including roofing, siding, windows & doors, interior restoration, exterior repairs & more. With offices nationwide, we are here to serve you!
CALL ››››› (800) 400-ROOF