Tile Roof Installation
Nationwide Services
Tile roofing installations are among the most iconic and durable systems available to historic, commercial, and institutional property owners.
The eye-catching beauty and ability to withstand inclement weather make a commercial tile roof a cost-effective solution that improves market values.
But like any type of construction, a tile roofing installation possesses a set life expectancy and catastrophic weather events can cause a leaking roof.
It's essential for building owners and managers to schedule a roof inspection following a severe weather event. Routine inspections and ongoing care will also help extend the life of your modern or historic tile roof.
If you have an aging roof or suspect wind, hail, or water damage, these are things to consider.
Call Now For Emergency Services
What is a Tile Roof?
Tile roofing systems inspire a sense of old-world romance and adventure.
Often part of the architectural landscape across the American Southwest and Mediterranean, the historic tile roof has become something of an international tourism attraction.
The multi-colored glazed tile roofs in Burgundy, France, and red ones in Dubrovnik, Croatia, rank among the world's most awe-inspiring.
Property owners across the U.S. don't always realize they can enlist the help of a diligent tile roof installation contractor to enhance their building and raise its property value.
A tile roofing installation involves overlapping attractive and durable materials that accentuate the overall structure.
Experienced tile roof installers fasten these materials to the roof deck, beginning at the soffit, as they work their way to the peak.
It's important for property owners to understand that a tile roof installation requires specialized skills. These are commercial tile roofing options an experienced contractor offers.
Clay Tile Roof Installation
Made by baking molded clay at high temperatures, these roof tile products are considered environmentally sustainable materials.
The most common clay roof tiles are made from Terra-cotta and remain popular in Latin America, as well as the American Southwest.
However, roof tile color options can include yellow, orange, white, and brown, depending on how long they are baked.
Because commercial tile roofing products are created at extreme temperatures, they generally will not fade or peel.
This makes clay tile roofing systems durable and able to withstand the intense heat experienced across the South and Southwest.
Concrete Tile Roof Installation
Concrete roof tiles are crafted by mixing sand, cement, and water into a mold that undergoes a heating and pressure process similar to clay products.
Manufacturers offer lines that emulate wooden shaker roof tiles, slate, and other styles.
These roof tiles can also be painted to color-match existing architecture or personalize the exterior of a commercial building.
A concrete tile roof installation offers the enhanced durability one might anticipate.
Concrete roof tile roofing systems are resistant to hard impacts and provide excellent water removal when constructed with precision.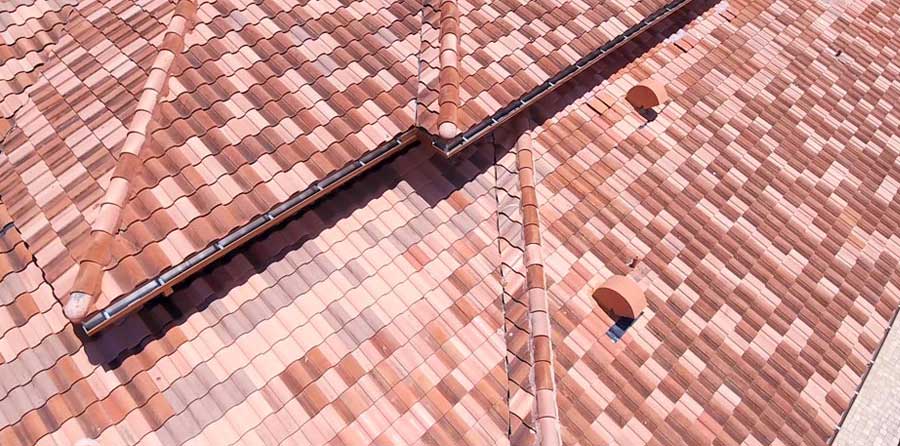 Slate Tile Roof Installation
Crafted from natural stone, a slate tile roof installation offers a superior ambiance few materials can rival.
The slate tile roofing for church and historic buildings passes the test of time, often lasting upwards of 50-100 years when properly maintained.
Highly durable, slate roof tiles easily handle extreme temperatures and high winds.
Today, tile roof installation services providers offer wide-reaching texture and color options.
The variety is mainly dependent on the location of the quarry. It's important for property owners and managers considering slate to have a thorough roof inspection conducted.
Slate roof tiles require a sturdy roof deck and load-bearing infrastructure.
Metal Tile Roof Installation
The advanced technologies applied in metal roof products make them increasingly able to mirror other materials.
A metal tile roofing installation emulates the attractive style of Terra-cotta and other baked products.
Metal roof tiles come in incredibly lightweight long panels that reduce the stress on your roof deck and structural supports.
Long-lasting metal tile roofing systems open the door to wide-reaching color opportunities.
A metal installation ranks among the more cost-effective ways to enjoy a historic tile roof at a fraction of the price of clay or slate.
Composite Tile Roof Installation
The next-gen plastic materials used in a composite tile roof installation are widely considered a cost-effective alternative to clay and slate, among others. Like metal panels, composite roof tiles are available in a variety of colors and textures.
Although not necessarily as lightweight as metal, a composite tile roofing system reduces both labor and materials costs.
Property owners and managers view a commercial tile roofing installation as a preferred choice.
That's primarily due to its cost-effectiveness, longevity, and aesthetic qualities.
Solar Tile Roof Installation
The growing concern for the environment has an increased number of property owners integrating solar energy into commercial buildings.
Solar roof tiles are a relatively recent development that is both sustainable and energy efficient.
Although panels have been utilized for decades, a solar tile roof installation eliminates the need for bulky panels and drilling into the roof deck.
This sidesteps the possibility of a solar technician inadvertently causing tile roof leaks.
When installed by experienced tile roof installation services professionals, property owners enjoy a stylish appearance that helps power the building and reduces emissions. These represent just a sliver of the roof tile options on the market today.
Others include flat shingle tile roofing, interlocking tile roofing, shake tile roofing, scalloped tile roofing, French tile roofing, as well as graduated and tapered tile roofing. Following a thorough roof inspection, a commercial tile roofing expert can cover the best options for your building.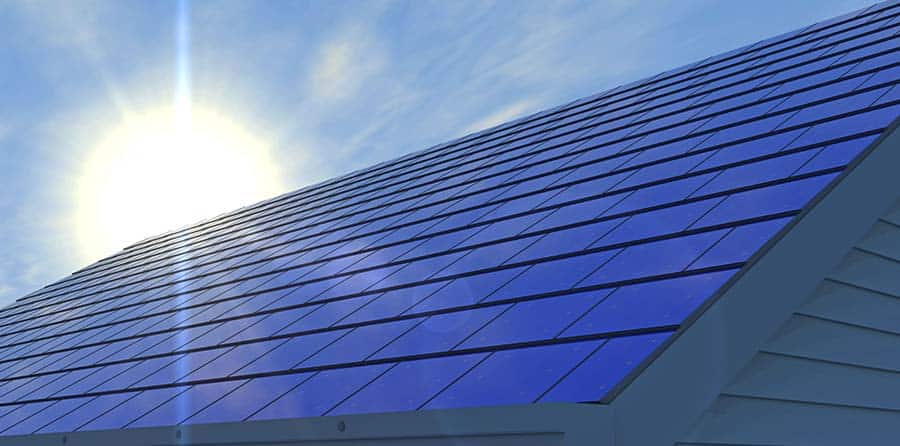 When You Need Tile Roof Installation
Depending on the type of materials, maintenance, and diligence employed by a tile roof installation contractor, a system can last for 50 to more than 100 years.
Commercial property owners typically increase real estate values with a tile roof installation while protecting the structural elements and contents from water damage.
That makes a tile roof installation an excellent investment.
But inadequately maintained buildings or a historic tile roof that has exceeded its life expectancy may require maintenance or repair.
And those that are badly damaged following severe and catastrophic weather events may require tile roof replacement.
If your community recently suffered an intense weather incident, it's important to schedule a roof inspection and work with a tile roof installation services firm regarding critical next steps.
Tile Roof Installation After Hail Damage
A tile roofing system resists the effects of severe weather. But when a storm drops ice chunks on commercial buildings, some level of tile roof hail damage is to be expected.
Hailstone strikes the size of quarters typically result in minor dents to metal roof tiles.
But when a hailstone the size of a baseball plummeting at high speed makes an impact, the damage is usually extensive.
A historic tile roof might see copper trim and copper flashings shift, allowing moisture to penetrate and cause water damage.
The copper nails used to secure a tile roof on church steeples can become loose as slate or Terra-cotta materials move in place.
And the storm damage after a major hailstone incident occurs is obvious when cracks in tile roof materials appear.
Determining whether you need repair of a tile roof replacement involves strict scrutiny of the roof deck, load-bearing beams, and cost analysis.
Tile Roof Installation After Wind Damage
A tile roof installation stands up to high winds better than many other systems. In terms of routine storms and average gusts, tile roof wind damage is unlikely to occur.
But higher-than-normal wind events put an inordinate amount of stress on residential, agricultural, and commercial structures.
Winds that reach speeds of 50 to 60 mph may not qualify as a named storm.
But that level of intensity tears up metal panels, pelt roof tiles with debris, and inflict wide-reaching tile roof wind damage.
The value of an inspection following a high-wind storm to identify difficult-to-detect tile roof wind damage cannot be understated.
Tile Roof Installation After Hurricane Damage
Hurricane roof damage can be quite obvious in many cases. When winds exceed 74 mph during a Category 1 storm, shingles are torn, flying debris causes cracks in tile roof materials, and even siding requires repair or replacement.
When a Category 2 storm hits a region with winds over 100 mph, restoration and tile roof replacement services are usually a necessity.
Even if it appears your commercial tile roofing system survived the hurricane, consider a timely inspection to ensure you don't have a leaking roof.
Tile Roof Installation After Tornado Damage
When a tornado makes a direct hit on a residential, agricultural, or commercial building, complete building restoration is usually needed.
But what some property owners may not realize is that near misses generally result in tornado roof damage.
A twister generates a massive centrifugal force that pulls on everything around it. Debris is sucked into it and slung into buildings far outside the storm path, often causing cracks in tile roof materials.
The vacuum effect also loosens flashing, trim, fasteners, panels, and other elements of a roofing system.
It's not unusual for building owners to suffer tornado roof damage and not know it until the leaking roof results in structural water damage.

My Tile Roof Leaks
Once tenants, property managers, or owners know they have a leaking roof, extensive water damage may already have occurred.
That's because moisture penetrations result in water damage to the roof deck, beams, electrical systems, and overall structural integrity of a historic, commercial, or institutional building.
If you see any of the following telltale signs that your tile roof leaks, contact a tile roof installation services provider and schedule an inspection.
Cracks in Roof Tile Materials
Loose Metal Tile Roof Panels
Misaligned Composite Tile Materials
Dried Out Sealants Around Ventilation Pipes
Damage to Copper Flashings and Copper Trim
Heads of Copper Nails in Gutters
Copper Nails or Fasteners Appear Raised
Water Removal System Backs Up
Debris Found in Gutters
In the event you see water spots on the ceilings or puddles on the floor, it's extremely likely your commercial tile roofing system desperately needs repair or replacement.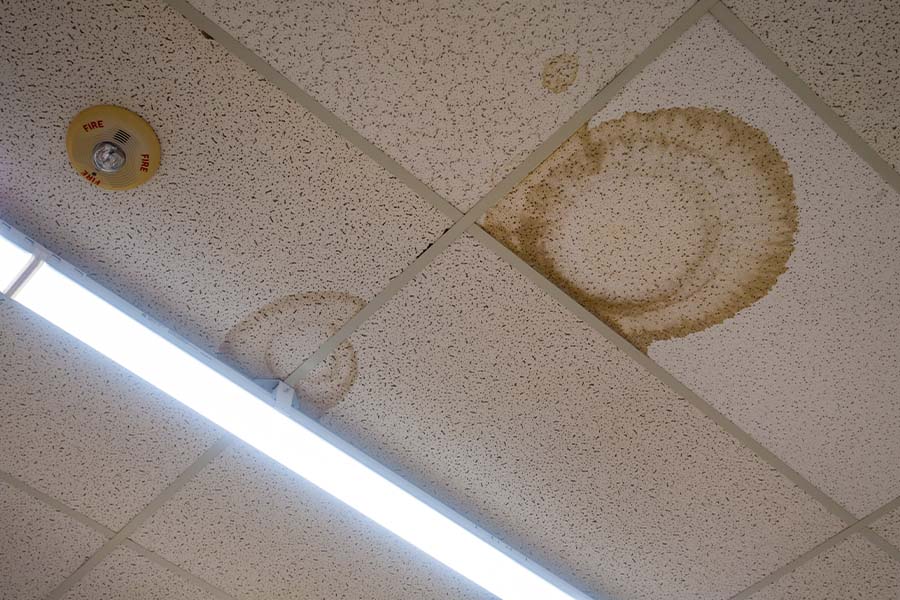 Signs You Might Need Roof Replacement
Although many tile roof replacement or repair indicators are obvious, others are not.
Algae or moss growing on a tile roofing installation may seem harmless to people outside the construction trades.
Such growths may be symptoms related to water removal deficiencies.
When water doesn't flow to gutters effectively, it can pool, soak through cracks, and weaken the roof deck.
That moss and algae could be a sign your roof deck has been impacted and that the building is no longer safe.
Other subtle signs of an unsafe or leaking roof include moisture around doors and windows, sagging roofs, and dents from hailstone strikes, among others.
It's also advisable to contact a contractor about tile roof replacement when the system reaches 80 to 85 percent of its life expectancy.
A proactive tile roof replacement avoids unnecessary building restoration costs.
Tile Roof Hail & Wind Damage Photos
What a Tile Roofing Company Does
A tile roof installation services company provides routine inspections, replacement, and emergency repairs when necessary.
The goal of commercial tile roofing professionals is to help property owners maximize the cost-effective use of the roofs while protecting the structural integrity and contents from water damage and other losses.
A tile roof installation contractor conducts thorough inspections to identify weaknesses and avoid a leaking roof whenever possible.
These trained technicians also measure the energy usage of a building to determine if roof leaks are unnecessarily increasing utility bills.
We also deploy emergency roof repair teams to prevent water damage by using tarps, shrink wraps, and other proactive measures.
A tile roof installation services provider ranks among the most valuable resources when catastrophic weather hits.
At the end of the process, a tile roofing system expert brings the roof deck and structural elements up to the latest safety, fire, and building codes.
A public adjuster can also be brought in to review insurance policies and damage report, and negotiate with carriers to cover the cost of repairs or tile roof replacement.
Tile Roof Installation FAQ
How long do roof tiles last?
Aside from devastating hailstone or tile roof wind damage, the system generally lasts more than 50 years. Metal and cement can be expected to surpass this mark when adequately maintained. Clay roof tiles easily reach the half-century mark in many cases and stone lasts indefinitely. These estimates are based on ongoing maintenance and care.
Can you walk on a tile roof?
The short answer is: You Don't. Only a trained tile roof contractor has the skills needed to walk on these sometimes slippery sloped roofs. The overlapping roof tiles can break under the weight of a person. If you absolutely must walk on the tile roof, employ all possible safety measures and stick to the peak.
Can you paint roof tiles?
Some tile roofing materials can be painted. Others are glazed during the manufacturing process and may be prone to chipping and peeling. If you want to change the color of an existing roof, a tile roof installation provider can provide the best options.
Can you tile a flat roof?
The short answer is: No. A tile roof installation uses gravity and gutters to prevent water from pooling. Flat roofs utilize different materials and water removal systems to protect a structure.
What are roofing tiles made of?
Tile roofing system materials include clay, cement, metal, composites, solar technology, and many others. The diverse materials, aesthetic beauty, and longevity of these materials make tile roof installations a preferred choice.
Can you replace a shingle roof with a tile roof?
The short answer is: Yes. In fact, a tile roof replacement would be considered an upgrade in terms of durability and would likely improve the building's real estate value. It's crucial to work with expert tile roof installers who understand how to properly support the increased weight of materials such as slate, clay, or composites.
How to Select a Tile Roof Installation Contractor
Tile roof installation requires an experienced commercial roofing contractor. Tile roofing is a specialty field of roof repair, and complex roof systems require careful craftsmanship and adherence to strict manufacturer standards.
If your roof has suffered hail or wind damage, you will want a contractor that can work with you every step of the way. One that is able to perform emergency roof repairs as needed, loose lay metal temporary roofing if necessary and total installation.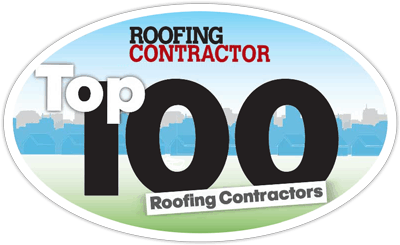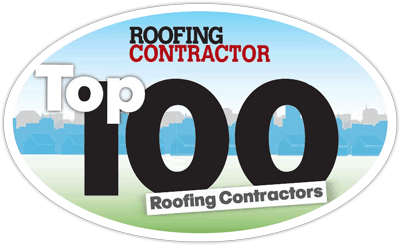 Look for a tile roofing contractor with the following qualifications:
Is licensed, bonded, and insured in your state
Trained & certified by the manufacturer to offer the best quality and warranty options
Experience installing your type of flat roof on multiple projects
Experience managing staged roofing projects that may require parallel tear-off and installation
Experience working with insurance companies on damage claims
An experienced roofing contractor can help you avoid leaks and major problems and provide a roofing systems that lasts for decades.
RestoreMasters has been honored with multiple years on the Inc. 5000 List of America's Fastest Growing Companies and consistently ranks among the Top 100 Roofing Contractors in the nation.
In addition to tile roof installation, RestoreMasters offers: all common types of roofing systems, shrink wrap roofing, roof tarping, loose lay membrane roofing, emergency roofing & repair, water removal, water damage restoration, mold remediation, catastrophic damage inspections, property damage documentation, testing & damage reports, fencing & perimeter security, disaster recovery services, permanent roof replacement, interior restoration services. and general contractor services.
We have roofing & restoration locations across the country to serve you better.
Tile Roof Installation Photos
Do you need roofing help?
If you are worried about storm damage or think you may have a roof leak... Contact us for a complimentary roof inspection & damage assessment › RestoreMasters is an experienced full-service restoration contractor - offering turnkey solutions including roofing, siding, windows & doors, interior restoration, exterior repairs & more. With offices nationwide, we are here to serve you!
CALL ››››› (800) 400-ROOF