Exterior Building Restoration 
Nationwide Services
When a destructive weather force or fire damages a commercial building, wide-reaching repair and replacement efforts are needed.
At RestoreMasters, we provide interior and exterior construction as well as roof repairs to minimize a property owner's losses.
The sooner commercial building restoration services can be completed, the sooner you can reopen.
Call Now For Emergency Services
What is the Building Envelope?
Everyday people talk about the components of a building, such as a roof, siding, foundation, windows and doors.
When all of these elements are considered together, they comprise what construction professionals refer to as the building envelope.
A structurally sound building envelope acts like a shield against catastrophic weather and the ensuing water damage.
The exterior construction elements that form a commercial building envelope are designed to protect its interior and contents.
If your commercial building has been impacted by a high wind event, hurricane, tornado, or hailstorm, it's crucial to schedule a building and roof inspection to ensure water penetrations do not weaken rafters, load-bearing infrastructure, and the valuable contents inside your facility.
Building Damage That Requires Exterior Restoration
It's important for commercial building owners and property managers to understand that extreme weather inflicts a wide range of obvious and subtle damage that may require commercial building restoration and repair.
These are ways destruction storms affect commercial, agricultural, and institutional building envelopes.
Hail Damage
It's not unusual to think about hail damage as an exterior restoration issue specific to the roofing system.
Roof hail damage typically occurs when fast-moving ice the size of quarters to baseballs strike rooftops.
Gutters show obvious damage while the cracks around ventilation pipes and HVAC units may go undetected.
Hailstorms are also accompanied by fierce straight-line winds and strong gusts as well. That means hail is pushed into siding, windows, and doors.
The dents and cracks left behind are not necessarily purely cosmetic.
Hard impacts can affect the siding, windows, and exterior insulation finishing system, allowing moisture to infiltrate and hazardous molds to grow behind walls.
Wind Damage
A high wind event can reach upwards of 74 mph before television news stations consider it a named storm.
Winds in the 40-50 mph range can easily tear singles and roofing panels off buildings.
And snapped limbs, falling trees, and flying debris break window panes and can easily destroy the siding of buildings.
If your property looks even remotely dinged or dented following a high-wind storm, contact a commercial building restoration specialist to conduct a thorough inspection.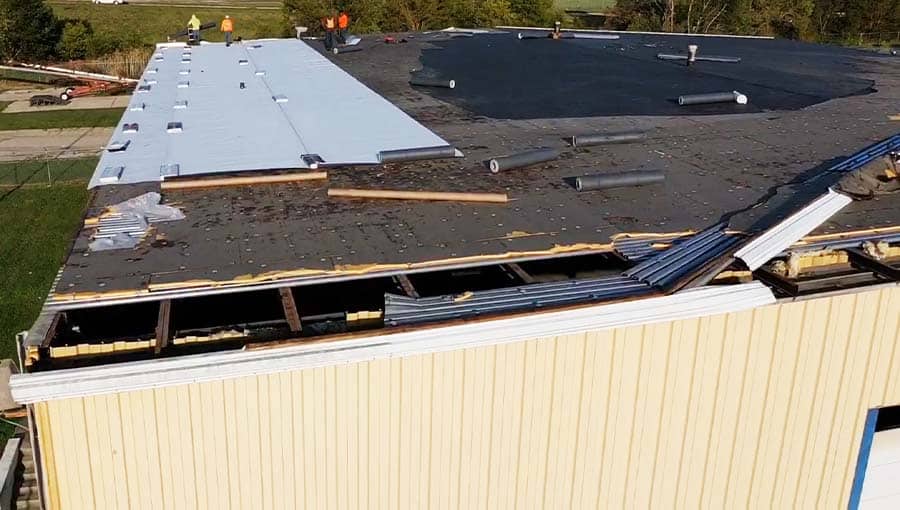 Hurricane & Tornado Damage
When a hurricane makes landfall, the need for commercial building restoration services is obvious.
Roofs are badly damaged, swaths of siding are ruined, and other exterior construction aspects require hurricane damage restoration services.
Otherwise, driving rains will seep through the roof, siding, windows, and compromised sealants and flashing.
The need for tornado damage restoration services is not always as clear.
Near misses sometimes leave property owners feeling relieved they escaped disaster.
But the ferocious winds of a tornado lift and fling debris into windows, doors, siding, and gutters, among other parts of the building envelope.
And the vacuum-like force of a tornado's suction pulls on everything around it.
If a tornado passed through your area, err on the side of caution and schedule an inspection.
Fire Damage
Fire damage restoration efforts rank among the most comprehensive because they call for wide-reaching processes before interior or exterior construction can begin.
Firefighters who extinguish the blaze usually drench the building with fire suppressants and water.
That means damage to the roofing system, windows, doors, rails, gutters, and others will require water removal.
The essential point is that fire doesn't just create charred remains and smoke damage.
Fire damage restoration often calls for a new roof, rafters, siding, and structural supports, among others.
Flood & Water Damage
When torrential rains cause levees to give way or rivers to overflow, flooded building owners need a commercial building restoration organization that handles every step of the rehabilitation process.
This means securing a perimeter, removing debris, performing water removal, and prepping the site for interior and exterior construction.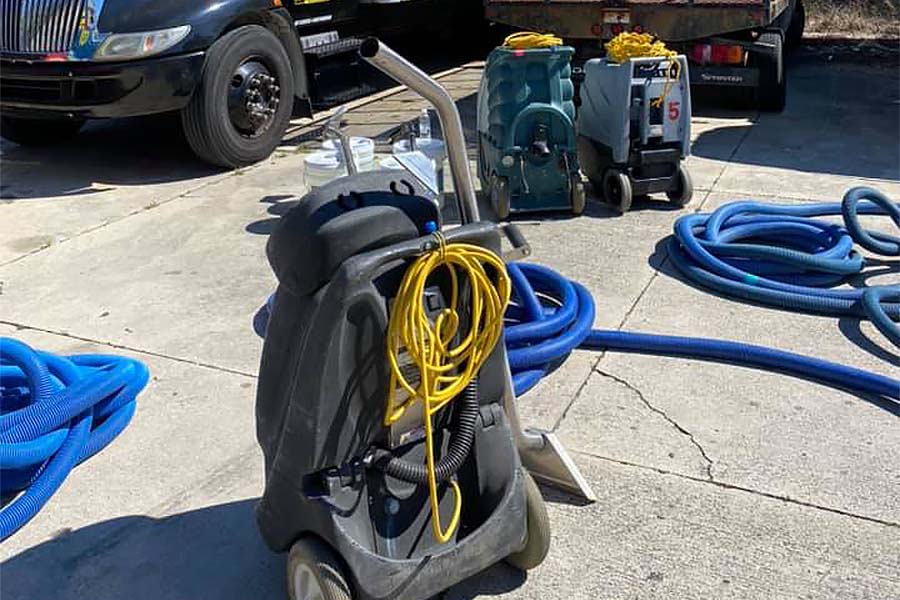 Exterior Building Restoration & Construction Services
An exterior building restoration contractor addresses damaged and weakened elements of a structure following a catastrophic storm or devastating fire.
Until the building envelope is secure, the interior of a facility and its contents remain at risk.
The following are items a commercial building restoration professional handles.
Structural Supports
A storm may cause water damage to rafters and load-bearing walls.
Reconstructing many of these are routine reconstruction duties for experienced crews.
But fires and catastrophic weather can compromise the structural integrity of a building.
That's why we provide engineered restoration services to ensure your property exceeds fire safety and building codes.
Roofing System
As an experienced roofing contractor with offices in all 50 states, RestoreMasters repairs and replaces roofing systems every day.
Our trained and certified technicians perform a thorough roof inspection.
We provide a detailed report and reliable roof repair or replacement estimate to help property owners make informed decisions.
Windows & Doors
Windows and doors take the brunt of high wind and hailstorms. It's essential to replace badly damaged windows and doors with premium products.
Quality window and door restoration can improve property values when installed by an expert.
Walls, Siding & Cladding
The impulse to fill dents and cracks on a building's exterior may not lead to a good result.
When hail and flying debris hits the exterior, the seemingly minor damage allows water to penetrate siding materials such as stucco, vinyl, metal, Hardie board, wooden shingles, clapboard, and engineered products.
Exterior restoration is typically covered by commercial building insurance and new siding usually raises property values.
Stairs & Railings
The leadership team at RestoreMasters understands that property managers prefer to streamline the building restoration process and save money.
That's why our exterior construction crews are skilled at rebuilding or repairing stairs and rails. We can also handle walkways and hardscapes if necessary.
HVAC & Ventilation
As a comprehensive commercial building restoration organization, RestoreMasters has technicians available to replace an HVAC unit, and install new ductwork, vents, fans, and ventilation pipes.
Addressing your building restoration needs by working with one leading company reduces redundancy and saves money.
Trim & Finish
Following a tragic loss, property owners look forward to complete interior and exterior restoration so that they can get back to work.
We handle seemingly peripheral items such as signage, decks, lighting, awnings, and repainting to expedite the process.
As a leading building restoration contractor, no aspect of a project is too small or challenging for our team.
Turnkey Interior & Exterior Restoration Contractor
RestoreMasters enjoys a national reputation for excellence because our customer-first philosophy improves services year over year.
We perform comprehensive roof and building inspections and respond to impacted communities following catastrophic storms.
Our field teams secure roofing systems and we deploy building restoration professionals to help affected property owners get back on their feet.
As an industry-leading organization, RestoreMasters handles every facet of interior and exterior construction.
We bring the building into compliance with fire safety and building codes and work diligently with property owners during the insurance claim process.
If you would like support with your policy or insurance claim, we can connect you with a reputable public adjuster.
When the building restoration process is complete, RestoreMasters delivers a turn-key facility.
Exterior Building Restoration
Watch this video to learn more about exterior building restoration.
Can you fix my leaking roof?
RestoreMasters offers no-cost roof inspections to identify leaks and take proactive measures to stop water penetration. We deploy emergency roof repair crews to areas affected by extreme weather to secure rooftops. Methods include tarps, shrink wrapping, and roof overlays when practical. Yes. We can fix your leaking roof.
How soon can you be on-site following hurricane damage?
RestoreMasters can be on-site once power lines and trees have been cleared from roadways. We monitor catastrophic weather events across the country and alert field teams to stand ready. If you need hurricane damage restoration, we will respond promptly.
How soon can you be on-site following a tornado, derecho, or severe wind damage?
Effective tornado damage restoration calls for a timely inspection before water infiltrates the roof deck or insulation. Once moisture gets into attics or behind walls, hazardous mold growths spread. That's why RestoreMasters crews are ready to provide support as soon as the roads are cleared.
Do you work with the insurance claim?
Our experienced professionals perform essential services that involve interior and exterior building restoration. We understand that impacted community members must often navigate the insurance claim process to fund the rebuild.
That's why we secure the premises and connect owners with a public adjuster firm. A public adjuster can review your policy and help negotiate an insurance claim to get you the full, fair compensation you deserve.
How long does a commercial building restoration take?
The honest answer is: It depends. The extent of the damage typically determines the restoration timeline. RestoreMasters reduces the time it takes to reopen by bringing experienced professionals to the site who can handle virtually everything.
How to Select an Exterior Restoration Contractor
Selecting an exterior restoration and construction company to restore your property after a disaster is a big decision. 
You need a team of professionals that can spring into action and mobilize immediately with the resources needed to get the job done and help you plan for a future permanent roof replacement solution.
It's important to get a professional roof inspection prior to completion of emergency roof repairs. You also want to select a roofing company with extensive experience installing your type of roof.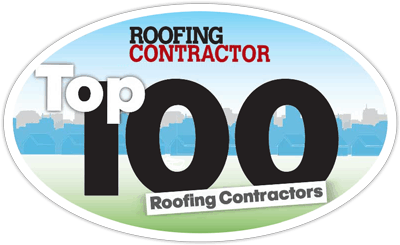 Look for an exterior restoration and construction contractor with the following qualifications:
Is licensed, bonded, and insured
Experience in emergency roofing & repair services
Experience installing the permanent roof solution your property will require
Experience managing staged roofing projects that may require parallel tear-off and installation
Experience working with insurance companies on

 

roof damage claims
An experienced emergency roofer can help you avoid leaks and major problems and provide a permanent roofing solution that lasts for decades.
In 2022, RestoreMasters was ranked #29 of the Top 100 Roofing Contractors in the nation.
In addition to exterior restoration and construction, RestoreMasters offers: all common types of roofing systems, shrink wrap roofing, roof tarping, loose lay membrane roofing, emergency roofing & repair, water removal, water damage restoration, mold remediation, catastrophic damage inspections, property damage documentation, testing & damage reports, fencing & perimeter security, disaster recovery services, permanent roof replacement, interior restoration services. and general contractor services.
Do you need roofing help?
If you are worried about storm damage or think you may have a roof leak... Contact us for a complimentary roof inspection & damage assessment › RestoreMasters is an experienced full-service restoration contractor - offering turnkey solutions including roofing, siding, windows & doors, interior restoration, exterior repairs & more. With offices nationwide, we are here to serve you!
CALL ››››› (800) 400-ROOF