Interior Building Restoration
Nationwide Services
When severe weather, flooding, or fire damages a commercial, agricultural, or institutional structure, exterior and interior commercial building restoration services are necessary.
That's because high winds and hail often damage roofs, allowing water to impact the interior.
Floods and broken pipes soak carpeting, drywall, and systems throughout the building.
At RestoreMasters, we provide commercial building restoration services that include emergency roof repair, water removal, and interior construction to help property owners reopen as quickly as possible.
Call Now For Emergency Services
What Building Components Comprise the Interior?
Interior restoration involves rebuilding layers of building materials and systems.
When a catastrophic weather event, flood, or fire damages a commercial building, the rebuild requires interior construction teams with general and niche skills.
Crews will need to rebuild the infrastructure including studs, door frames, and load-bearing walls, among others.
Certified technicians handle electrical work, HVAC installation, as well as fire suppression systems. And interior restoration specialists who handle finish work will need to be on-site to install flooring fixtures, countertop, and trim, among others.
One of the pitfalls commercial, agricultural, and institutional property owners too often experience involves hiring multiple contractors that result in delays and cost overruns.
RestoreMasters provides comprehensive commercial building restoration services that help impacted property owners save money and reopen quickly.
Building Damage That Requires Interior Restoration
The need for interior restoration typically results from a devastating loss. Fire, flooding, and destructive weather remain leading reasons for damage.
But sometimes property owners and managers consider exterior damage only cosmetic and decide to forego an inspection.
The water penetrations that follow cause damage to rafters, walls, and structural supports.
Moisture in attics and behind walls also spurs hazardous mold growths.
The costly remediation and interior restoration that follow were usually avoidable.
If you endured extreme weather or other damage, it's imperative to schedule a building and roof inspection to prevent interior construction losses.
Hail Damage
Hailstorms result in more than 7 million property damage insurance claim filings each year.
That figure may actually under-represent the losses suffered by building owners each year because roof leaks lead to weakened walls and rafters, as well as mold growths long after the hailstorm.
Any time hail strikes a roof, it causes some level of damage.
Hailstones the size of half dollars crack asphalt shingles and dent metal panels.
Ice chunks the size of baseballs smash roofing systems of all kinds.
What sometimes goes undetected is the seemingly minor damage inflicted on sealants, flashing, and fasteners that allow water penetrations.
It's crucial to nip this roof damage in the bud and avoid extensive interior restoration later.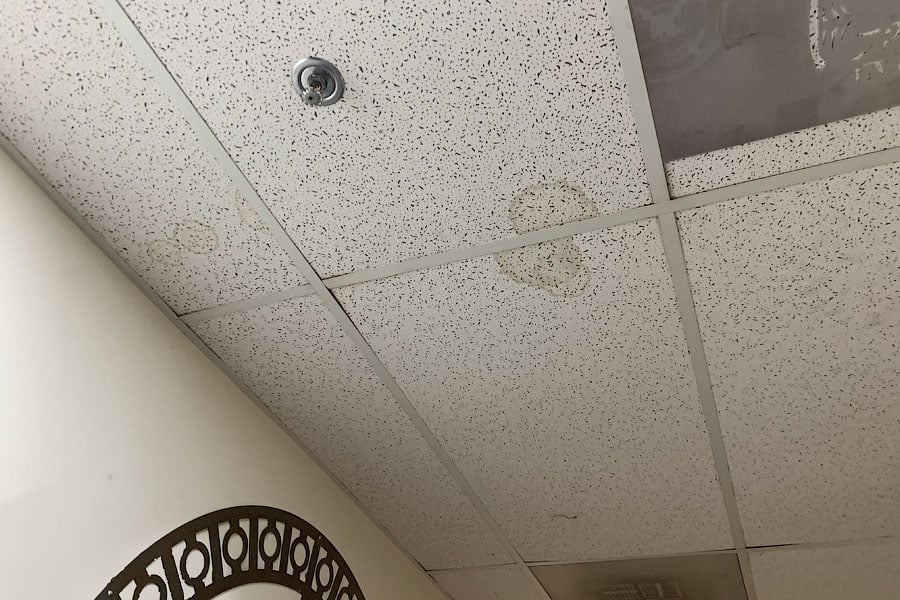 Wind Damage
High straight line winds and powerful gusts tear off roofing shingles and panels.
They also send debris flying into siding, smash windows, and snap tree limbs that slam into buildings. This type of obvious damage opens the interior of a building up to heavy rains and pest infestations.
But winds that do not necessarily result in gaping holes in the roof or exterior walls may also call for interior restoration.
Flat roofing systems can have the rubber overlay raised and seams affected. Metal roofs see panels moved and fasteners begin to leak.
The point is that strong winds that do not meet the criteria of a so-called "named" storm negatively affect roofs and siding that start a process leading to avoidable interior restoration.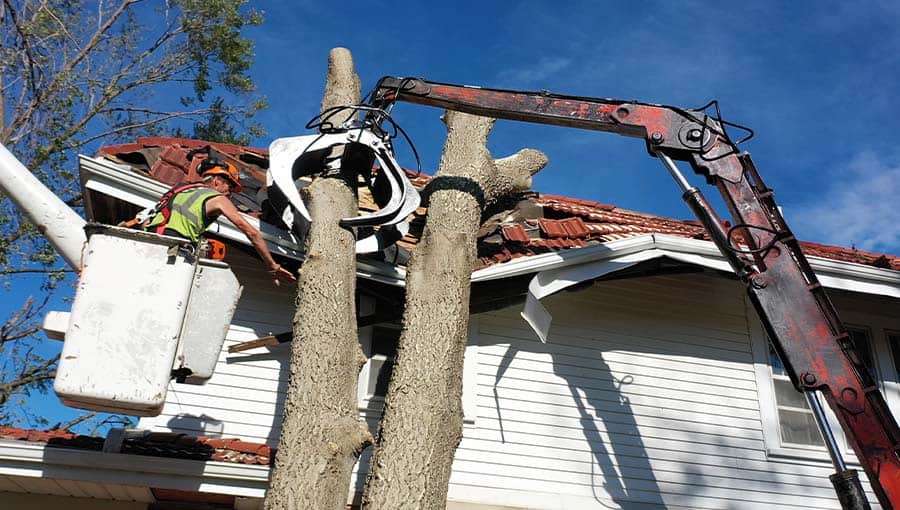 Hurricane & Tornado Damage
To qualify as a Category 1 hurricane, a storm must generate wind speeds of 75 mph or greater.
A Category 2 ravages communities with wind speeds over 100 mph, in many cases, as roofs are torn open, siding ripped off buildings, windows shattered, and interior hurricane damage restoration is critical.
The need for tornado damage restoration may not be quite as obvious.
Buildings in the direct path of a twister also see roofs torn off, siding badly damaged, windows smashed, and doors come off their hinges.
But when a commercial building is even in the proximity of a twister, the vacuum force pulls at roofing systems, gutters, flashing, and sealants around ventilation pipes.
When these seemingly minor issues result in a leaking roof, damage to the building's interior follows.
At RestoreMasters, we urge property owners and managers to schedule a building and roof inspection after a tornado incident.
Fire Damage
When a blaze starts inside a commercial building, it leaves more than just charred walls and ash.
The heat generated by the flames melts the coating of electrical wires and smoke is absorbed into carpets, drywall, ceilings, and other interior construction materials.
Many fires reach the rafters of a structure and open gaping holes in rooftops.
That's why fire damage restoration starts with emergency roof repair and replacement, and progresses to interior commercial building restoration.
Flood & Water Damage
When levees give way or riverbanks overflow, communities sustain tragic flood damage.
As an industry-leading organization with offices in all 50 states, we provide emergency flood damage services to support ailing communities.
RestoreMasters also provides water damage restoration when the interior of a commercial, agricultural, or institutional building is affected.
When the rain pours through a damaged roof, pipes burst, or firefighters use hoses to contain a blaze, drywall, flooring and other interior construction elements require removal and replacement.
Interior Building Restoration & Construction Services
As an organization committed to customer-first interior building restoration, we have the resources and certified people to provide soup-to-nuts service.
From our early-response emergency roof repair crews to specialists that prepare the project for interior restoration, the following services streamline the process.
Water Damage Removal
It's mission-critical to stop water from flooding your building and minimize the damage.
Depending on the source of the water, we dispatch emergency roof repair teams, plumbing specialists, and others to secure the premises.
Once the flow has been stopped, water damage removal technicians remove soaked drywall, flooring, and other items.
If mold growths have taken hold, removal and remediation professionals eliminate these hazards.
Then water removal equipment is brought in to dry out the facility and ready it for prompt restoration.
Walls & Trim
A flooded, rain-soaked, or fire-damaged interior typically tasks interior construction crews with removing drywall, studs, millwork, and other affected materials.
Once all the water or fire-impacted materials are extracted, your building enjoys a clean slate to restore the interior to its pre-damaged condition.
Roofing System
RestoreMasters remains a national leader in commercial roof repair and replacement.
We dispatch early response crews to communities hit by catastrophic weather, floods, and fires.
We also provide complimentary roof inspections to identify weak points before they allow water damage to impact interiors.
We repair and replace every type of commercial roofing system, bar none.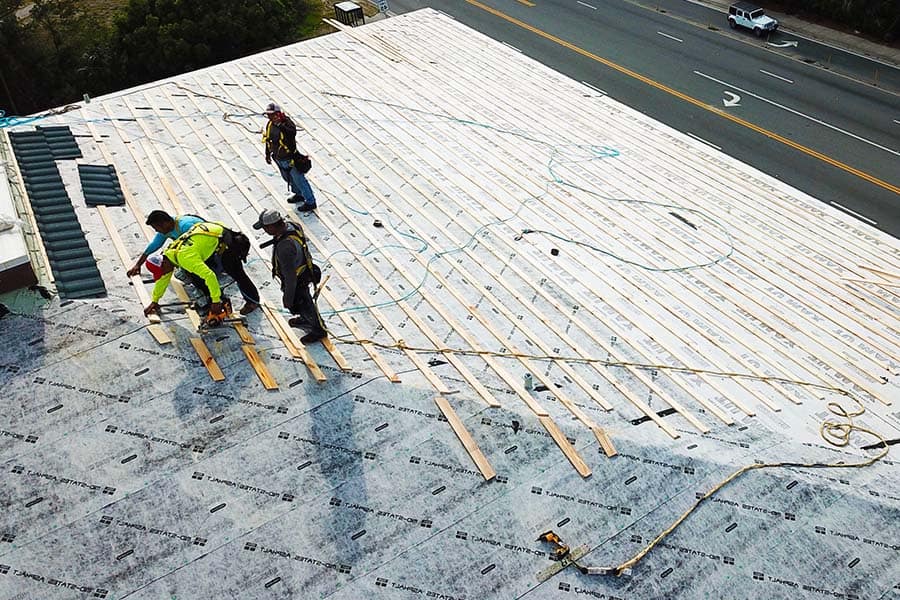 Flooring
When floods or fires damage the interior of a structure, rarely does the flooring survive.
We install carpeting, hardwoods, tiles, and specialty materials such as basketball court floors on a routine basis.
Plumbing & Electrical
Plumbing and electrical systems are usually impacted by catastrophic weather, fires, or flooding.
In the interest of saving property owners money on interior construction and reopening more quickly, we bring certified plumbers and electricians to the equation.
A RestoreMasters contractor manages the project to ensure efforts are coordinated and the project is completed on time and on budget.
Trim & Finish
Reopening a facility and getting back to work calls for every last detail to be completed.
We deploy interior construction crews to rebuild walls.
Then our skilled millwork and interior painting professionals seamlessly step in and complete the process.
Our mission is to swiftly restore an operation, so the property owners can resume their financially lucrative endeavors.
HVAC & Ductwork
Commercial building codes call for the movement of fresh air to occupants and property owners need their HVAC system operational to reopen.
We regularly mount units on rooftops and into walls. Technicians replace HVAC compressors,  condensers, ductwork, piping, fans, and other aspects of the ventilation system.
Our customer-first mandate is designed to benefit property owners and managers by reducing hardships and eliminating unnecessary restoration delays.
Turnkey Interior & Exterior Restoration Contractor
RestoreMasters possesses a national reputation for excellence because our customer-first approach helps commercial, agricultural, and institutional operations reopen without delay.
We offer comprehensive inspections and provide decision-makers with a detailed report and reliable restoration estimate.
Our emergency services secure rooftops, perform debris removal, and water removal to expedite repairs and restoration.
Certified team members will bring your building into compliance with fire safety and building codes.
We work closely with community members during the insurance claim process.
If you would like support with your policy or insurance claim, we can connect you with a reputable public adjuster. RestoreMasters helps property owners get back to business.
As an industry-leading organization, RestoreMasters has the bandwidth to manage every building restoration facet following a devastating storm, fire, flood, or water damage.
Interior Building Restoration
Watch this video to learn more about interior building restoration.
Can you fix my leaking roof?
RestoreMasters has a national reputation for early response to areas impacted by catastrophic weather. Our
emergency roof repair
teams employ techniques such as tarping, shrink wrapping, and overlays when practical. When high winds, hailstorms, or fire damage a roof, we are prepared to fix your leaking roof.
How soon can you be onsite following hurricane damage?
We monitor destructive storms and alert emergency response teams to be ready to lend support as soon as roads are cleared of power lines and fallen trees. Commercial property owners can contact the closest RestoreMasters location in their state to fast-track
hurricane damage restoratio
n.
How soon can you be onsite following a tornado, derecho, or severe wind damage?
As soon as crews clear the roads and the local utility company secures fallen power lines. Our emergency roof repair teams promptly move in to prevent further water,
repair tornado damag
e and prepare the structure for building restoration.
Do you work with the insurance claim?
We understand that the insurance claim process proves challenging. That's why our experienced professionals provide a detailed report and reliable estimates. We can also connect property owners with a public adjuster firm to review your policy and help navigate the insurance claims process.
Does the entire interior need to be gutted after water damage?
The extent of interior construction materials removal is largely driven by the amount of water and other conditions. When items such as drywall become soaked, they invite hazardous mold growths to spread. Our interior restoration efforts minimize losses by removing only necessary materials, implementing water removal practices, and preventing molds from forcing remediation at a later date.
How to Select an Interior Restoration Contractor
Selecting an interior restoration and construction company to restore your property after a disaster is a big decision.
You need a team of professionals that can spring into action and mobilize immediately with the resources needed to get the job done and help you plan for a future permanent roof replacement solution.
It's important to get a professional roof inspection prior to completion of emergency roof repairs. You also want to select a roofing company with extensive experience installing your type of roof.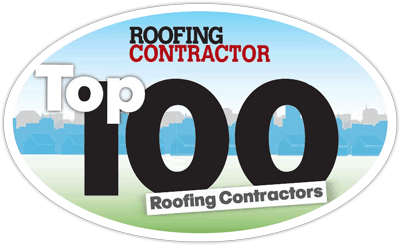 Look for an interior restoration and construction contractor with the following qualifications:
Is licensed, bonded, and insured
Experience in emergency roofing & repair services
Experience installing the permanent roof solution your property will require
Experience managing staged roofing projects that may require parallel tear-off and installation
Experience working with insurance companies on roof damage claims
An experienced emergency roofer can help you avoid leaks and major problems and provide a permanent roofing solution that lasts for decades.
In 2022, RestoreMasters was ranked #29 of the Top 100 Roofing Contractors in the nation.
In addition to interior restoration and construction, RestoreMasters offers: all common types of roofing systems, shrink wrap roofing, roof tarping, loose lay membrane roofing, emergency roofing & repair, water removal, water damage restoration, mold remediation, catastrophic damage inspections, property damage documentation, testing & damage reports, fencing & perimeter security, disaster recovery services, permanent roof replacement, interior restoration services. and general contractor services.
Do you need roofing help?
If you are worried about storm damage or think you may have a roof leak... Contact us for a complimentary roof inspection & damage assessment › RestoreMasters is an experienced full-service restoration contractor - offering turnkey solutions including roofing, siding, windows & doors, interior restoration, exterior repairs & more. With offices nationwide, we are here to serve you!
CALL ››››› (800) 400-ROOF