When catastrophic weather impacts a commercial building, the best thing a property owner can do is contact a disaster restoration services professional.
A disaster response contractor implements emergency roofing strategies to secure roof leaks and prevent unnecessary further losses.
Whether you sustain damage due to a hurricane, tornado, hailstorm, or another destructive force, RestoreMasters is a disaster restoration company with an office in all 50 states.
We're ready to help you through this difficult time.
Call now for emergency services
Do you offer roof tarping and shrink wrap roofing?
Tarping and shrink wrapping prevent gaping holes and roof leaks from causing further water damage. RestoreMasters deploys emergency disaster response teams that are ready to affix tarps and shrink wrap damaged roofs after storms strike.
Does RestoreMasters offer general contracting services for disaster restoration?
RestoreMasters ranks as a national disaster restoration company year after year. Our professionals offer restoration services that include fencing & perimeter security, water removal, mold remediation & clearance, water damage restoration, fire damage restoration, contents restoration, interior construction & build back, exterior construction, windows & doors, siding, property damage repairs, and general contractor services. Our teams hold multiple certifications relating to roofing, air quality, lead abatement, and asbestos abatement, among others.
Can you help with contents restoration after water damage?
It's crucial to start water removal efforts as soon as the storm passes, and the site is safe for workers. By making emergency roof damage repairs and clearing away water damage and debris, our technicians can focus on contents restoration.
How soon can you be on site following hurricane damage?
RestoreMasters possess a national footprint with offices in every state. We track severe weather storms and alert emergency disaster response teams to be ready. As soon as roads are cleared and the hurricane subsides, our disaster restoration services experts can be there.
How soon can you be on site following a tornado, derecho, or severe wind damage?
High-wind storms generate gusts upwards of 100 mph, snapping trees and downing utility lines. Our emergency disaster response experts are prepared to get to work as soon as road crews clear a path.
Do you work with insurance claims for disaster restoration services?
Our commercial disaster restoration experts provide detailed building and roof inspections, coupled with accurate estimates, which ensure building and fire safety codes are met. We also help impacted property owners connect with a reliable public adjuster who can review your policy and determine the best approach to file an insurance claim and receive the full fair compensation you deserve.
How to Select a Disaster Restoration Contractor
If your roof has suffered hail or wind damage, you will want a contractor that can work with you every step of the way.
You need a team of professionals that can spring into action and mobilize immediately with the resources needed to get the job done and help you plan for a future permanent roof replacement solution.
It's important to get a professional roof inspection prior to completion of emergency roof repairs. You also want to select a roofing company with extensive experience installing your type of roof.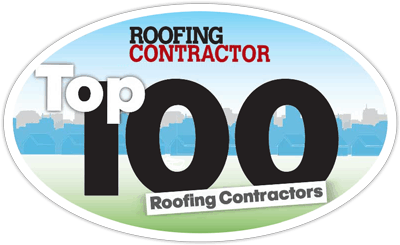 Look for a disaster restoration contractor with the following qualifications:
Is licensed, bonded, and insured
Experience in emergency roofing & repair services
Experience installing the permanent roof solution your property will require
Experience managing staged roofing projects that may require parallel tear-off and installation
Experience working with insurance companies on

 

roof damage claims
An experienced emergency roofer can help you avoid leaks and major problems and provide a permanent roofing solution that lasts for decades.
In 2022, RestoreMasters was ranked #29 of the Top 100 Roofing Contractors in the nation.
In addition to disaster restoration, RestoreMasters offers: all common types of roofing systems, shrink wrap roofing, roof tarping, loose lay membrane roofing, emergency roofing & repair, water removal, water damage restoration, mold remediation, catastrophic damage inspections, property damage documentation, testing & damage reports, fencing & perimeter security, disaster recovery services, permanent roof replacement, interior restoration services. and general contractor services.
Disaster Restoration Photos
Disaster Restoration Projects
Call Now For Emergency Services
Do you need restoration services?
If your property has recently sustained damage due to hurricane, tornado, hail, fire, water or some other disaster...
Contact us for a FREE property damage assessment ›
RestoreMasters is an experienced full-service restoration contractor - offering turnkey solutions including roofing, siding, windows & doors, interior restoration, exterior repairs & more. With offices nationwide, we are here to serve you!
CALL ››››› (800) 400-ROOF