Emergency Roof Repair After Derecho, Hail & Tornadoes In Upper Midwest Blows Through Six States, December 15, 2021
Commercial Roofing & Restoration
The upper midwest was in for a major surprise on Wednesday, December 15th, when parts of Kansas, Nebraska, Missouri, Iowa, Minnesota, and Wisconsin experienced a rapidly moving derecho storm with extreme wind, hail, and rain. RestoreMasters has dispatched teams to the area to assist commercial property owners in the area with the cleanup process.
The large storm system formed over the upper midwest during the evening hours, creating an unprecedented December derecho and severe tornado outbreak affecting millions of residents in the area. While this was a very large system that took place over multiple states, the highlights of the event include dozens of confirmed tornadoes, wind gusts of up to 90 MPH, and hail as large as 4-inches in diameter.
As expected, the damage and cleanup process after the storm is expected to be quite extensive. Even small hail and moderate winds can cause damage to commercial buildings, making it even more important for local property owners to check for any related damage.
The National Weather Service defines "derecho" as a long-lived, widespread wind storm, that is associated with a band of rapidly moving showers or thunderstorms. In addition, a derecho can produce destruction similar to that of a tornado, typically in one direction on a straight path. Sometimes, these winds are called "straight-line wind". Derecho is from Spanish meaning "straight ahead".
Looking at the weather maps, it is easy to see the path of this extremely serious derecho storm, starting in portions of New Mexico and working all the way to parts of Wisconsin and Michigan. Light gray areas indicate winds of up to 73 mph, and dark gray indicates winds up to 95 mph. Yellow shows hail up to an inch, and deep red indicates hail up to 4", the size of a softball.
According to National Weather Service, the storm affected the Kansas, Nebraska, Missouri, Iowa, Minnesota, and Wisconsin counties of:
Buffalo (Nebraska) — Roughly the middle point of two EF-0 tornadoes that spread seven and eleven miles total. Wind gusts of 85 MPH and a destroyed barn and grain bins in Gibbon. Power lines were downed in Kearney. 
Adams (Nebraska) — EF-1 tornado confirmed in Hansen. Quarter sized hail in Hastings and an overturned semi-truck in Juanita. Power lines snapped in Ayr and a home was destroyed in Holstein.
Clay (Nebraska) — Reported 70 MPH winds and heavy rains with zero visibility throughout Clay Center, where grain bins were damaged. 80 MPH wind gusts in Sutton. EF-1 tornado confirmed by the National Weather Service.
Hamilton (Nebraska) — EF-1 tornado that caused damage to buildings, stadium bleachers, and homes in the cities of Aurora, Marquette, and Hordville.  Golf ball-sized hail chunks caused damage in Hordville. Wind gusts of up to 85 to 90 MPH in Giltner. Windows were blown out of buildings on Main Street in Hampton.
Polk (Nebraska) — Confirmed EF-1 tornado in the area. Damage to irrigation pivots and agricultural outbuildings. Pea-sized hail in Osceola.
Platte (Nebraska) — Tornado developed over an open field within the county. Two injured, roofs torn off homes, and hail measuring 1.25" was reported in Columbus. Damage in Humphrey to outbuildings.
Saline (Nebraska) — Intermittent tornado near Dorchester. Winds strong enough to break limbs and nickel size hail in Friend.
Seward (Nebraska) — Barn completely destroyed in Pleasant Dale. 
Lancaster (Nebraska) — Hundred-year-old barn bolted to the foundation with rebar destroyed in Pleasant Dale. 93 MPH wind gusts in Lincoln caused a roof to blow off an apartment building. 92 MPH wind gusts in Bennet. Broken tree limbs and downed power lines in Hickman, Davey, and Denton. 
Colfax (Nebraska) — Intermittent tornado spotted near Howells with wind gusts of up to 76 MPH and penny-sized hail. Roofs were blown off buildings. Downed trees in Schuyler.
Cuming (Nebraska) — Significant roof, barn, and animal pen damage throughout the county. The fire department confirmed a tornado in Beemer, where winds moved a farm gravity wagon over a hundred yards. Suggested EF-2 based on damage assessment.
Saunders (Nebraska) — EF-1 tornado reported in the Jack Sinn Memorial Wildlife Refuge and surrounding agricultural land. Several outbuildings were damaged across the county, including in Ithaca and Ceresco. 99 MPH wind gusts. 
Otoe (Nebraska) — 70 MPH wind gusts. Barns were destroyed and power lines were knocked down in Union. Roofs were blown off buildings in Nebraska City and Avoca.
Thurston (Nebraska) — Tornado damage to barns in Rosalie.
Pawnee (Nebraska) — Brief tornado in Pawnee City causing damage to barns, outbuildings, and porches. Reported 81 MPH wind gust near Lewiston. 
Cass (Nebraska) — Confirmed EF-1 tornado. Roof was blown off a building at Beaver Lake. House moved from the foundation in Nehawka.
Mills (Iowa) — Short-lived tornado that destroyed metal buildings and flipped vehicles near Henderson. Power lines were blown across a highway in Malvern. 92 MPH wind gusts.
Pottawattamie (Iowa) — Extensive damage. Short track EF-2 tornado spotted near Council Bluffs in McClelland, Underwood, Macedonia, Treynor, and Neola. Additional issues in the county include blown-in commercial garage doors, destroyed roofing, downed power lines, and more. Nine loaded coal cars were also blown off their tracks.
Woodbury (Iowa) — Overturned propane tanks near Hornick. Damaged roofs and uprooted trees. Power line flashes near Sioux City, Sergeant Bluff, and Bronson. 82 MPH wind gusts in Sergeant Bluff, while a cattle barn was destroyed in Anthon.
Cass (Iowa) — Flipped semis and Interstate 80. Tornado reported near Atlantic.
Audubon (Iowa) — Damage to agricultural buildings. Recorded wind gusts of 88 MPH.
Greene (Iowa) —  Wind gusts of 73 MPH near Jefferson. Extensive damage to farm buildings in Dana. Siding torn from the side of a home in Grand Junction.
Humboldt (Iowa) — Public reports of a tornado on the ground, but unconfirmed by the NWS.
Kossuth (Iowa) — Confirmed tornado near Algona. A tree with a 14" diameter fell on a home in the area after 63 MPH wind gusts.
Boone (Iowa) — Unconfirmed reports of a tornado on the ground near Fraser.
Carroll (Iowa) — Hail measuring an inch in diameter and 70 MPH wind gusts near Coon Rapids. Additional high winds in Ralston with sporadic damage.
Freeborn (Minnesota) — Downed power poles and trees throughout the county. Multiple confirmed tornadoes ranging from EF-0 to EF-2.
Steele (Minnesota) — Tree damage near Blooming Prairie. Wind gusts of 70 MPH in Owatonna blew down a highway electronic sign.
Goodhue (Minnesota) — Brief spin-up that snapped pine trees and destroyed the top half of a barn in Kenyon.
Eau Claire (Wisconsin) — Confirmed EF-0 tornado near Fairchild. Damaged trees near the City of Eau Claire due to winds around 67 MPH.
Chippewa (Wisconsin) — Ef-2 tornado near Stanley left damage to hundreds of trees and ripped off roofs.
Lyon (Kansas) — Softball-sized hail up to 4" in diameter was reported near Emporia, with smaller tennis ball-sized hail chunks in the same region. Shingles were blown off roofs and uprooted trees.
Osage (Kansas) — Hail measuring around 2" in Melvern. 
Franklin (Kansas) — Quarter-sized hail in Coulter and Pomona. 59 MPH wind gusts near Princeton and 64 MPH wind gusts in Hampton.
Johnson (Kansas) — Chunks of hail around an inch in diameter near Clare.
Nodaway (Missouri) — Golf ball-sized hail in Maryville with power lines and trees downed across roads.
Platte (Missouri) — Hail as large as an inch near Lake Waukomis.
A derecho can be every bit as destructive as a tornado, but this storm also spawned tornadoes and was accompanied by hail. This storm was a huge mix of destructive forces acting together over a large area. Strong winds can rip open some roofing systems and cause severe roof wind damage. Some older roofs can be damaged by winds as low as 50 miles per hour. The severity of roof damage depends on several factors including: type and age of roofing materials, presence of flying debris, roof shape and angle, building height and proximity to adjacent structures and the quality of original roof installation.
Following severe weather like this, it's important to get a thorough roof inspection & property damage assessment to determine whether or not you have roof damage from hail or wind. If roof leaks do occur, an experienced disaster roofing contractor can stop leaks with tarping or shrink wrapping, where affected areas (or the entire roof) is covered with a durable shrink wrapped plastic membrane till permanent repairs can take place.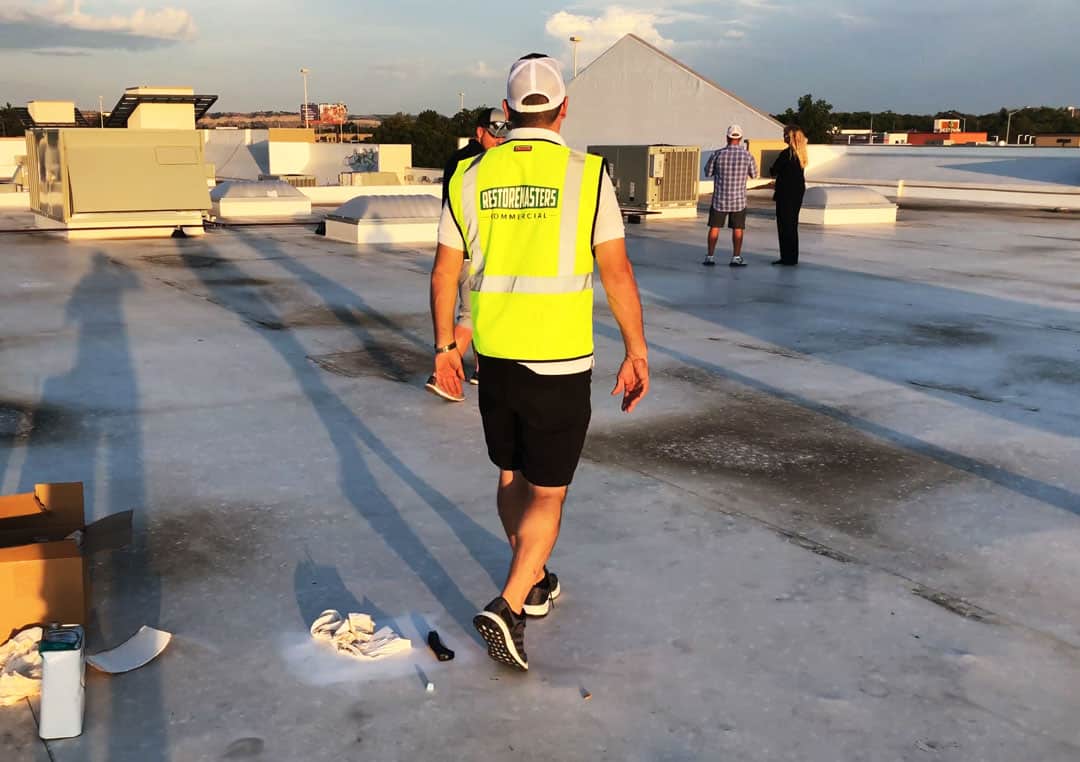 Even if you don't think your roof was damaged, you will want to get your roof inspected if your property falls anywhere within the hail damage map. Some storm damage problems do not produce symptoms right away. And insurance company deadlines could hinder your ability to file a claim later.
Emergency response crews are available to assist commercial property owners with roof damage, siding and window damage and turnkey restoration services.
Our clients include: schools, hospitals, hotels, churches, resorts, retail, warehouse, industrial and other commercial properties as well as residential properties with hail or wind damage to tile roofing systems.
If your building recently sustained damage due to wind, hail, falling trees, collapsed roof or other storm-related issues, give us a call today.
RestoreMasters is a hail damage roofing and restoration contractor and provides storm damage restoration services including: commercial and industrial roofing, emergency roof repair, tarping & shrink wrap roofing, water damage restoration, debris cleanup, disaster response, interior restoration and construction services to rebuild your property.
If you need help, contact RestoreMasters.
As large loss claims experts, our team works directly with your insurance company to get your facility back on its feet. A turnkey restoration contractor, we can help you with all phases of restoration from emergency response services to total build back.
Our team of professionals includes: insurance claims experts, public adjusters, building engineers, roofing engineers, interior construction experts, large loss attorneys and other professionals specialized in storm damage insurance restoration projects.
Disaster Response Services
Disaster Cleanup
Roof Emergency Sealing
Shrink Wrap Roofing
Roof Tarp Solutions
Site Containment
Emergency Board-up
Debris Removal
Hail Damage Repair
Wind Damage Repair
Commercial Roofing
Residential Roofing
Water Damage Removal
Fire Damage Restoration
Mold Remediation
Restoration Construction
Windows & Doors
Siding Repair
Flood Damage Repair
Interior Construction
Commercial Exterior
Insurance Claims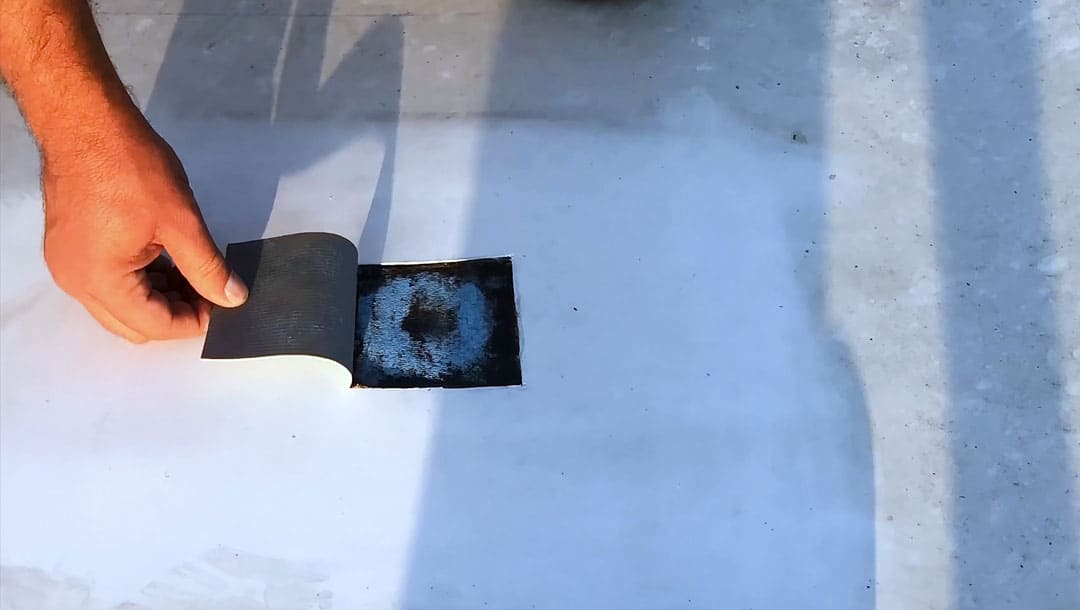 We provide turnkey solutions for complex restoration projects.
Learn More About RestoreMasters
Certified & Accredited Restoration Specialists
RestoreMasters is licensed, bonded and insured for your protection. We also maintain industry leading certifications and memberships to offer our clients superior services.
$10 Million General Liability Insurance
Bonding Capacity up to $50 Million
OSHA Safety Trained
Top 100 Roofing Contractor
Inc 5000 Company
Certified General Contractor
Better Business Bureau A+ Rating
Compliance Depot Certified Vendor

EPA Lead Safe Certified Contractor
Owens Corning Preferred Contractor

GAF Certified Weather Stopper Roofing Contractor
CertainTeed Master Shingle Applicator
Union Corrugating Commercial Contractor of the Year
Berridge Certified Installer
Verisco Authorized Flat Roof Installer
Verea Preferred Platinum Elite Installer
Ironstone Master Artisan
Conklin Preferred Contractor