A Frozen Water Pipe Flooded My Building
What to Do Next
A frozen pipe can be devastating for your property.
And unfortunately, dealing with a frozen water pipe...
...is a situation that many commercial property owners find themselves in during winter.
However, quick thinking can save parts of your property from total loss if you know what steps to take.
That's why we put together this brief guide.
So you know what to do after a water pipe freezes in your building.
Let's take a closer look at things you can do to minimize damage.
What Causes Water Pipes to Freeze?
You already know the basics…
Cold weather can cause the water in your pipes to freeze.
Because water expands when it turns to ice, the freezing water can expand with such force and pressure that it can tear a hole in metal pipes.
The resulting leak through this gaping hole can cause tremendous damage.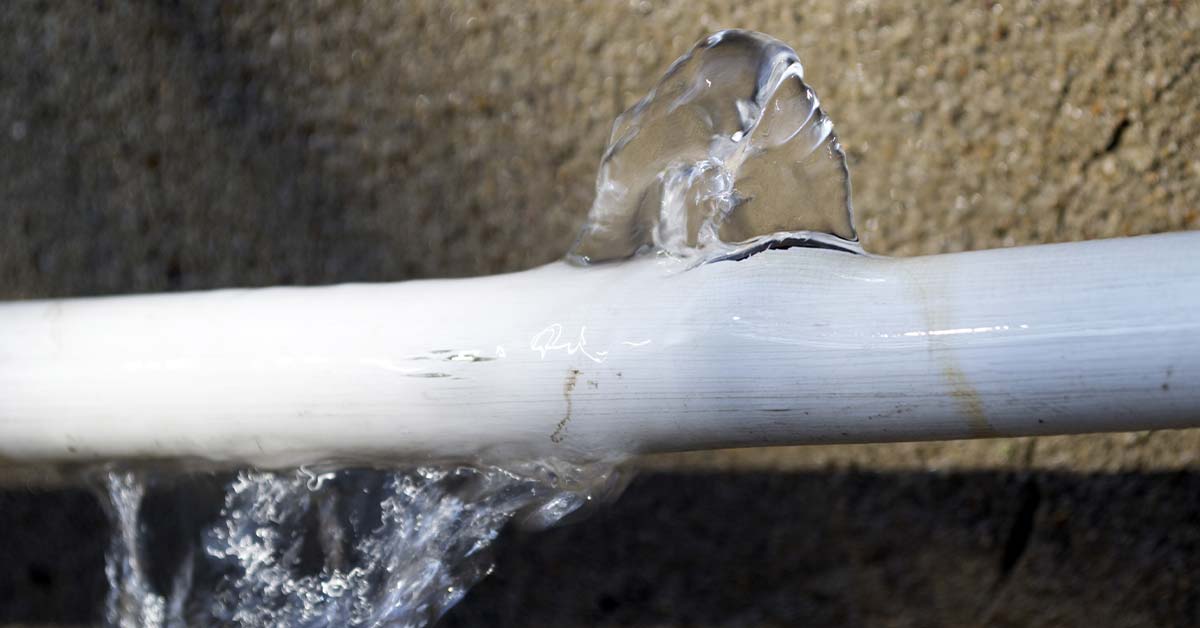 Let's take a closer look at why the freezing pipe happens in the first place.
In all reality.
A single cold night isn't usually a problem for your water pipes if the HVAC unit in your building is keeping everything at a comfortable temperature.
In this situation, dripping faucets and other preventative measures can keep water running through the system to keep freezing issues from occurring.
Plus.
Most structures built to code have special insulation in exterior walls that contain plumbing, which usually do a sufficient job of holding in the heat.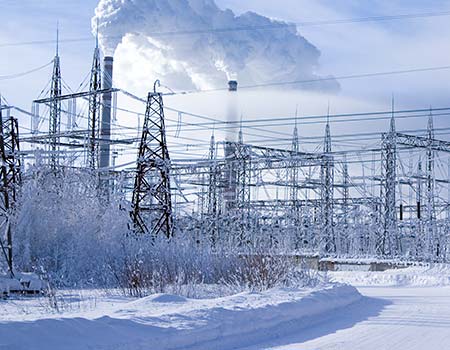 But when you get into an extended period of long-term cold (especially combined with widespread power outages) the chance of experiencing a frozen pipe goes up significantly.
What's even worse.
With severe cold weather and treacherous conditions, some commercial buildings are completely empty during a bad storm.
The building may be understaffed due to unfriendly travel conditions.
Building tenants or workers aren't in.
And there might not be anybody on site to ensure the pipes are being managed properly.
You may do everything right to take care of your property.
Yet when certain circumstances are outside your control, you may still have to deal with an unexpected situation involving a frozen water main or frozen interior plumbing.
How a Frozen Water Pipe Damages Your Property
A frozen pipe is an emergency situation.
That initial moment of panic when you realize a frozen water pipe burst needs to be channeled into fast action steps to minimize property damage.
The first indicator of a frozen pipe may be lack of water coming through the system when a faucet or other output is turned on.
Think turning on the cold water portion of a sink and not having anything come out.
This could key indicator that there's likely a frozen pipe somewhere in the plumbing.
But what if the pipe is already thawing?
How can that cause damage?
If your frozen pipe causes a pipe burst, it may not leak at first.
That's because the frozen water may be acting like a plug.
When the thaw starts to occur, water starts to rush through the pipe. Under pressure, this water will spray with force into surrounding building components - above your ceiling, inside walls, etc.
See why this can be such a big problem for commercial buildings?
A busted pipe is just the beginning of problems that happen.
Ceiling damage, roof damage, mold, electrical problems, and even issues with the structural integrity of your building.
Then you start getting into the cosmetic features, like sheetrock, fixtures, and flooring all damaged during subsequent flooding.
In a blink of an eye, a simple frozen pipe can turn into tens (or hundreds) of thousands of dollars in repairs.
To make matters worse, you could lose out on investment income when tenants aren't able to live or work inside your building or building use if it's critical to the operation of your business.
That's why it is so important to address a frozen pipe issue as soon as possible to ensure minimal damage and facilitate the fastest damage restoration.
What to Do Immediately After a Frozen Pipe Bursts
Once you or your tenants have realized that a frozen pipe has burst, there are a few steps that need to happen fast.
Here's a quick checklist.
PRACTICE SAFETY FIRST: while this is an emergency situation, practice safety first. Flooded buildings present a host of safety hazards. Practice extreme caution around electricity, actively flowing water, under saturated sheetrock, etc.
ONE - Shut Off Main Water Valve
The first step is to shut off the inflow of water.
Find the main water valve for your property.
Turn it off immediately to keep any additional water from flowing through the system.
TWO - Turn Off Electricity to the Affected Area of the Building
Turn off the power at the electrical panel to minimize safety issues associated with flooding.
Live current near can present shock hazards in standing or moving water.
THREE - Contact a Plumber for Immediate Help
Even if you don't know exactly where in the wall the frozen pipe is, you'll want to get an expert out to start the diagnosis and repair process.
Fixing the source of the water leak is priority number one after taking care of the initial emergency.
A plumber can find the leak and repair or replace the damaged section.
FOUR - Call a Water Removal and Restoration Company
Ideally, before starting cleanup and before filing a claim, get in touch with a water removal company.
A reputable and experienced water removal company will help you document damage for insurance prior to starting work and will be able to deploy quickly to begin the cleanup and dry out process.
The best water removal company can also help you with water damage restoration services providing not only cleanup but also build back services.
The team at RestoreMasters can handle all of this for you.
As emergency remediation experts, we'll come out and assess the situation and will deploy resources quickly to help begin the restoration process.
FIVE - File a Claim With Your Insurance Company
The next step is filing a claim with your insurance.
While we generally recommend that you get the water damage restoration company on scene prior to filing an insurance claim.
Your restoration contractor will begin the process of documenting damage and can help you with the insurance process.
However.
During certain disaster scenarios with travel and resources stretched very thin, you may need to file a claim before your restoration contractor arrives.
That's because some insurance companies have tight deadlines (some as low as 48 hours) for filing a claim when it comes to filing insurance claims for sudden water damage.
Does Insurance Cover Damage From a Frozen Water Pipe?
After damage from a frozen pipe that has burst, you probably want to know if insurance coverage will pay for repairs.
While this depends on your policy and carrier, most commercial property insurance policies cover sudden water damage from burst pipes
One problem, however, is that large scale disasters like a giant winter storm can bog down claims response times.
In some cases, by the time an adjuster has time to evaluate your issue, it could be days or even weeks.
Not a good thing if you're trying to get your commercial building built back to pristine condition.
That's why you need a disaster restoration company that has extensive experience in dealing with commercial insurance claims.
At RestoreMasters, we bring a whole team to the table.
Your team may consist of public adjusters, attorneys, various building engineers, water extraction and cleanup crews, roofers, interior/exterior construction experts and others all helping to put your property back to pre-loss condition...
...while working directly with your insurance company to process and negotiate details of the claim on your behalf.
Who to Call When a Frozen Pipe Bursts
Before you've talked to your insurance company, contact RestoreMasters.
With disaster response teams in place throughout the United States, we can get you back to normal operation in no time.
Then, you'll want to call your insurance company to file a claim.
Remember, some property insurance policies require you to report water damage within 48 hours, so make sure you get your claim filed.
The good news?
A team from RestoreMasters will help you every step of the way.
We can help with more than just cleanup and dry out.
We'll help you build back your commercial building to pre-loss condition, like it was before frozen pipes caused a problem.
With our national footprint, we have a network of resources that other companies just can't deliver.
And as large loss experts, we our team will work together with your carrier to ensure the property is cleaned up and fully restored.
Ready to learn how RestoreMasters can help after frozen pipes cause damage to your commercial building or property?
Water Damage Removal Crews
Our teams deploy quickly with water removal, water extraction and dry out equipment to begin the restoration process.
From emergency response to total build back, we'll be with you every step of the way.
RestoreMasters Disaster Response Services
Disaster Cleanup
Roof Emergency Sealing
Shrink Wrap Roofing
Roof Tarp Solutions
Site Containment
Emergency Board-up
Debris Removal
Hail Damage Repair
Wind Damage Repair
Commercial Roofing
Residential Roofing
Water Damage Removal
Fire Damage Restoration
Mold Remediation
Restoration Construction
Windows & Doors
Siding Repair
Flood Damage Repair
Interior Construction
Commercial Exterior
Insurance Claims
Learn More About RestoreMasters
Certified & Accredited Restoration Specialists
RestoreMasters is licensed, bonded and insured for your protection. We also maintain industry leading certifications and memberships to offer our clients superior services.
$10 Million General Liability Insurance
Bonding Capacity up to $50 Million
OSHA Safety Trained
Top 100 Roofing Contractor
Certified General Contractor
Better Business Bureau A+ Rating
Owens Corning Preferred Contractor
GAF Certified Weather Stopper Roofing Contractor
CertainTeed Master Shingle Applicator
Verisco Authorized Flat Roof Installer
Verea Preferred Platinum Elite Installer
Ironstone Master Artisan
Conklin Preferred Contractor
Compliance Depot Certified Vendor