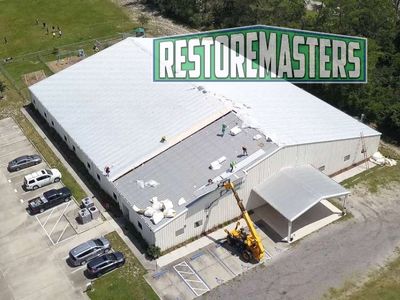 Thousands of hailstorms cause damage that runs upwards of $16 billion annually.
Metal roof hail damage can result in immediate leaks.
Or leave small dents that lead to rusting and moisture penetrations over time.
In some cases your roof can be repaired, but many metal roofs require replacement after significant hail damage.
If you are concerned about even minor hail damage to your metal roof...
It's important to schedule a commercial roof inspection.
Call Now For Emergency Services
How Metal Roof Hail Damage Occurs
Perhaps the most straightforward way to understand how hail damage to your metal roof occurs involves three factors —size, speed, and impact.
Hailstones the size of a quarter make impact moving as fast as 25 mph.
Hail the size of a golf ball slams into your metal roof moving at upwards of 40 mph.
And ice chunks the size of a baseball or larger pound metal roofing systems at rates of speed between 44 mph and 72 mph.
When dense ice moving that fast hits, commercial metal roof damage should be expected.
Too often, property owners simply look at the damage to decide whether to file a metal roof insurance claim or not.
If they don't see gaping holes or experience roof leaks, some decide the insurance claim process isn't worth the trouble.
But to make a truly informed decision, it's essential to understand why seemingly cosmetic metal roof hail damage requires immediate attention.
When hail the size of a quarter pelts rooftops, it typically leaves microfractures to the finish behind.
To people outside the roofing trades, these may seem only cosmetic.
But once that protective finish has been compromised, a series of problems begin.
Microfractures allow moisture to make contact with the copper, steel, or aluminum underneath in an R-Panel, PBR-Panel, or standing seam metal roof.
This allows rust to take hold and spread outward or the wooden roof deck or deteriorate.
What seemed like only cosmetic hail damage to your metal roof shortens its lifespan and calls for early replacement.
Now consider what happens when large hailstones strike your metal roofing system.
Along with the dents being more prominent and cracks potentially causing immediate roof leaks, other metal roof damage also occurs.
For instance, the exposed fasteners of an R-Panel or PBR-Panel roof take direct hits from hail.
In an R-Panel roofing system, the metal sheets are connected at the top of the seams with only modest overlap.
When a hailstone the size of a golf ball strikes the fastener, it can cause a seal gap and the materials to bend.
Roof leaks usually follow.
A PBR-Panel has greater material overlap. But the exposed fasteners are not necessarily immune to commercial metal roof damage.
If the exposed fasteners take a direct hit, the sealant systems can be compromised. Slow drips eventually turn into significant roof leaks. If left unchecked.
Property owners end up with a roof replacement instead of minor repairs.
These rank among the leading reasons to contact an experienced hail damage repair contractor following a storm and schedule a roof inspection.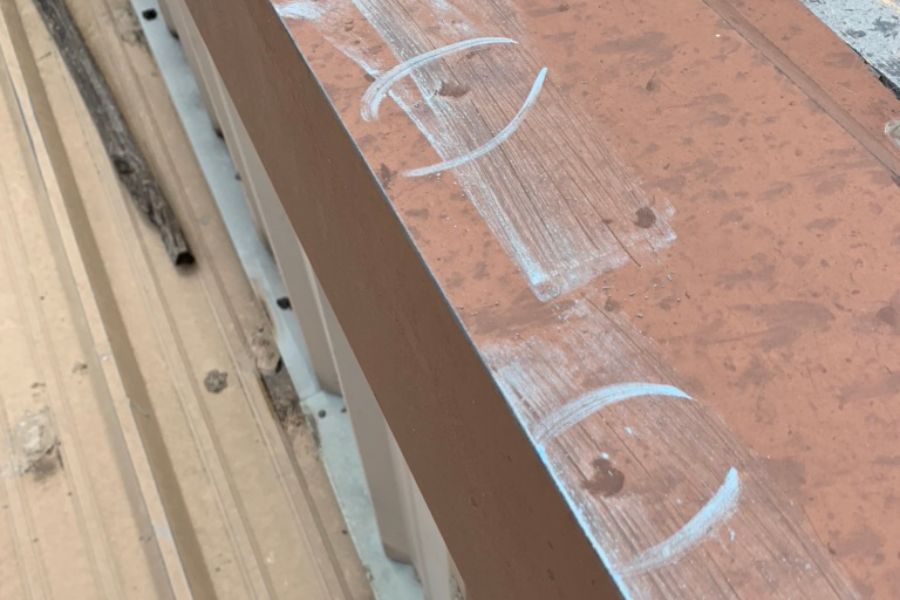 How Does Hail Form?
Hail seems to defy the laws of physics and nature. It starts as a type of "supercooled" water that does not initially turn to ice, even though its temperature is below freezing.
Baffling to scientists, ice particles eventually develop and gravity pulls them to the bottom of a cloud.
But powerful drafts push the ice back to the top of the cloud. The small frozen particles come in contact with more supercooled water that clings to the ice and the cycle repeats.
At some point, the hailstones are too heavy to get pushed back up and fall from the sky inflicting hail damage to your metal roof.
Many of these storms also bring strong gusts that result in metal roof wind damage as well.
Signs of Metal Roof Hail Damage
It's difficult to assess commercial metal roof damage from the ground. Even using a ladder, the effects of a hailstorm may not look like they require the attention of a commercial roofing contractor at first blush.
But if you see any of these telltale signs, schedule a commercial roof inspection and file a metal roof insurance claim.
Dented Metal Panels: Small dings to coating invite water to make contact with the metal underneath. Although roof leaks do not present immediately, the rusting process has begun.
Dented Gutters: When hail damages gutters, it affects how water is shepherded away from roof decks and soffits. It's also a sign the entire roofing system has suffered damage.
Dented Coping: The strips that cover metal roof seams at the peaks protect against moisture penetrations. Once damaged, rainwater can run under copper, steel, or aluminum panels.
Damaged Skylights: Fast-moving hail can shatter the glass and hard plastic in skylights. But sometimes the impact to flashing and sealants around a skylight opens the floodgates to roof leaks.
Damaged HVAC: Intense hail fall can leave an HVAC unit looking like it took machine gun fire. A full-service commercial roofing contractor can include this loss in a hail damage inspection report to accompany your metal roof insurance claim.
Damaged Siding: Driving winds redirect hail into the sides of commercial buildings. These cracks must be addressed to stop water penetrations into load-bearing walls and prevent hazardous mold growths.
If you can see signs of rust, moss growing, or rainwater doesn't effectively move through the gutters, it's highly likely you already have some level of hail damage to your metal roof.
Metal Roof Hail Damage Pictures
To illustrate what hail damage to your metal roof looks like, we've included a series of images.
These metal roof hail damage pictures were taken during post-storm and routine inspections. Some show severe damage that required emergency roofing services.
Others highlight the more subtle signs of metal roof damage.
Metal Roof Hail Damage Contractor
An experienced hail damage repair contractor provides a wide range of services for property owners who suffer a loss.
The process begins by conducting a thorough commercial roof inspection that includes damage to siding gutters, skylights, HVAC systems, and other elements.
The purpose of this extensive inspection is to provide building owners with a comprehensive report that can be used in your metal roof insurance claim.
Part of our analysis will entail calculating the building's energy usage to determine whether it possesses adequate insulation or suffers from air gaps.
We provide emergency roofing services, including tarping, shrink wrapping, and temporary overlays in some cases, designed to stop roof leaks and unnecessary losses.
Depending on the inspection findings, commercial metal roof services may involve making minor repairs or complete roof replacement.
It's not uncommon for property owners to take the opportunity to transition away from asphalt shingles to more cost-effective galvanized steel, aluminum, or high-end materials such as copper.
A full-service commercial roofing contractor RestoreMasters handles gutters and siding replacement, among other post-storm needs.
And when the process is complete, the roof deck and structural supports will comply with the latest fire safety and building codes.
We help affected people connect with a public adjuster firm to review your policy, expedite the claim, and negotiate with the insurance company on your behalf.
RestoreMasters has offices in all 50 states and dispatches emergency roofing crews when hailstorms and other severe weather events devastate commercial buildings.  
Does hail damage metal roofs?
The short answer is: Yes. Hail damage to your metal roof is a near certainty. It may involve microfractures that require repair or significant damage that calls for roof replacement. It's crucial to schedule a roof inspection following a hailstorm.
What size hail will damage a metal roof?
Given the high rates of speed hailstones strike, ice starting at 1.5 inches in diameter typically causes metal roof damage. The extent of the repairs or roof replacement is usually determined by speed, size, impact, and the type of roofing system.
How do you identify metal roof hail damage?
A commercial roof inspection expert uses a variety of tools to determine where hail made an impact and how much damage the metal roof suffered. RestoreMasters inspectors mark the affected areas, so property owners can see the surface damage. The detailed commercial roof inspection articulates the breadth of the damage below the panels.  
Will insurance pay for hail damage to a metal roof?
Hail and metal roof wind damage are usually covered by commercial building insurance policies. If you are unsure about your coverage, we can connect you with a public adjuster firm to review the policy and help negotiate the metal roof insurance claim process on your behalf.
Can you switch from shingles to metal roofing?
It's not uncommon for property owners who suffer hail damage to transition from asphalt shingles to a metal roof. A commercial roofing contractor can strip away shingles and lay down a durable and cost-effective metal roofing system.
Do metal roofs hold up better than asphalt shingles to hail?
Metal roofing systems generally offer better protection than their asphalt shingle counterparts. While both materials can dent and crack when hailstone strike. However, asphalt is generally more vulnerable to the accompanying wind damage.
Can you walk on a metal roof?
It's not advisable to walk on any sloped roof. A slip and fall could result in serious injury. That being said, metal roofing systems typically have the strength and durability to support the weight of the average human. However, we urge property owners to contact an experienced commercial metal roof contractor to inspect the damage, conduct maintenance, or make any repairs. It's best to leave walking on rooftops to professionals.
How to Select a Metal Roof Hail Damage Contractor
If your roof has suffered hail damage, you will want a contractor that can work with you every step of the way.
You need a team of professionals that can spring into action and mobilize immediately with the resources needed to get the job done and help you plan for a future permanent roof replacement solution.
It's important to get a professional roof inspection prior to completion of emergency roof repairs. You also want to select a roofing company with extensive experience installing your type of roof.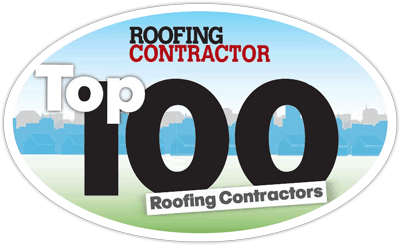 Look for a metal roof hail damage contractor with the following qualifications:
Is licensed, bonded, and insured
Experience in emergency roofing & repair services
Experience installing the permanent roof solution your property will require
Experience managing staged roofing projects that may require parallel tear-off and installation
Experience working with insurance companies on

 

roof damage claims
An experienced emergency roofer can help you avoid leaks and major problems and provide a permanent roofing solution that lasts for decades.
In 2022, RestoreMasters was ranked #29 of the Top 100 Roofing Contractors in the nation.
In addition to metal roof hail damage repair, RestoreMasters offers: all common types of roofing systems, shrink wrap roofing, roof tarping, loose lay membrane roofing, emergency roofing & repair, water removal, water damage restoration, mold remediation, catastrophic damage inspections, property damage documentation, testing & damage reports, fencing & perimeter security, disaster recovery services, permanent roof replacement, interior restoration services. and general contractor services.
Call Now For Emergency Services
Do you need roofing help?
If you are worried about storm damage or think you may have a roof leak... Contact us for a complimentary roof inspection & damage assessment › RestoreMasters is an experienced full-service restoration contractor - offering turnkey solutions including roofing, siding, windows & doors, interior restoration, exterior repairs & more. With offices nationwide, we are here to serve you!
CALL ››››› (800) 400-ROOF