Flood Restoration
Nationwide Services
If a rising river, frozen pipes, roof leaks, or a catastrophic storm leaves your commercial building with water damage, it's crucial to promptly contact a flood restoration company to prevent further losses and rebuild.
RestoreMasters provides emergency flood damage cleanup, water removal, and building restoration services in all 50 states.
Call Now For Emergency Services
Can you fix my leaking roof?
Absolutely: RestoreMasters is a national leader in emergency roof repair caused by high winds, hailstorms, hurricanes, tornados, and fire damage. We fix roof leaks on a daily basis and have offices in all 50 states.
Does RestoreMasters offer general contracting services for flood damage restoration?
RestoreMasters is a full-service general contractor and building restoration contractor. In addition to roofing services, we offer fencing & perimeter security, water removal, mold remediation & clearance, water damage restoration, fire damage restoration, contents restoration, interior construction & build back, exterior construction, windows & doors, siding, property damage repairs, and general contractor services. Our teams hold multiple certifications relating to roofing, air quality, lead abatement, asbestos abatement, and others.
Can you help with contents restoration after water entered my building?
Definitely. We preserve personal property such as rugs, furniture, electronics, and commercial equipment, among others. If the item only sustained smoke damage, there's a good chance it can be restored thanks to cleaning technologies and products advancements.
Ultrasonic equipment, specialty dry cleaning, hand cleaning, and devices have improved the contents restoration efforts in recent years. If it has not been scorched by flames, extreme heat, or sustained water damage, contents restoration is possible.
How soon can you be onsite following hurricane damage?
RestoreMasters monitors hurricane activity and our field teams are always on standby. As soon as the tropical cyclone moves on and roads are safe to navigate, RestoreMasters emergency roof repair, flood damage, and building restoration teams respond to the scene.
Does insurance cover flood damage?
It's important to keep in mind that insurance companies differentiate between water and flood damage. The language in your policy may be murky, and your insurance claim may hinge on the difference.
That's why we connect property owners with an experienced public adjuster firm that understands the fine print and can negotiate with an insurance corporation on your behalf to get the full, fair compensation you deserve.
RestoreMasters provides a detailed inspection report and accurate building restoration estimates when hailstorms, hurricanes, fire, tornados, floods, and other tragedies happen to a hard-working property and business owner.
Does FEMA help with flood damage repair costs?
Impacted community members may be best served by enlisting the help of a public adjuster if they are unclear about qualifying for FEMA assistance. FEMA offers financial assistance to property owners who are underinsured and lack the resources for a complete building restoration after a flood or natural disaster. RestoreMasters helps those who suffer a loss connect with a reputable public adjuster.
How to Select a Flood Damage Restoration Contractor
Selecting a flood damage restoration company to clean up and restore your property after a disaster is a big decision. 
You need a team of professionals that can spring into action and mobilize immediately with the resources needed to get the job done and help you plan for a future permanent roof replacement solution.
It's important to get a professional roof inspection prior to completion of emergency roof repairs. You also want to select a roofing company with extensive experience installing your type of roof.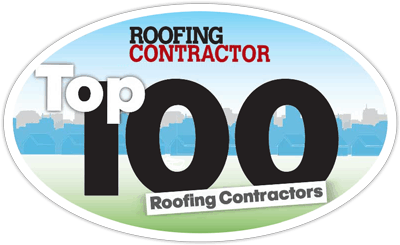 Look for a flood damage restoration contractor with the following qualifications:
Is licensed, bonded, and insured
Experience in emergency roofing & repair services
Experience installing the permanent roof solution your property will require
Experience managing staged roofing projects that may require parallel tear-off and installation
Experience working with insurance companies on

 

roof damage claims
An experienced emergency roofer can help you avoid leaks and major problems and provide a permanent roofing solution that lasts for decades.
In 2022, RestoreMasters was ranked #29 of the Top 100 Roofing Contractors in the nation.
In addition to flood damage restoration, RestoreMasters offers: all common types of roofing systems, shrink wrap roofing, roof tarping, loose lay membrane roofing, emergency roofing & repair, water removal, water damage restoration, mold remediation, catastrophic damage inspections, property damage documentation, testing & damage reports, fencing & perimeter security, disaster recovery services, permanent roof replacement, interior restoration services. and general contractor services.
Do you need roofing help?
If you are worried about storm damage or think you may have a roof leak... Contact us for a complimentary roof inspection & damage assessment › RestoreMasters is an experienced full-service restoration contractor - offering turnkey solutions including roofing, siding, windows & doors, interior restoration, exterior repairs & more. With offices nationwide, we are here to serve you!
CALL ››››› (800) 400-ROOF