Mold Remediation
The Complete Guide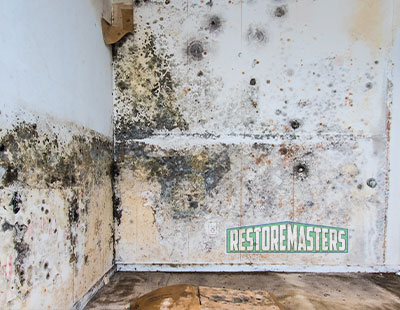 One of the biggest worries property owners have after water damage from a major pipe break or flood is mold growth.
Finding out you have this problem inside your walls, under flooring, or in your ceiling can seem overwhelming.
After all, mold can easily ruin building materials and cause significant health concerns for those exposed to it.
Mold removal and remediation is the only true way to get your property back to normal and ensure it is safe for your employees, tenants, and customers.
Let's take a closer look at mold and how RestoreMasters can help you after your building has had significant water damage due to a flood or fire.
Call Now For Emergency Services
2
MOLD REMEDIATION
PROCESS
4
MOLD REMEDIATION
PROJECTS
What is Mold?
Simply put, mold is a type of fungus that thrives in areas with high moisture. While naturally present around you in the world we live in, mold only becomes a problem if it is a certain type. Mold comes in a variety of colors including green, black, purple, white, pink, and others.
The vast majority of mold is harmless and usually can be found outdoors, such as on decaying leaves or grass clippings.
Or on food in your refrigerator, like the green mold that shows up on old cheese.
However, there are some varieties that you really need to watch out for.
The most harmful type is a version of black mold called Stachybotrys chartarum.
Here's what it looks like.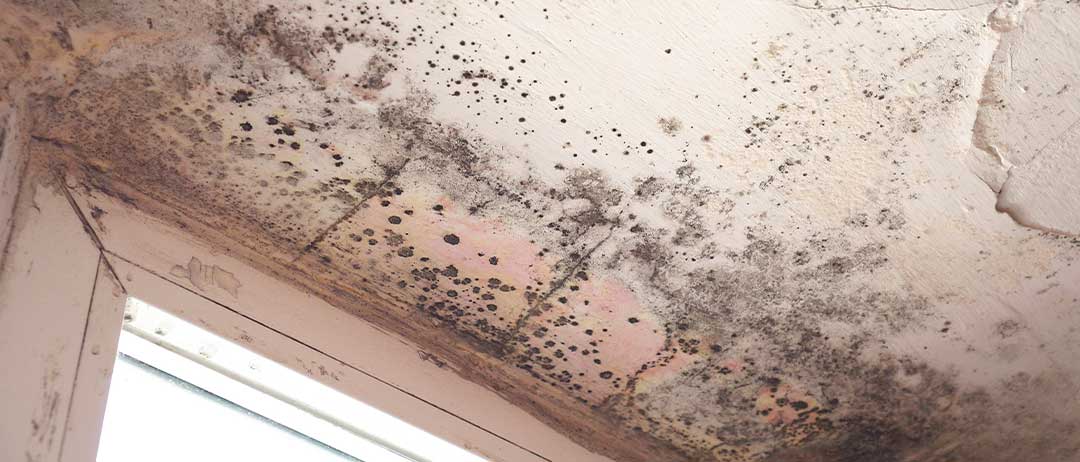 This incredibly dangerous type of mold is what most building owners find after a burst pipe or roof leak, as it needs constant moisture to grow.
A byproduct of this type of black mold are mycotoxin spores, which are lightweight and travel easily through the air.
When inhaled by humans and pets, the mycotoxin spores can cause serious health conditions like severe headaches, coughing, sneezing, skin rashes, and even death by blood poisoning.
This is why it is absolutely vital to seek mold remediation services the moment you notice the issue.
While the presence of mold can be easy to spot in some cases, it can be difficult to determine whether you have Stachybotrys chartarum in your building making it very important to call a qualified mold remediation company as soon as possible.
What is Mold Remediation?
The mold remediation process is a restoration process that involves finding the cause of the problem, dealing with it, and making sure it never happens again.
That said, there are key elements to the remediation process to restore your commercial building back to where it was before the issue.
There are a lot of interchangeable terms used among restoration professionals, so it is important to know the difference between them.
Mold abatement is the process of removing mold from the structure and contents and encapsulating it. This may include tearing out parts of the building such as drywall and insulation, spraying a mold killer and following up with an encapsulant.
Mold remediation involves a more comprehensive process. The process includes mold removal and an abatement strategy.
Remediation also includes looking at the overall issue from a higher level to deal with the current growth and ensure it doesn't come back.
According to New York City Department of Health's Guidelines on Assessment and Remediation of Fungi in Indoor Environments outlining standard of care when it comes to dealing with mold:
The goal of remediation is to remove or clean mold-damaged materials using work practices that protect occupants by controlling the dispersion of mold from the work area and protect remediation workers from exposures to mold.
For business owners, mold remediation can help get your property cleared to return to normal operations.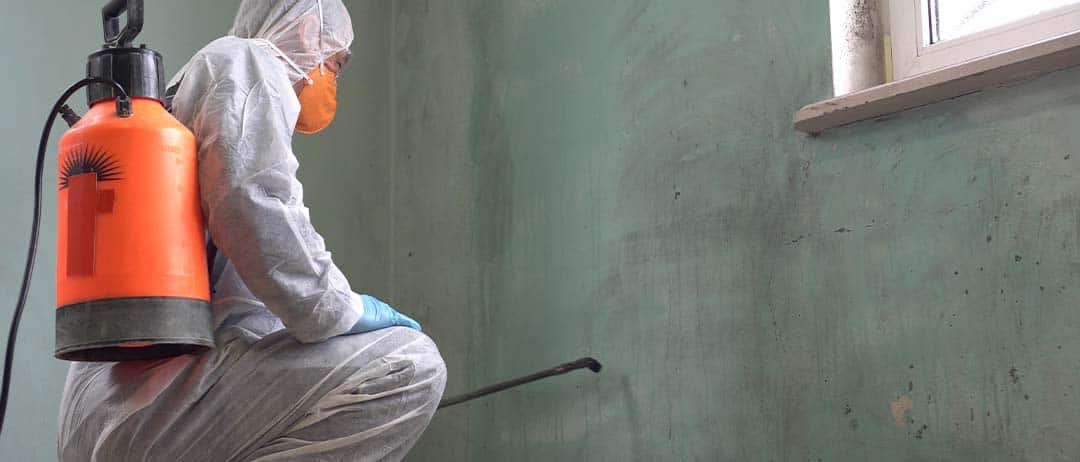 How to Prevent Mold
Once you discover mold in your building…
...you must take concrete steps to keep it from growing and spreading.
It doesn't matter if the issue is from a sudden water leak or some other past problem.
For the safety of your building occupants, it is very important to take action immediately.
Plus, quick action will help to minimize damage and remediation expense once you notice mold or mildew.
In our blog, we've detailed the exact steps you need to take to prevent mold from growing after water damage.
However, the short version includes the following steps:
Fix the Cause of the Water Leak: Once you've done this, it will make it easier for a mold remediation expert to come in and start assessing the situation.
Turn Off Electricity: Water and electric don't mix well, so make sure to cut off power at the main breaker to the affected area.
Document Damage and File a Commercial Insurance Claim: Take lots of pictures of the issue and areas that have mold growth. Talk to your insurance company promptly.
Contact a Water Damage Restoration and Removal Company: They'll help you start to dry everything out and ensure mold growth doesn't happen.
Ensure Your Building is Completely Dry: Before the build back, you need to make sure all moisture levels are back to normal to prevent future mold growth and damage.
How fast does mold grow after a water leak?
According to FEMA, mold and mildew can grow twenty-four to forty-eight hours after water damage exposure.
If you're thinking that is incredibly quick…
We agree.
Think about this for a moment.
What if you own a commercial building where everyone is gone on the weekend?
By the time employees arrive on Monday morning and discover a problem…
...there is already a major mold issue.
What are the signs I might have mold in my building?
Besides the obvious visual cues that you have mold…
...there are other ways you can tell there's a growth problem.
If you've had a major leak in the recent past, it is a good indicator you might have mold.
Bubbling paint, a musty odor, and soft spots in floors could mean there's a presence of mold.
And health conditions like a cough with no cold or headaches might also mean there's an issue.
Ultimately, calling a dedicated mold remediation company for an inspection is the only way to know for sure.
What is black mold and why is it so dangerous?
As we mentioned above, Stachybotrys chartarum is the most dangerous kind of black mold.
It can cause extreme health issues for even moderately active adults.
But in children, seniors, and those with compromised immune systems, it could be potentially lethal.
However.
Not all black mold is dangerous.
The trick here is that you really can't tell with the naked eye.
And that's why calling a mold removal company is so important. 
Can I just remove the mold myself?
Some guidelines suggest remediation efforts can be conducted by trained building staff on small affected areas (under 100 sq.ft.) as long as personnel receive training on proper cleaning methods, area protection, HVAC protection, disposal requirements, personal protection equipment and potential health hazards associated with mold. If you are not 100% prepared to handle even a small job, don't risk it.
It is never advised to attempt to handle a major mold problem by yourself. First, the process requires numerous steps outlined by the EPA for safety. Second, bleach alone will not kill a large mold infestation.
Due to the potentially harmful health effects of black mold, we highly advise you contact a professional and do not attempt to handle the problem yourself.
When is mold remediation required?
If the area affected by water damage in your building is more than ten square feet, you'll need to contact a mold remediation specialist.
Best case scenario?
They come out and let you know that there isn't a significant amount of mold growth.
Worst case?
Your building has to undergo the entire mold remediation process, as outlined by EPA guidelines for commercial buildings and schools.
Either way…
...you'll rest assured knowing your tenants, staff, and customers are safe from health problems associated with mold exposure.
Can you remove mold from furniture and other building contents?
There are many ways to remove mold from furniture and other building contents.
Often, this requires special cleaners and solvents to fully eradicate any hidden spores.
The mold remediation company you hire will know what the process should be for the particular item you're trying to save.
What mold remediation certification credentials are there?
At RestoreMasters, our crews are certified for the safe and effective inspection, removal and remediation of mold.
A few of the most standard credentials for our industry include Certified Mold Remediator (CMR), Mold Removal Specialist (MRS), Council-certified Microbial Remediator (CMR).
How to Select a Mold Remediation Contractor
Selecting a mold remediation company to clean up and restore your property after a disaster is a big decision. These projects are complex and require knowledge of multiple aspects of construction, including: water removal, water damage restoration, electrical, plumbing, roofing, remodeling, ground-up construction, insurance assistance, and complex project management.
Look for a mold remediation contractor with the following qualifications:
Is licensed, bonded, and insured
Experience working with complex projects that require coordination with multiple different parties
Experience managing staged restoration projects that may require parallel demolition and installation
Experience working with water, fire, mold damage repairs and restoration
Experience working with insurance companies on damage claims
An experienced mold remediation contractor can help you restore your property as if the damage had never happened.
St. Thomas Villas - Water Removal, Total Restoration
Industrial Warehouse - Disaster Fire Restoration
Hurricane Destruction - Water Removal 
Apartments - Water Removal, Fire Restoration
Hurricane Destruction - Water Removal 
Hurricane Repair - Salphur, LA
Hurricane Restoration - Pensacola, FL
Palmetto Plantations - Mexico Beach, FL
Learn more about mold remediation. If you have any specific questions, please don't hesitate to reach out to our team.
We hope you enjoyed this mold remediation guide!
If the answer is YES ›› do us a favor and share this guide with your friends and colleagues on social media. Thank you! 🙂
If you have a website ›› feel free to share snippets of the article. We just ask that you provide a link back to this post as a thank you.
We appreciate you!
Do you need restoration help?
If your property has recently suffered a devastating loss, or if you have old damage the needs repair...
Contact us for a complimentary property damage assessment ›
RestoreMasters is an experienced full-service restoration contractor - offering turnkey solutions including roofing, siding, windows & doors, interior restoration, exterior repairs & more. With offices nationwide, we are here to serve you!
CALL ››››› (800) 400-ROOF