Storm Damage Restoration
Nationwide Services
A catastrophic storm is one that results in hard-working people suffering losses to their commercial investment properties.
High winds, hail strikes, tornados, and hurricanes, leave an aftermath of destruction, and an immediate need for storm damage restoration services.
RestoreMasters is a commercial storm damage restoration organization with a national footprint ready to respond to the needs of community members in all 50 states.
If you suffered a loss that calls for emergency storm damage restoration services, a roof inspection, and other building restoration efforts, our experienced professionals are a phone call away.
Call Now For Emergency Services
Storm Damage Restoration Services
When destructive weather leaves your building with roof leaks, soaked drywall, torn siding, and other property damage, it's crucial to take immediate measures to secure the structure.
Once protected from unnecessary water damage and losses, emergency storm damage restoration must be brought to bear.
A storm damage restoration contractor has the expertise and resources to go beyond stop-gap repairs.
Commercial storm damage restoration services often involve preparing the site by handling debris removal, water removal, and implementing emergency protections.
As a leading commercial roofing contractor, we also work closely with property owners to help fast-track the storm damage insurance claim process, sometimes by connecting people with a reliable public adjuster.
If you suffered a loss, these are things our storm damage restoration services can deliver.
Emergency Storm Damage Restoration
One of the reasons RestoreMasters enjoys a national reputation as a proactive storm damage restoration company stems from our fast response times.
We have an office in every state and monitor severe weather events on a daily basis. When a community is rocked by high winds, hailstorms, tornados, or a hurricane, we promptly dispatch emergency roof restoration and construction crews.
Our early response teams secure roofing systems and start the process of debris removal, water removal, and drying the structure.
Then storm damage restoration services experts clear away impacted drywall, flooring, and other rain-soaked materials that could spur hazardous mold growths.
Once the structure is ready, our skilled professionals begin the storm damage restoration process.
Storm Damage Roof Replacement
RestoreMasters experts conduct a thorough building and roof inspection that identifies cosmetic and structural damage.
Our goal is to implement the most cost-effective building restoration plan possible.
Buildings that do not take the brunt of a storm may not necessarily require storm damage roof replacement.
But high winds, hailstones the size of tennis balls, or debris thrown by a tornado or hurricane may call for the replacing roofing systems.
For our organization, building restoration for storm damage involves cost-effective, quality construction that restores your damaged roof to its pre-damaged condition.
Siding & Exterior Building Restoration
When severe weather hits a region, people typically imagine falling trees hitting roofs and high winds tearing off shingles.
Truth be told, high winds have just as great an impact on the siding and other exterior elements of a commercial, industrial, or agricultural building.
High wind events typically lift debris and hard objects, sending them hurtling into siding.
Minor dings in siding and trim may be repairable. But when these materials crack, they become pathways for water damage and wood-eating pest infestations.
Commercial storm damage restoration and replacement can prevent a costly rehabilitation later.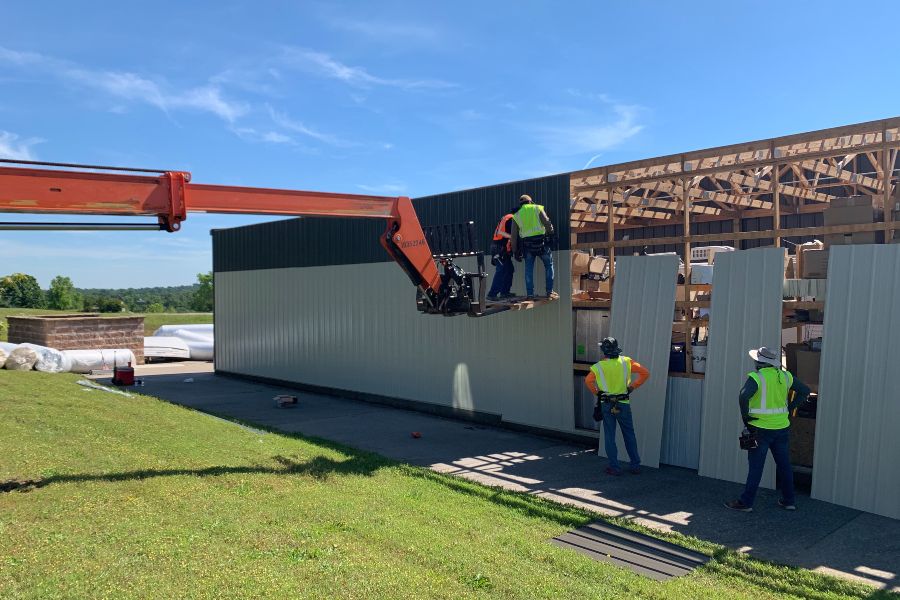 Window & Door Replacement
Our experience with extreme weather incidents proves that windows and doors are just as vulnerable as roofing systems and generally require commercial storm damage restoration.
Broken panes, loosened flashing, displaced shutters, and doors literally being pulled off their hinges can sometimes be repaired.
But it's not uncommon for a storm damage restoration contractor to advise you to make a full replacement.
That's largely because property owners are better served dealing with the structural damage surrounding windows and doors.
A full window and door restoration ensures the product won't sag or lean as time passes.
As a customer-first storm damage restoration company, we value our reputation for quality construction that stands the test of time.
Water Damage Removal
When catastrophic weather strikes neighborhoods and business districts, gaping holes are left in roofs.
The water damage that ensues impacts the drywall, flooring, rafters, load-bearing walls, and other elements.
Left unchecked, dangerous molds quickly spread, and building owners incur the additional cost of remediation.
That's why our early storm damage restoration services teams are prepared to take water removal steps immediately.
Extracting soaked debris, water damaged items, and drying out the building helps salvage materials.
Our water removal services are designed to swiftly prepare the damaged building for reconstruction and save owners money on materials and labor.
Flood & Water Damage Restoration
The flood and water damage restoration process is designed to bring a building back to its pre-loss condition.
It also usually raises the bar in terms of meeting current fire safety and building code standards.
As an experienced water and flood damage restoration organization, we advise property owners to vet their insurance coverage.
It may be necessary to network with a public adjuster who can review the policy and help navigate the storm damage insurance claim process.
While the claims funding is being processed, we can provide emergency flood and water damage restoration services.
And as an organization that responds to devastated communities, our field crews follow a comprehensive water damage cleanup checklist that expedites the recovery and helps businesses reopen quickly.
When You Need Storm Damage Restoration
Following destructive weather, a storm damage restoration contractor conducts a building and roof inspection.
This detailed report serves as a roadmap for owners and managers to make informed decisions about repairs and restoration.
These are things to consider regarding making temporary repairs or moving forward with lasting commercial storm damage restoration.
Building Restoration After Hail Damage
Roof hail damage ranks among the leading reasons property owners file a storm damage insurance claim.
Ice the size of a quarter plummeting at high speeds dents roofing systems, cracks sealants, and splits shingles.
But fast-moving hail can also harm exterior elements such as windows, doors, gutters, and siding.
Hailstones driven by high winds can badly damage the exterior of commercial structures.
Building Restoration After Wind Damage
Property owners sustain roof wind damage even when a storm doesn't earn a name from meteorologists.
Fierce gusts typically tear shingles, loosen metal panels, and compromise flashing.
The same strong gusts that cause roof wind damage also affect the exterior of structures.
Debris and tree limbs are routinely propelled through windows, doors become unhinged, and siding takes a beating.
Building Restoration After Hurricane Damage
Hurricane damage restoration services are absolutely necessary after a tropical cyclone makes landfall.
In many cases, wind speeds exceed 100 mph, and the torrential downpours leave widespread water damage behind.
Prompt water removal efforts can save the structural infrastructure, contents, and materials.
But any business district that takes a direct hit from these catastrophic tragedies requires immediate hurricane damage restoration services.
Building Restoration After Tornado Damage
It's essential for commercial, industrial, institutional, and agricultural building owners to consider scheduling a thorough roof inspection when a tornado passes through the area.
Although people often believe that only structures in the path of a tornado are severely impacted, that's rarely the case.
In reality, a twister flings debris into siding and generates a vacuum-like force that pulls and tears at everything around it.
Property owners too often wait until roof leaks present before realizing they need tornado damage restoration services.
Building Restoration After Water Damage
Water damage remains one of the more deceptive types of losses that accompany severe weather.
High-wind storms usually bring hard rains that seep through roofing system cracks.
Water damage also occurs when gutters become backed up and the overflow dumps into soffits and behind walls.
Of course, flood damage restoration efforts require water removal before contractors can start a rebuild.
That's why it's critical to work with an organization skilled in water damage restoration.

Storm Hail & Wind Damage Photos
Commercial Storm Damage Restoration Contractor
An experienced storm damage restoration services provider begins by conducting a comprehensive building and roof inspection.
All of the structural and cosmetic elements of a building are evaluated to determine whether they require repair or a full restoration.
The age and condition of every aspect of a building are important considerations when determining whether to implement stop-gap repairs or long-term building restoration.
Once the project moves forward, water removal takes place, and a storm damage restoration company ensures everything meets current building codes and fire safety standards.
Not only does a storm damage restoration contractor bring the building back to its former condition, but it's also not uncommon for it to be better.
RestoreMasters professionals work closely with property owners, managers, and investors, to ensure the roof and building restoration estimates are accurate and cost effective.
Do you offer emergency roofing and roof repair?
RestoreMasters monitors destructive storms and sends emergency roof restoration crews to devastated communities. We have offices in all 50 states with technicians trained in tarping, shrink wrapping, and putting down temporary roof overlays. We provide comprehensive emergency roof restoration services as soon as the storm passes.
Does RestoreMasters offer general contracting services for storm damage restoration?
RestoreMasters has proven to be one of the nation's leading full-service storm damage restoration services providers year after year. Our professionals offer restoration services that include fencing, perimeter security, water removal, mold remediation, water damage restoration, fire damage restoration, contents restoration, interior construction build-backs, exterior construction, windows, doors, siding, property damage repairs, and general contractor services. Our teams hold multiple certifications relating to roofing, air quality, lead abatement, asbestos abatement, and others.
Can you help with contents restoration after water damage?
It's crucial to implement immediate water removal efforts to minimize damage to the equipment and inventories of your commercial building. This calls for preventing roof leaks from causing unnecessary losses and removing tainted debris and drywall as quickly as possible.
By contacting the nearest RestoreMasters office, contents restoration efforts can be implemented promptly.
How soon can you be onsite following hurricane damage?
RestoreMasters possesses a footprint in every state and our diligent professionals monitor hurricanes. Emergency storm damage restoration teams move quickly to affected communities to provide inspections, emergency roof repair, and promptly begin the hurricane damage restoration process.
Once the storm subsides, contact the RestoreMasters office in your region for immediate hurricane damage support.
How soon can you be onsite following a tornado, derecho, or severe wind damage?
Following an extremely damaging storm such as a tornado, derecho, or high-wind incident, RestoreMasters emergency roof repair and building restoration crews are poised to act. We follow the National Weather Service, and other reporting authorities, and deploy field crews as soon as the roads are safe to pass.
Do you work with insurance claims for storm damage restoration?
Our organization provides detailed building and roof inspections, coupled with accurate estimates, which ensure building and fire safety codes are met. We also help impacted property owners connect with a reliable public adjuster who can review your policy and determine the best approach to the storm damage insurance claim process.
How do you know if my insurance policy covers flood damage restoration?
Not every policy includes flood damage restoration coverage. That's why business owners would be wise to review the existing policy and enlist the help of a professional if you have questions. At RestoreMasters, we recommend scheduling a no-cost inspection and then working with a public adjuster to negotiate with the insurance company on your behalf.
How to Select a Storm Damage Restoration Contractor
If your roof has suffered hail or wind damage, you will want a contractor that can work with you every step of the way.
You need a team of professionals that can spring into action and mobilize immediately with the resources needed to get the job done and help you plan for a future permanent roof replacement solution.
It's important to get a professional roof inspection prior to completion of emergency roof repairs. You also want to select a roofing company with extensive experience installing your type of roof.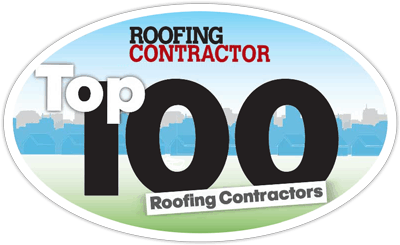 Look for a storm damage restoration contractor with the following qualifications:
Is licensed, bonded, and insured
Experience in emergency roofing & repair services
Experience installing the permanent roof solution your property will require
Experience managing staged roofing projects that may require parallel tear-off and installation
Experience working with insurance companies on

 

roof damage claims
An experienced emergency roofer can help you avoid leaks and major problems and provide a permanent roofing solution that lasts for decades.
In 2022, RestoreMasters was ranked #29 of the Top 100 Roofing Contractors in the nation.
In addition to storm damage restoration, RestoreMasters offers: all common types of roofing systems, shrink wrap roofing, roof tarping, loose lay membrane roofing, emergency roofing & repair, water removal, water damage restoration, mold remediation, catastrophic damage inspections, property damage documentation, testing & damage reports, fencing & perimeter security, disaster recovery services, permanent roof replacement, interior restoration services. and general contractor services.
Do you need roofing help?
If you are worried about storm damage or think you may have a roof leak... Contact us for a complimentary roof inspection & damage assessment › RestoreMasters is an experienced full-service restoration contractor - offering turnkey solutions including roofing, siding, windows & doors, interior restoration, exterior repairs & more. With offices nationwide, we are here to serve you!
CALL ››››› (800) 400-ROOF