Tornado Damage Restoration
Disaster Response Services 
Tornado damage restoration services help protect your property with removal actions immediately following a tornado or severe wind event.
In the hours and days following a tornado, our disaster response team deploys emergency crews to provide debris removal, clean up the property, dry-in the roof and remaining structure with tarps or building shrink wrap, and help secure the site so restoration can begin.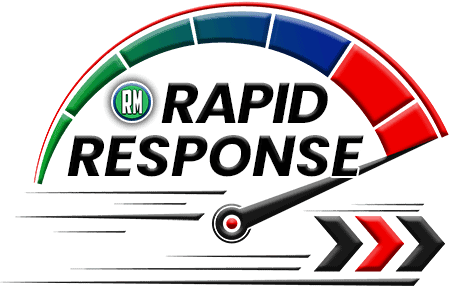 After that, we provide a comprehensive damage assessment and assist you with the insurance process using our team of experts that may include: third-party public adjusters, building engineers, industrial hygienists and other experts that may be required for your project.
Tornado winds can cause immediate and severe roof and wall leaks, flooding and structural damage - leaving interior assets and equipment vulnerable.
Immediate action is necessary to minimize property damage.
In a disaster situation - like a derecho or tornado - where roofing materials and siding are torn off, windows blown out, or catastrophic damage occurs...
...you need a team of professionals that can mobilize quickly to start emergency roof repairs and begin the tornado restoration process.
A quick response time can mean the difference between recovery and total loss.
Complete Tornado Damage Restoration
Emergency Response › Temporary Roofing › Structure Stabilization › Water Removal › New Roof Installation › Interior Restoration
RestoreMasters is a Top 100 Roofing Contractor
Watch this video to learn more about RestoreMasters
Call Now For Emergency Services
Tornado Damage Roof Repair
Tornado roof repair and restoration often begins with fixing structural damage to your roof.
If your property has just been hit by a tornado, you may have had parts of your roof lifted or entirely ripped off.
When severe roof damage occurs, it may not be enough to simply cover with a tarp or shrink wrap the affected area.
If you've got sections of your roof missing, structural roof repairs will need to be completed first to build back a solid surface.
Then, we can install temporary roofing materials to prevent more roof leaks, while working through the insurance process to get a permanent replacement approved.
Below are a few photos of roofs that needed immediate and aggressive action for emergency roof repairs.
Stopping Roof Leaks From Tornado Damage
Temporary roofing materials will help stop the roof from leaking and prevent further damage.
Following a tornado or hurricane...
...temporary roofing can include emergency roof tarping if you need a relatively short-term solution.
When you're looking for a longer-term temporary solution, the roof can be shrink wrapped with heat welded plastic, giving you a temporary solution that last up to 12 months. 
If you have a flat roof, we may install a seam-welded loose lay TPO membrane as a temporary emergency repair. Below is a roofing project where the crew is laying a temporary TPO membrane after the flat roof was torn off by strong winds.
Once the permanent roof replacement is approved by insurance, our crews will return to perform a total TPO roof replacement, including new insulation.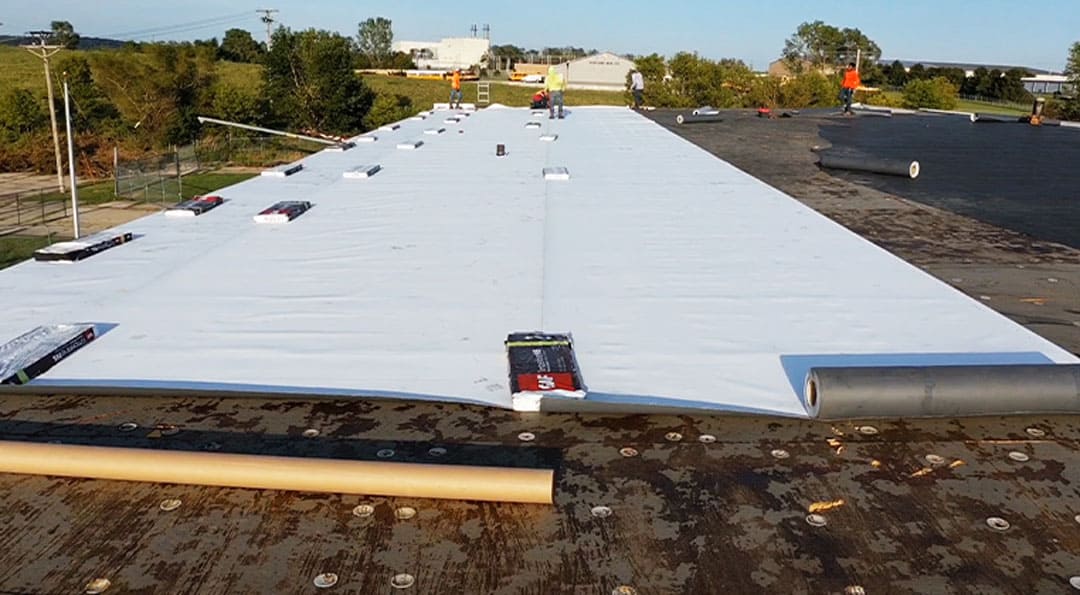 In each wind damage situation, RestoreMasters will build back a solid surface then cover it with loose lay TPO, roof tarps or shrink wrap.
Tile & Specialty Roofing After Tornado Damage
As one of the best tile roof installers in the USA...
...the RestoreMasters Disaster Response Team is equipped to handle complex repairs on slate and tile roofs, including tornado roof repair for historical properties to fix tile roof hail damage or wind damage.
After wind damage, we provide tile roof repairs on all types of properties, including: churches, museums, estate homes, retail properties, historical properties, country clubs & resorts.
Our tile repair and installation professionals are master craftsmen trained in multiple tile types and will help you match your tile's shape, color and composition.
Tornado Damage Restoration FAQ
What types of roofs does RestoreMasters repair?
We repair all types of wind-damaged roofing systems. Roof types includes: flat roofs, sloped roofs, asphalt shingle, wood shake shingle, slate, tile, TPO, PVC, EPDM, BUR, SBS modified bitumen, torch down & others. Common property types include: historical homes, apartments, resorts, retail, condos, churches, restaurants, office buildings, industrial spaces, warehouses, associations & others.
How long does a shrink wrap roof seal last?
A shrink wrap roof seal is a temporary solution to prevent water leaks, while you are waiting for your roofer to install a permanent roof. In areas hit by a major disaster, sometimes roofers are backed up for several weeks or months. Some shrink wrap roofs are guaranteed for a year or longer, up to certain wind speeds. Check with your project manager.
How long does a blue roof tarp last?
Temporary tarping generally can last a few months. Longer term tarp installation is available. Wind and subsequent storm activity will affect its service life. Check with your project manager to learn about the best options for your project.
Does insurance cover emergency roof repairs?
Many companies will, but it's important to closely review your policy to see what's covered. We can help you through the entire insurance process. RestoreMasters has assembled an entire team of the country's best property insurance and restoration professionals - including public adjusters, engineers & consultants - to work on your behalf to maximize the coverage available through your insurance policy. Contact us for a complimentary policy evaluation.
How soon can you be onsite following a tornado?
Our Disaster Response Team is typically onsite within one day of severe tornado events. If you'd like to pre-schedule roof repairs, ask about our Overwatch Master Service Agreement, where we give you priority response following severe weather. We will deploy to your property after the storm has passed and make any necessary emergency repairs. If you've recently been through the tornado, contact us, and we will send out a representative from our Disaster Response Team to inspect your property and get started on the repair process.
Do you help with water damage cleanup and restoration?
Yes! RestoreMasters is a full-service restoration company. We have teams in place to handle everything from emergency roofing to water removal and water damage restoration.
What if I need help with emergency repairs beyond roofing?
RestoreMasters is a full-service restoration contractor. In addition to roofing services, we offer: fencing & perimeter security, water removal, mold remediation & clearance, water damage restoration, fire damage restoration, contents restoration, interior construction & build back, exterior construction, windows & doors, siding, property damage repairs and general contractor services. Our teams hold multiple certifications relating to roofing, air quality, lead abatement, asbestos abatement & others.
Can you point me to other tornado recovery resources?
How to Select a Tornado Restoration Contractor
Tornado & hurricane damage restoration requires a broad set of skills along with experience working in disaster zones with limited access to resources.
You don't want to take chances with an inexperienced contractor.
You need a team of professionals that can spring into action and mobilize immediately with the resources needed to get the job done and help you work through the insurance process.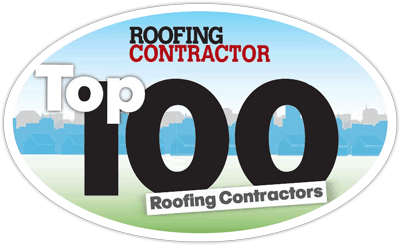 Look for a restoration contractor with the following qualifications:
Is licensed, bonded, and insured
Experience installing emergency roof shrink wrap or tarping on multiple projects
Experience installing the permanent roof solution your property will require
Experience managing complex water removal and build-back projects
Experience working with insurance companies on property damage claims
An experienced disaster restoration company can help get you back in business faster and with a building restored to pre-storm condition.
RestoreMasters is ranked in the Top 100 Roofing Contractors in the nation.
RestoreMasters has been onsite to help following every major recent tornado, hurricane and catastrophic wind event, including: Hurricane Florence, Hurricane Michael, Hurricane Barry, Hurricane Dorian, Tropical Storm Isaias, Hurricane Laura, Hurricane Sally, Hurricane Ida, 2020 Midwest Derecho and multiple tornadoes across the country.
We have multiple crews in: Arkansas, Missouri, Kentucky, Illinois, Indiana, Tennessee, Nebraska, Florida, Alabama, Mississippi, Louisiana, Texas, Georgia, South Carolina, North Carolina, Virginia, Maryland, Pennsylvania, New York, New Jersey, Delaware, Connecticut, Rhode Island, Massachusetts and other states.
RestoreMasters Total Building Restoration Services
Shrink Wrap Roofing
Roof Tarping & Sealing
Loose Lay Membrane
Emergency Repairs
Water Removal & Dry-out
Insurance Claim Assistance
Hurricane Damage Inspections
Property Damage Documentation
Testing & Damage Reports
Fencing & Perimeter Security
Air Quality Inspections
Mold Remediation & Clearance
Asbestos Abatement
Lead Abatement
Engineering & Consulting
General Contractor Services
Code Compliance Consulting
TPO, PVC, Membrane Roofing
Mod-Bit Torch Down Roofing
BUR & Other Flat Roofing
Commercial Metal Roofing
Slate & Tile Roofing
Asphalt Shingle Roofing
Water Damage Restoration
Fire Damage Restoration
Contents Restoration
Interior/Exterior Build Back
Window & Door Replacements
Siding Repair & Replacement
Property Damage Repairs
Roofing & Restoration Projects
Discovery Christian Church - Cocoa, FL
Central Baptist - Panama City Beach, FL
Metal Roofing System by RestoreMasters
Office Building - Panama City Beach, FL
St. Thomas Villas - Panama City, FL
Hurricane Restoration - Boynton Beach, FL
Hurricane Destruction - Total Restoration
Hurricane Repair - Sulphur, LA
Hurricane Restoration - Pensacola, FL
50 Year Old Roof - Hurricane Damage
Do you need emergency restoration services?
If you live in a tornado or hurricane prone region, get on our quick response schedule for immediate action. Or if your building has recently survived a severe wind event...
Contact us for a complimentary property inspection & damage assessment ›
RestoreMasters is an experienced full-service restoration contractor - turnkey solutions including roofing, siding, windows & doors, interior restoration, exterior repairs & more. With offices nationwide, we are here to serve you!
CALL ››››› (800) 400-ROOF