Roof Insurance Claims
What You Need To Know
If you think you may have an insurance claim for your roof due to storm damage caused by wind, water, hail or trees...
Read this guide BEFORE filing a claim with your insurance company.
Roof insurance claims can be tricky to deal with, and having an experienced contractor on your side could save you thousands.
In this guide, we're going to cover ››
How to know if you have claimable damage

When and how to work with a contractor

How the roof insurance claim process works

The different types of roof insurance

And lots more
Let's get right to it.
Call Now For Emergency Services
Is my roof damaged?
If you've recently had a storm roll through, you may be wondering if you have storm damage that requires your attention.
...Or if it's even worth filing a claim.
It's important to inspect your roof and surrounding property for damage right away, as insurance policies typically include a statute of limitations time frame with a deadline for how long after an incident you can file a claim.
Additionally, if you have hail or other functional damage to your roof, you might have a roof leak that can cause hidden interior damage or mold.
While the best way to determine whether or not you have claimable roof damage is to bring in an experienced roofing and restoration contractor...
There are some clues you can look for right away.
Property Damage That May Indicate Roof Damage
Do a quick walk around your property and look for the following:
Fallen trees or debris that has landed on your roof or near the structure
Shredded plants or trees with leaves stripped off
Dented gutters, gutter screens, downspouts
Chips, nicks, or damage to siding, windowsills, casings
Torn window or door screens
Dents, dings, or other signs of impact on HVAC equipment
Chipped paint or light spots on decks or fences
Dark spots or discoloration on shingles
Chipped or cracked roof tiles
Indentations in flat roof surfaces or exhaust vents
If you see any of the above signs of damage, it could be that you have claimable roof damage.
Go ahead and contact a professional restoration contractor for a complete roof inspection.
A thorough property damage assessment will document any damages with a photo and written record to help you determine whether or not you should file a claim.
When to Call a Roofing Contractor
If you notice any of the above signs on your property - and before filing a claim - you should call a roofing contractor...
...with restoration experience dealing with storm-related roof insurance claims.
A qualified contractor knows how to document damage in a format that insurance companies prefer.
And a professional assessment will give you peace of mind that you're covering all your bases after you've filed a claim.
At RestoreMasters - having completed thousands of storm restoration projects - we know exactly what insurance companies look for.
We provide documentation they want.
We write Xactimate estimates in the format they prefer.
Our public adjuster partners negotiate on your behalf.
And we'll help you through the entire process.
If you have property damage caused by wind from a tornado or hurricane, hail, water, fallen trees, fire, or other disaster...
You will want to have a team like RestoreMasters on your side to help you get the best results during your restoration project.
Check out the stories below to learn more about how we help residential and commercial property owners ›
50 Yr. Grand Manor Roof - Jacksonville, FL
TPO Roof Restoration - Hail Damage
Fire Restoration - Tulsa, OK
Hurricane Restoration - Pensacola, FL
Historical Roof - Scranton, PA
Hail Damage - Redding, CA
Historical Tile Roof Repair - Buffalo, NY
As one of the nation's top restoration contractors, RestoreMasters can restore your property to pre-damaged condition, installing like or better materials...
...while complying with all new building code requirements that may affect the your property.
Now, let's take a closer look at how our roof insurance claim process works.
Roof Insurance Claim Process
Your RestoreMasters project manager will help you through the entire claims process.
Different Types of Insurance Policies
Not all homeowners or property owners insurance policies provide the amount of coverage you need after a disaster.
It's important to know the type of policy coverage you have, as this can affect how much out-of-pocket expense you may incur.
Your policy likely includes a deductible that you are required to pay toward the cost of an insurance claim before insurance coverage kicks in.
Policies pay different amounts to fix or replace property damage according to the type of wind/hail coverage you purchased with your policy. After the deductible is paid, the amount you get for your claim depends on whether your policy includes ACV or RCV coverage.
Actual Cash Value (ACV) vs. Replacement Cost Value (RCV)
ACV is calculated as the amount required to replace or fix your roof minus any loss in value associated with the age of your roof.
RCV is calculated as the amount required to replace or fix your roof without subtracting value for the age of your roof.
As you can imagine, ACV results in more out-of-pocket expense for the property owner.
This can catch some people off-guard, so it's important to be familiar with the coverage provided by your policy.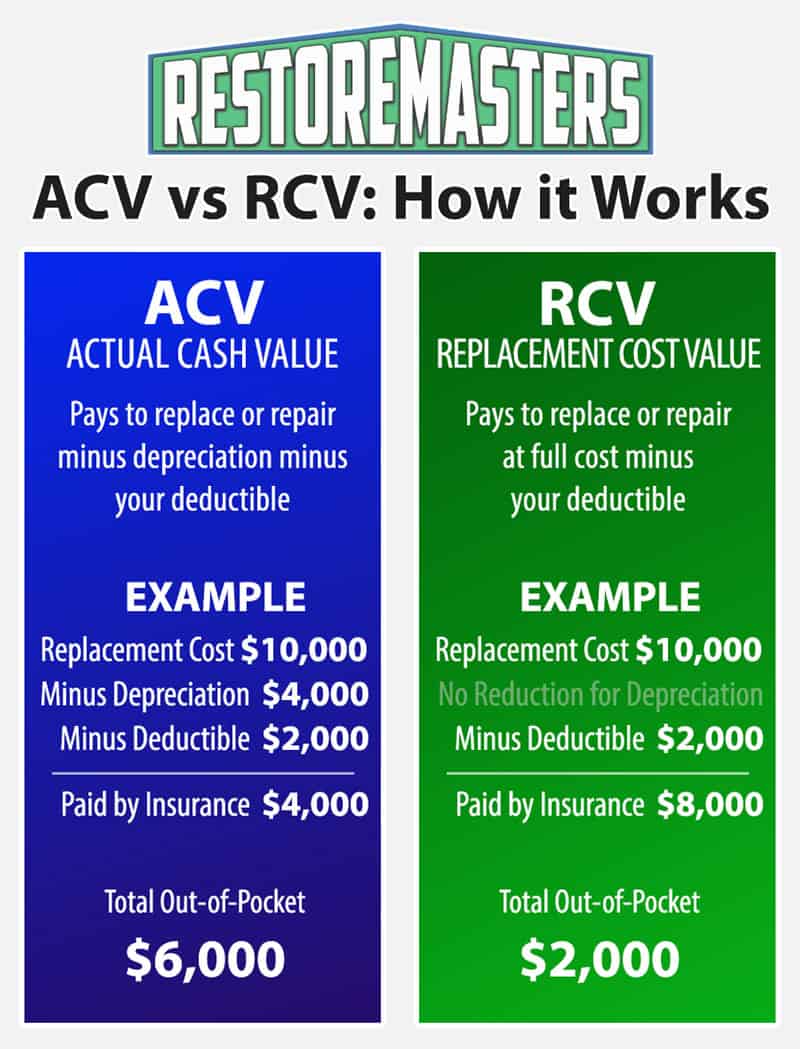 In Conclusion
Going through a natural disaster or some other type of property damage event can be very stressful.
And dealing with the aftermath can be overwhelming as you try to maintain your business or home while working with your insurance company to fix your property.
Our goal at RestoreMasters is to ease the burden by giving you the help you need to restore your property as if it wasn't damaged.
Do you need roofing help?
If you are worried about storm damage or think you may have a roof leak...
Contact us for a FREE roof inspection & damage assessment ›
RestoreMasters is an experienced full-service restoration contractor - offering turnkey solutions including roofing, siding, windows & doors, interior restoration, exterior repairs & more. With offices nationwide, we are here to serve you!
CALL ››››› (800) 400-ROOF