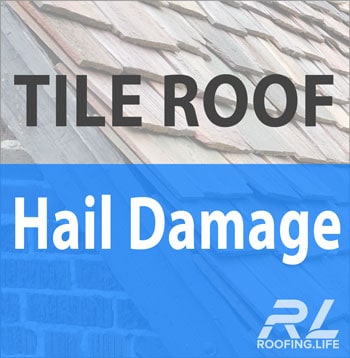 If your tile roof has hail damage, you need to get it fixed as soon as possible.
Because a tile roof with hail damage can lead to roof leaks, mold or other structural problems.
Without a trained eye… how can you tell if your tile roof has hail damage?
Today we're going to look at hail damage photos.
We'll also discuss things to examine when looking for tile roof hail damage on your home or building.
How Hail Damages Roof Tiles
Tile roofs are known as one of the best types of roofs available.
They are highly favored among higher end homes, luxury estates and historical properties.
Clay tile roofs can be also be found protecting country clubs, office building, restaurants, and other structures.
Why are tile roofs a popular roofing choice?
It's because tile roofs are tough and last a long time.
However, even with the durability provided by roof tiles...
...along with their resistance to roof wind damage, they may be susceptible to hail damage.
Studies show that some roof tiles can be damaged by hail as small as 1-1/4″ diameter.
And larger hailstone pack a bigger punch.
In fact.
Baseball size hail can fall at 100mph or more.
And when a big storm comes through dropping big hailstones, it's like multiple heavy hammers hitting your roof at once.
While it's good practice to periodically examine your roof...
If a big hail storm comes through your area happens, it's a good idea to get a professional roof inspection to see if you have hail damage.
CAUTION: If you are not experienced at climbing on a tile roof, do not attempt it without the proper training and safety equipment. Roof tiles can be slippery, and you may fall. Also, roof tiles can be broken simply by walking on them.
You may be able to view parts of your roof up close from a ladder or by looking out of a second story window.
If you need a professional tile roof inspection, contact us.
How Hail Damages a Tile Roof
Watch this video to learn what hail does to roof tile.
Hail Damage to a Clay Tile Roof
Clay roof tiles (also called terracotta roof tiles) have been used for ages.
They normally offer a very long roof life, with some clay roofs lasting for generations.
Here's a clay tile roof looking down from above.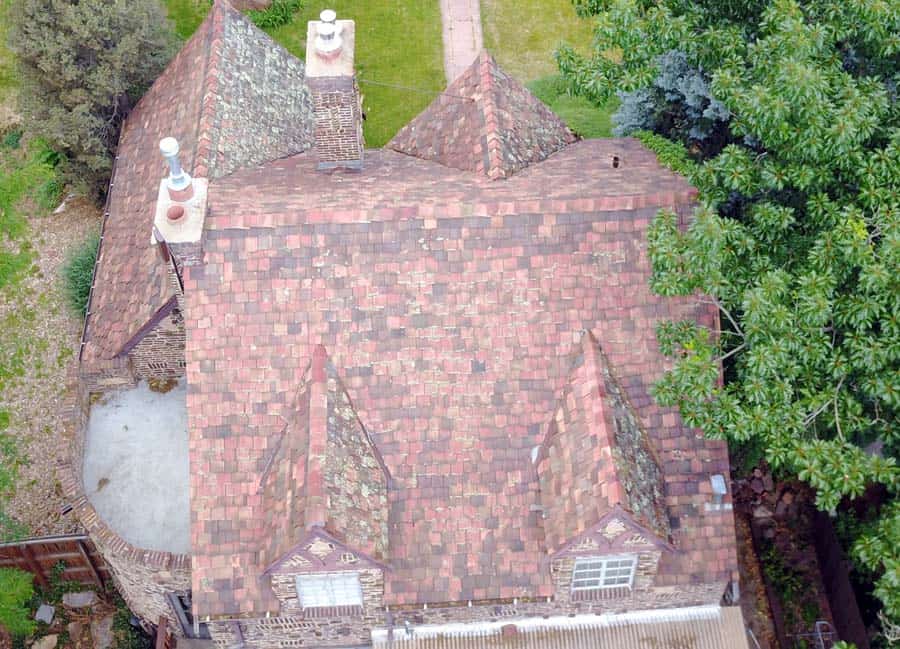 Clay roof tiles are available in a variety of shapes, colors, textures and sizes.
Varying manufacturing process create varying levels of durability for different clay tiles.

The tile roof below resembles wood shake shingles.
At first glance...
This roof may look normal.
But if you look closer...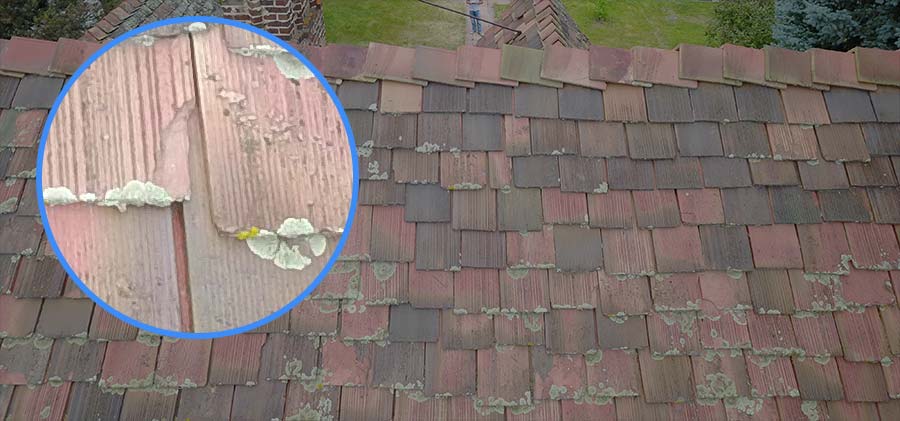 You'll notice several chips and cracks in the tile from hail damage.
Here you can see more roof tile hail damage.
You can even see spots where roof tiles have broken off.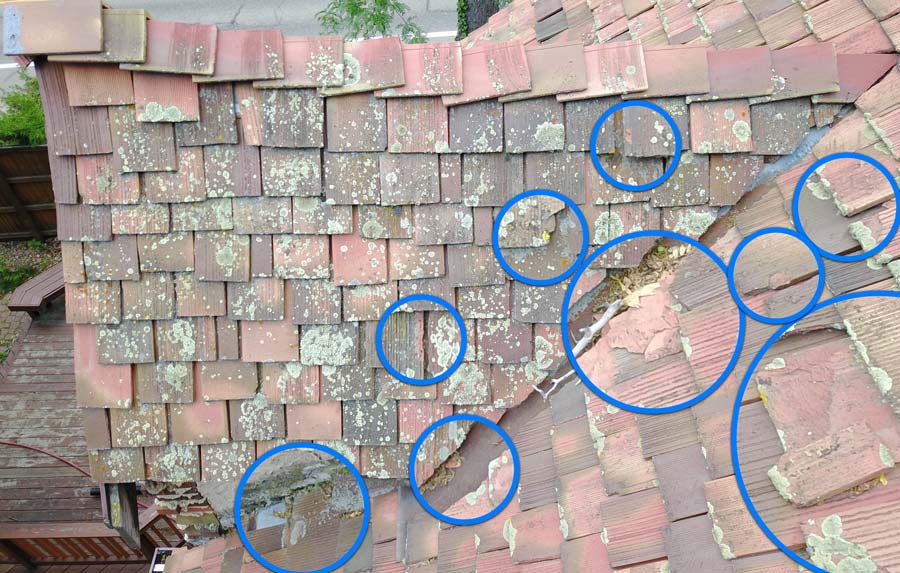 Here is a another angle looking down at the ridge of a dormer.
Check out the loose roof tiles and chips.
This roof took a beating...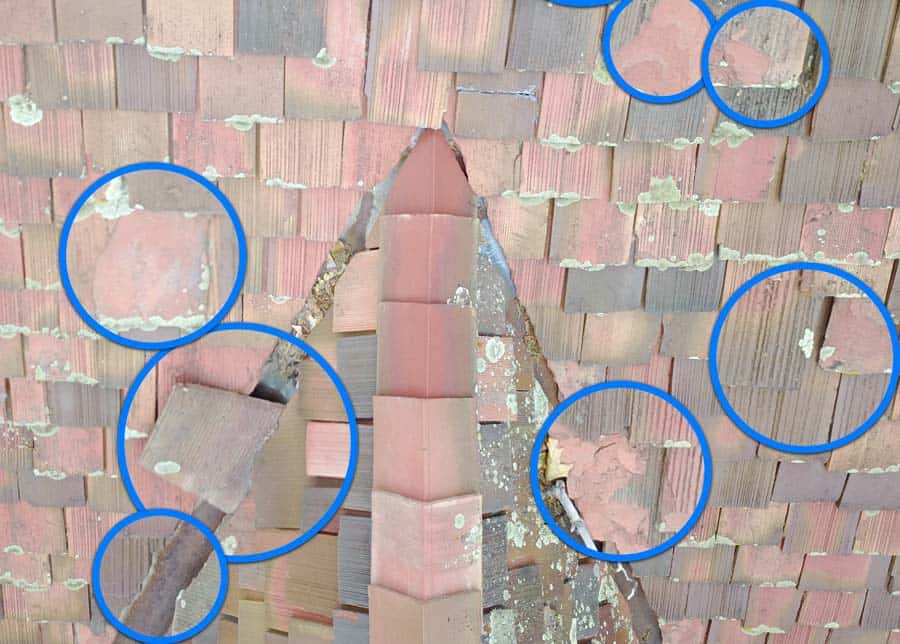 This photo shows more tile deterioration and spalling near the chimney.
And more broken roof tiles caused by hail damage.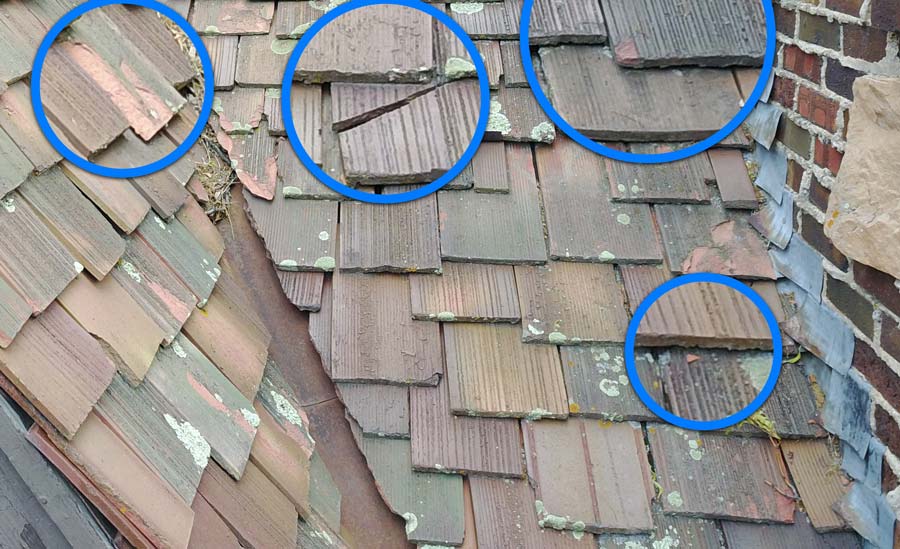 These loose roof tile pieces pose a danger to people, pets and property below.
It's important to get your roof inspected if you think you may have roof tile hail damage.
Get a Free Roof Inspection
If you think you may have roof tile hail damage, request a free inspection from a professional roofing company.