Tile Roof Repair
Expert Tile Restoration Contractor
A tile roof is one of the most beautiful and durable roofs that exist. Some tile roofs can last as long 100 years or longer!
But slate & traditional clay tile can also be damaged by storms, suffer from old age or simply need some TLC to regain its natural beauty.
Other types of tile, including historic Spanish roof tile or barrel tile also may need periodic tile roof repair and restoration.
Historic buildings with slate tiles, Mission style homes and public buildings with original clay tile roofs, churches and university buildings with unique roof lines and distinctive tiles are the pride of cities and neighborhoods.
But when there's a need for tile roof repair or replacement...
Knowledge and precision are needed to ensure that the work is completed properly.
Let's talk about that.
Why Property Owners Choose a Tile Roof
Many different types of tile roofing systems lend character to churches...
Shopping malls, government buildings, community centers...
Along with schools, restaurants and museums...
Tile roofs are also installed on homes and apartment buildings throughout the country.
Although higher in price than other roofing options, tile roofing is distinctive and it adds value to property.
Tile roofs also typically have a much longer lifespan than other roofing materials.
A tile roof can be designed to complement nearly any architectural style.
Here's an example of a steel tile roof that we installed onto an office building.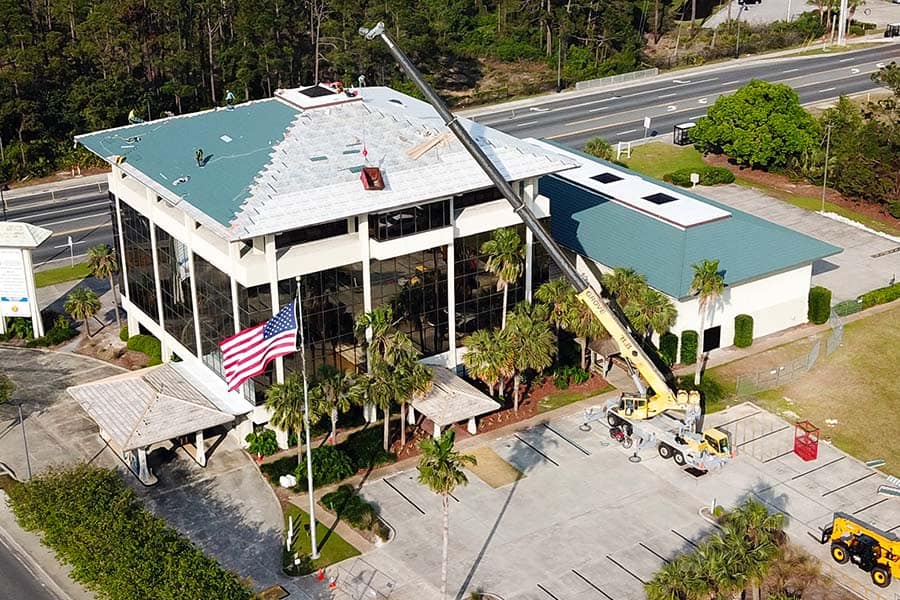 Tile roofs are strong and sustainable, energy efficient and resistant to damage from fire, water and wind, frost, insects and other pests.
Today, though, not all tile is natural stone or clay.
Clay and concrete tile is produced in a vast array of colors, shapes and sizes to mimic historic tiles.
It is produced in four common patterns that include Mission, Spanish and French styles and Interlocking Grid tiles.
View detailed information about roof tile designs ›
Modern options that mimic the look of traditional clay tile or natural stone tile are lightweight alternatives.
Some of these look-alike tiles are made from smooth metal (or stone-coated steel) and composite materials today.
In some cases, these modern tiles can be an option for roof restoration projects, where the original roof was not tile.
Especially if the existing structure can't carry the weight of concrete, stone or clay tile.
Metal and composite tile are not an option for historic renovation, however.
As it is important to maintain the aesthetic and material authenticity when completing a historical tile roof repair project.
Historic buildings with tile roofs exist in all areas of the country.
Whether the roofs are natural slate, red clay tiles that reflect a Mediterranean or Hispanic influence.
Or contemporary barrel tiles on a modern mall or civic center, the roof tile can be damaged by very severe storms.
The popularity of traditional tile as a roofing material has never waned.
And in fact, tile roofing systems continue to grow in popularity.
A tile roof is expensive, but for good reason.
With a minimum amount of attention, a tile roof might last 100 years or longer.
No other roofing material can come close to this kind of longevity.
What Causes Tile Roof Damage
A tile roof, no matter what type it is, can also suffer damage from storms, natural disasters and neglect.
All roofing tile is prone to fractures, chips and cracks.
Hail damage is a primary risk for tile roofs.
Causing the tile roof to require repair.
Baseball-size hail is not uncommon, and large hail can instantly crack or shatter clay tile.
Slate tiles, because they are prone to flaking as well as chipping and cracking, are especially vulnerable.
In the same way.
High winds may cause damaged tiles to shift or lift and can weaken the connection to adjacent tiles.
Strong winds can cause tiles to "chatter," which might cause cracks or loosen the fasteners.
Sustained high winds can damage flashing as well as hip and ridge tile.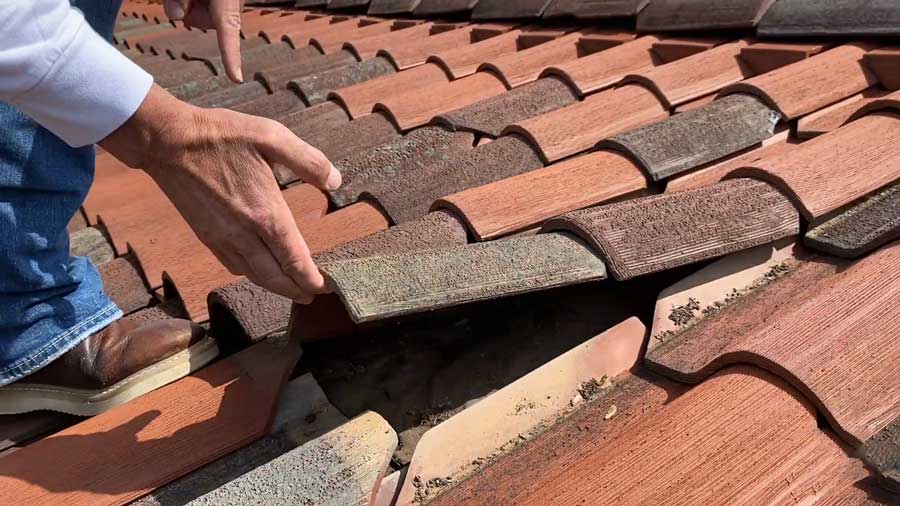 When roof tiles are damaged.
Water can leak through and penetrate to the roof's subsurface.
And rot decking underneath.
A damaged tile roof will leak.
Cracked or chipped tiles leave bare spots on a roof, and missing tiles may weaken the entire roof structure.
Blowing branches and heavy tree limbs that fall on a tile roof during a storm lead to similar problems.
If a large tree limb brushes against the edge of a tile roof repeatedly, it is apt to weaken the tile and lead to future problems.
Where you're going to need some tiles replaced.
Tile Roof Repair Options
Repair and restoration of a tile roof should only be completed a professional roofing contractor with years of tile roofing experience.
Clay tile roof repair is demanding.
If not done correctly, the repairs will not only not look right, but they aren't likely to be durable.
Following a storm or disaster...
Emergency tile roof repair will lessen the chance of further damage and allow you as a property owner or manager to develop a plan for future action.
If you feel that you may have an insurance claim, you will want to contact a tile restoration roofer first.
A tile roofing company, like RestoreMasters, will evaluate your property to determine if your damage was caused by a recent storm or some other reason.
Here's what happens when you call a tile roof repair contractor.
Immediate action is needed, and speed is what counts.
A first step is to cover the damaged section of roof with some form of protective covering as a stop-gap measure.
Obtaining realistic estimates for tile roof repair cost can be time consuming.
It may also involve some negotiation with insurance carriers.
If you're a property owner, you'll want to work with a contractor who is reputable and experienced, familiar with the insurance claims process.
And realistic about repair costs and scheduling.
Short-term covering, often only a blue tarp, offers temporary protection.
But it shields the roof from weather and buys some time for you to decide on the next step.
Work with a professional contractor like RestoreMasters to ensure that the cost of tile repairs and restoration is covered.
We deal regularly with public adjusters, historical building experts and engineers.
And our team is second to none when it comes to handling the tile roof restoration process from start to finish.
Following extensive damage, the preferred modern roof protection is shrink wrap roofing.
Our trained crews completely cover a damaged roof with a heat-welded plastic membrane that can be form-fitted to the roof's contours.
It prevents further deterioration of damaged tiles and can be left in place for several months.
The shrink wrap is waterproof and resists UV rays.
It allows normal activity to continue in the building's interior.
Because it is custom-made for the building, shrink wrap offers superb protection from weather and prevents additional damage.
If total roof replacement or historic roof restoration is in your future, why not schedule a meeting now to see what we offer?
As an expert tile restoration contractor, we will protect your investment and prolong the life of your roof.
What to Do if You Need Tile Roof Repair
If you have missing or broken tiles.
Damaged ridge cap.
A roof leak that's causing interior problems.
Or a historical tile roof in need of restoration - RestoreMasters can help.
There are risks involved if you don't take quick action when you have roof damage.
Particularly an expensive tile roof.
Waiting might cause additional tiles to crack or become loose, weaken surrounding roof structure, allow additional leaks to develop and damage both building interiors and exteriors.
In addition to that.
There may be time limits on submitting claims for storm damage, and rising costs can be a factor if you delay repairs too long.
As noted.
Historic roof restoration requires knowledge and expertise.
RestoreMasters is a nationwide company with the specialized experience necessary to repair or replace existing tile roofs, and to complete all kinds of storm damage roof repairs.
If you are considering filing an insurance claim...
We suggest you contact RestoreMasters first for a full damage assessment to see if you have claimable damage to your tile roof.
This can prevent you from having a claim denied.
Our third-party public adjustment team offers claim assistance to building owners as a matter of course.
And we consistently work with adjusters and insurers to facilitate complete historic renovation of tile roofing.
Types of Tile Roofs We Repair
At RestoreMasters, there are no limits on the types of tile roofs we can install, service, repair and restore.
We are "masters" when restoration requires sourcing hard-to-find, compatible roofing materials and replacement tiles.
We also regularly complete other building restoration requirements.
Including fabrication of period-appropriate copper or metal trim and adapting modern materials to historical needs.
As well as interior historical building restoration.
It doesn't matter what type of roof tile your building has.
Traditional red clay tile or grey concrete, ceramic tile or porcelain tile, French roof tile or Spanish tile, we have the knowledge and the resources to find similar roof tile producers or to source reclaimed tile dealers and antique tile suppliers.

We repair all types of tile roof systems, even the more unusual.
We work with interlocking tile and with flat tile with non-interlocking edges.
We can be as creative as you wish with shake tile, scalloped tile and graduated roof tile.
In a more modern vein, our teams are also highly experienced with stone-coated steel tile, composite tile roofing, metal tiles and solar tile.
Whether you need minimal concrete tile roof repair or complete restoration of a slate-roof on a historic church.
No job is too small or too difficult.
We partner exclusively with the best available manufacturers of roofing tiles of all types in order to ensure complete customer satisfaction.
Pictures of Tile Roof Repair
Below are several pictures of roof wind damage.
Some of these wind damage photos were taken following recent hurricanes, including: Hurricane Michael and Hurricane Laura.
Others were captured following thunderstorm or derecho events, like the 2020 Midwest Derecho.
What to Do if a Storm Damages Your Tile Roof
If a severe storm has recently rolled through your area...
...you may be wondering if you have wind damage or tile roof hail damage.
Don't wait to contact a professional roofing contractor.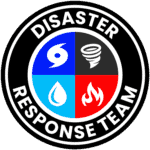 Contact RestoreMasters BEFORE filing a roof insurance claim.
Our team of public adjusters, engineers and building consultants can help you get the correct repair or replacement for your damaged roof.
Water Mitigation & Emergency Roofing Services
RestoreMasters specializes in responding to large loss claims that occur during sudden or severe storms.
Like hurricanes, tornadoes, big hail or strong winds.
The first thing we do is stop the inflow of water into your property.
To do this you need a roofing contractor that specializes in emergency roof repairs.
Emergency roofing services include: structural repairs for catastrophic damage, shrink wrap roofing, tarping, loose lay, temporary repairs and water mitigation.
After that.
We'll put a plan together to offer a permanent repair or replacement solution.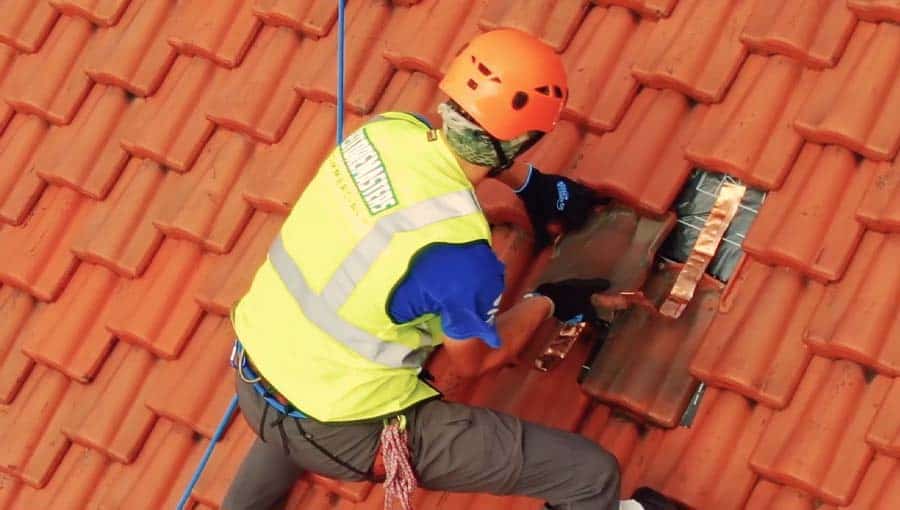 RestoreMasters Disaster Response Services
Disaster Cleanup Roof Emergency Sealing Shrink Wrap Roofing Roof Tarp Solutions Site Containment Emergency Board-up Debris Removal
Hail Damage Repair Wind Damage Repair Commercial Roofing Residential Roofing Water Damage Mitigation Fire Damage Restoration Mold Remediation
Restoration Construction Windows & Doors Siding Repair Flood Damage Repair Interior Construction Commercial Exterior Insurance Claims
Watch a Tile Roof Repair Video
Certified & Accredited Restoration Specialists
RestoreMasters is licensed, bonded and insured for your protection. We also maintain industry leading certifications and memberships to offer our clients superior services.
$10 Million General Liability Insurance
Bonding Capacity up to $50 Million
OSHA Safety Trained
Top 100 Roofing Contractor
Inc 5000 Company
Certified General Contractor
Better Business Bureau A+ Rating
Compliance Depot Certified Vendor

EPA Lead Safe Certified Contractor
Owens Corning Preferred Contractor

GAF Certified Weather Stopper Roofing Contractor
CertainTeed Master Shingle Applicator
Union Corrugating Commercial Contractor of the Year
Berridge Certified Installer
Verisco Authorized Flat Roof Installer
Verea Preferred Platinum Elite Installer
Ironstone Master Artisan
Conklin Preferred Contractor