How to Deal With
Wind Damage to Your Roof
In 2020 there were over 16,000 wind damage reports, as reported by the NOAA Severe Weather Database.
Was your property among those that got hit?
Depending on your roof type, strong winds can wreak absolute havoc on your roof.
On the ground during several of this year's severe wind events, we saw this damage up close and personal.
Today we're going to discuss roof wind damage and help you understand steps you can take if it happened to you.
We're going to look at questions like:
What types of winds can cause roof damage?
How does wind damage a roof?
What does roof wind damage look like?
What do I do if I have wind damage?
Let's dive right in.
What Types of Winds Cause Roof Damage?
Different types of wind can cause damage to your roof.
While hurricanes and tornadoes account for a significant amount of damage, you may be surprised to learn that...
...over half of all severe wind damage reports in the lower 48 are caused by winds whipped up during severe thunderstorms.
Damaging winds come in the form of straight-line winds, macroburts, microbursts and derecho events that can harbor hurricane-force winds over large swaths of land.
Wind speeds, roofing material types, roof shape and building dimensions...
...all play a part in the amount of wind damage you incur after a strong storm.
We will explore all these factors in a bit.
For now, let's take a closer look at what types of wind cause roof damage.
Hurricane Winds
Hurricane force winds are classified as winds above 74mph by meteorologists.
Winds at the low range can easily create flying debris from chairs, tree branches and other items.
As wind speed increases, major devastation follows.
Hurricanes are generally hundreds of miles wide, with the strongest winds near the eyewall.
The strongest hurricane winds usually max out around 200 mph, and due to the long duration of these storms, they just pound away at buildings.
While some roofing systems are resistant to lower level hurricane winds, others are severely damaged or destroyed.
The chart below shows hurricane wind speeds for category 1 through category 5 storms...
...along with expected damage that could result.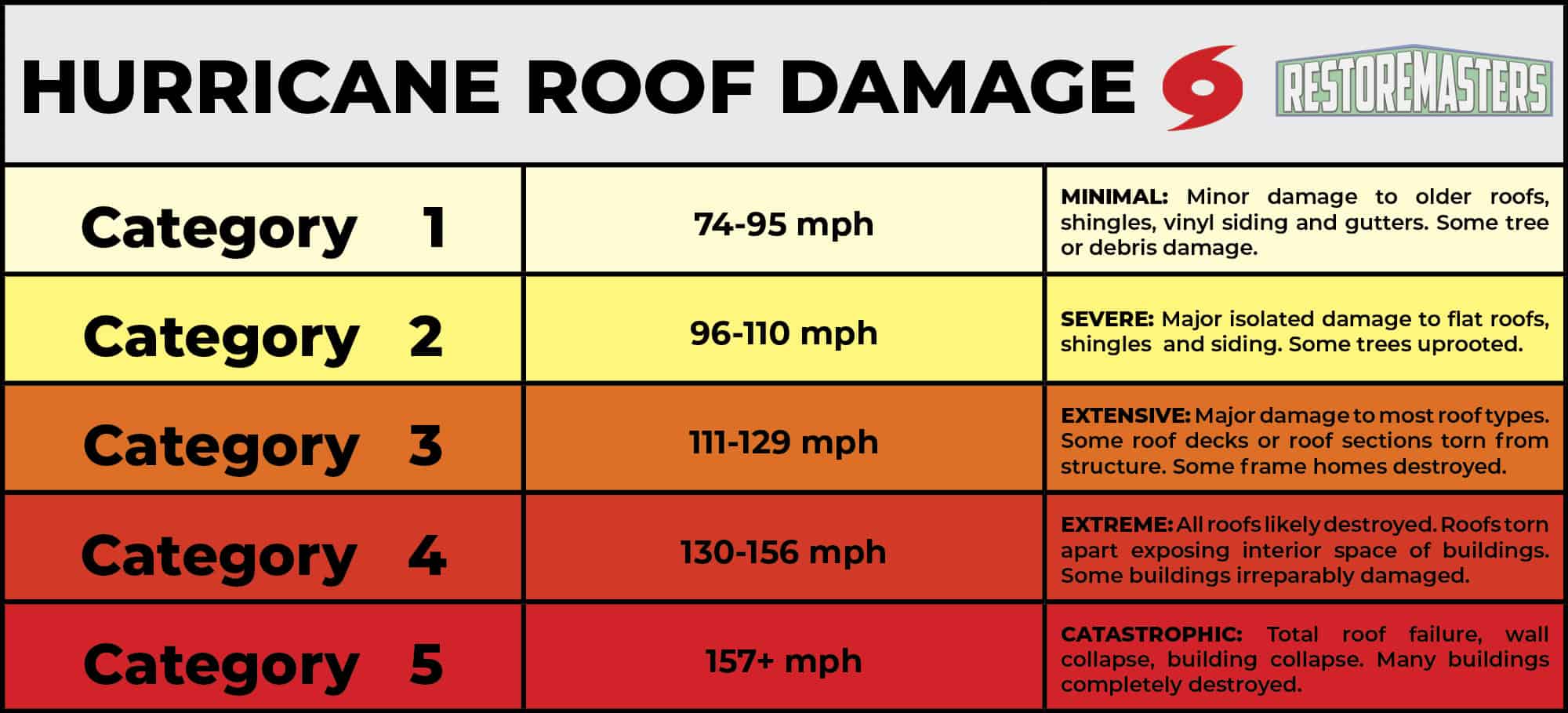 Tornado Winds
Like a severe hurricane, a tornado can be one of the most incredibly destructive forces of nature.
Tornadoes can cause roof damage in a number of ways.
A tornado is often a fast, hard-hitting storm that covers an area the width of few hundred yards to a mile or more.
Tornado winds can be the most intense winds anywhere on earth.
With wind speeds reaching 300 mph during the most intense storms.
And while the long duration associated with high hurricane winds can cause widespread damage across hundreds of miles...
...tornadoes can completely eliminate strong structures in seconds, leaving only a bare foundation as it passes through.
In addition to wind, big hail to often accompanies storm systems that spawn tornadoes... giving your roof a double whammy.
Chances are, if your building is anywhere in the path of an EF 1 or above tornado, you may have roof damage.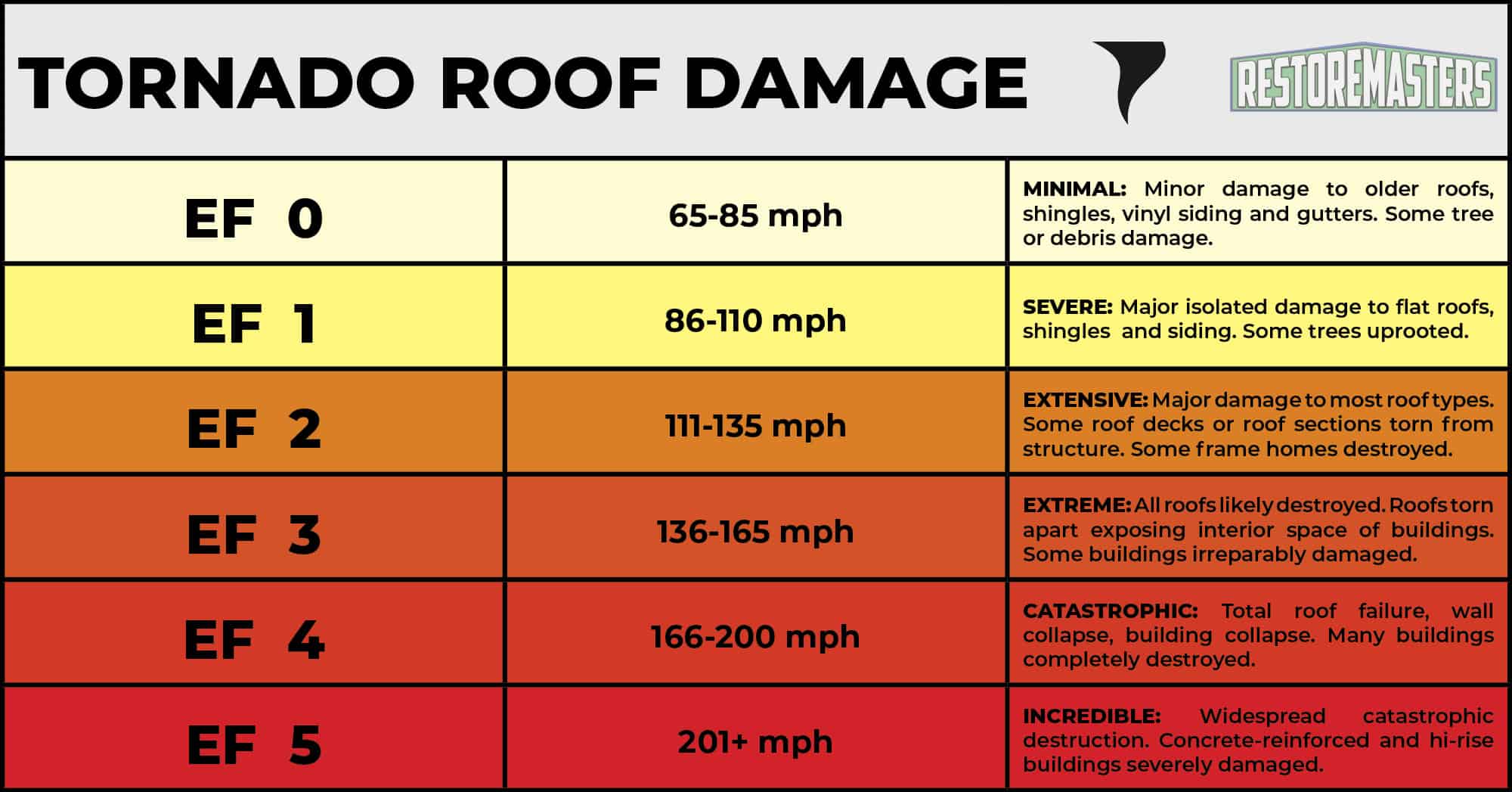 Straight Line Winds
Straight line winds are generally defined as thunderstorm winds generated in the absence of rotation.
They can include wind gusts of 100 mph or more.
For that reason, they can do severe damage to building structures and roofing systems.
Roof damage potential from straight line winds are not to be underestimated.
Derecho Winds
A derecho is a type of widespread, long-lasting straight-line wind storm that covers huge areas of land.
Often associated with a band of rapidly moving thunderstorms, a typical derecho consists of numerous microbursts, downbursts, and downburst clusters and can spawn tornadoes.
Technically, a derecho is defined by a wind damage swath that extends more than 240 miles and includes wind gusts of at least 58 mph along most of its length.
Notably, the August 2020 Midwest derecho tracked a 770-mile long path over 14 hours and recorded wind speeds up to 140 miles per hour as it pounded areas of Nebraska, Iowa, Illinois and other states.
How Does Wind Damage Your Roof?
Some roofs can withstand extreme winds...
...while some older roofs can be damaged by wind speeds below 50 miles per hour.
The severity of wind damage to a roof structure varies depending on several factors, including:
Type and age the roofing materials
Presence of flying debris
Building geometry and shape of the roof
Building height and orientation to other buildings
Quality of roof installation
As wind flows around and over buildings, it can produce very high negative pressures creating suction...
And positive pressures creating blunt force pushing on roofing materials, under gables or eaves.
These pressures create tremendous uplift on roofing materials, sometimes tearing the roof off at high speeds.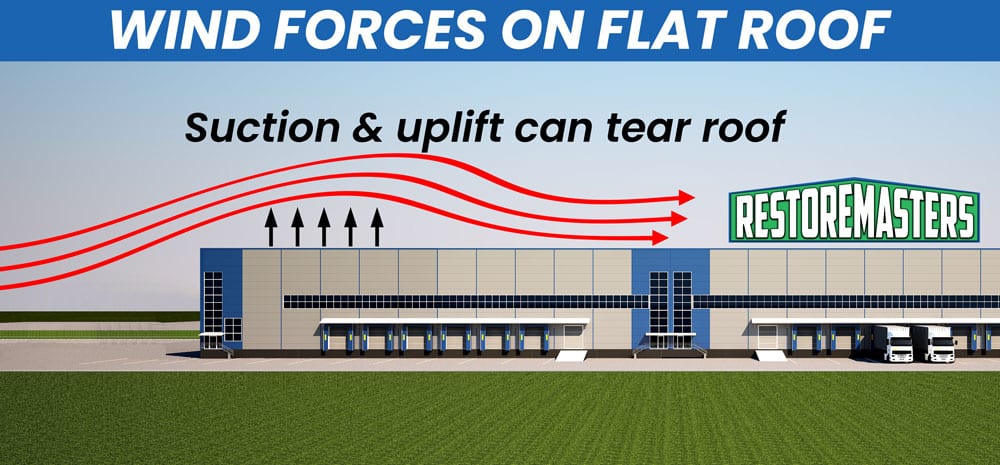 Suction and uplift near the leading edge of a flat roof can cause roofing materials to bellow upward and tear.
Wind then gets under the resulting "opening" and can tear large sections of the roof off.
Each roof performs differently in wind, and the quality of installation makes a big difference.
On sloped roofing systems (like those with asphalt shingle or tile), uplift pressures are highest along the windward corners, rakes, eaves, and ridges. Code-compliant materials and wind-specific design engineering play a huge role in roof success or failure during high winds.
Some roof designs are better than others when it comes to withstanding roof wind damage.
When designing a new roofing system...
...it's important to consult an engineer to validate the full scope of code requirements for the building's location.
Pictures of Wind Damaged Roofs
Below are several pictures of roof wind damage.
Some of these wind damage photos were taken following recent hurricanes, including: Hurricane Michael and Hurricane Laura.
Others were captured following thunderstorm or derecho events, like the 2020 Midwest Derecho.
How to Identify Roof Wind Damage
Some signs of roof wind damage are easy to see, especially after severe storms.
However, if you need to identify more subtle signs of roof wind damage, a trained eye can help.
Here are a few ways to identify roof wind damage.
First, look at your ceilings.
Water spots on your ceiling are an early indicator of a roof leak that could be caused from wind damage on your roof.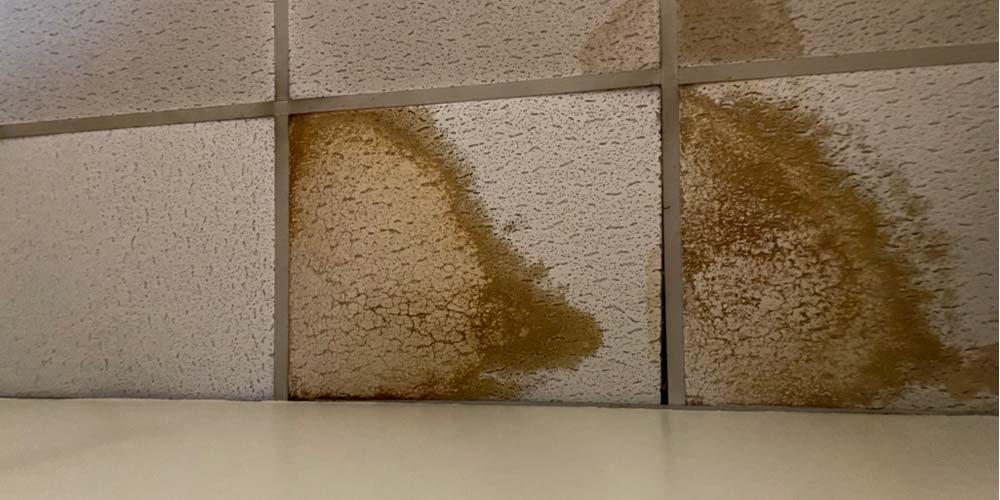 0
Next.
Look at the roof itself.
Notice the shattered tiles on this roof.
Sometimes wind can cause roof tiles to "chatter" till they finally break, leaving tile chunks and debris on your roof.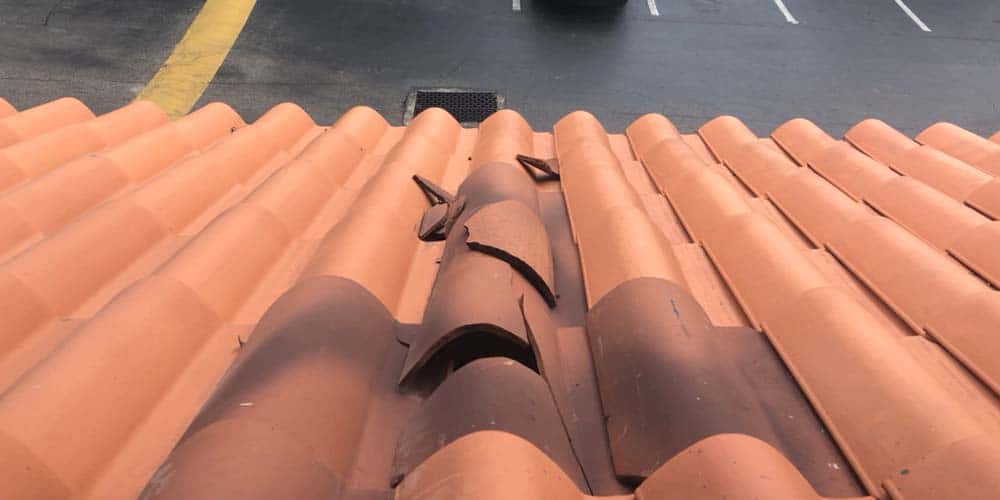 Below is a picture of asphalt shingles with wind damage.
Strong winds can get up under roof shingles causing the edges to lift.
The resulting gap can leave underlying roof materials exposed to moisture during hard-driving rains.
Also, these shingles may eventually tear off if left unrepaired.
Now, let's take a look at an old modified bitumen flat roof.
As you can see, this roof has been repaired using various roof cement materials.
However, due to breakdown of adhesives over time...
Wind forces inside and over the building cause the membrane to flex and bellow, breaking its seams.
Pooling water is also an indication that supporting materials under the membrane have failed.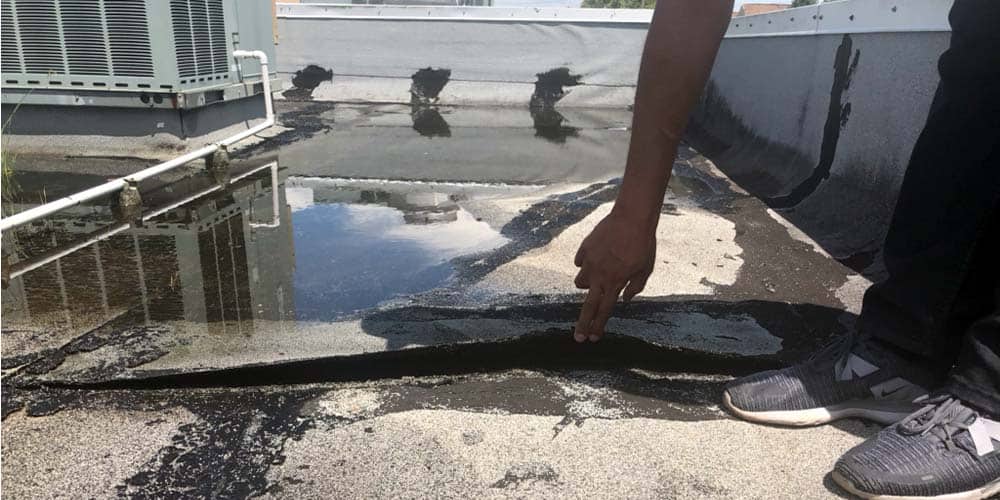 When discussing roof wind damage, we can't leave out the obvious.
Sometimes, external wind-blown objects can damage your roof.
Like the tree that crushed the edge of this roof.
This situation requires an immediate response to avoid interior damage.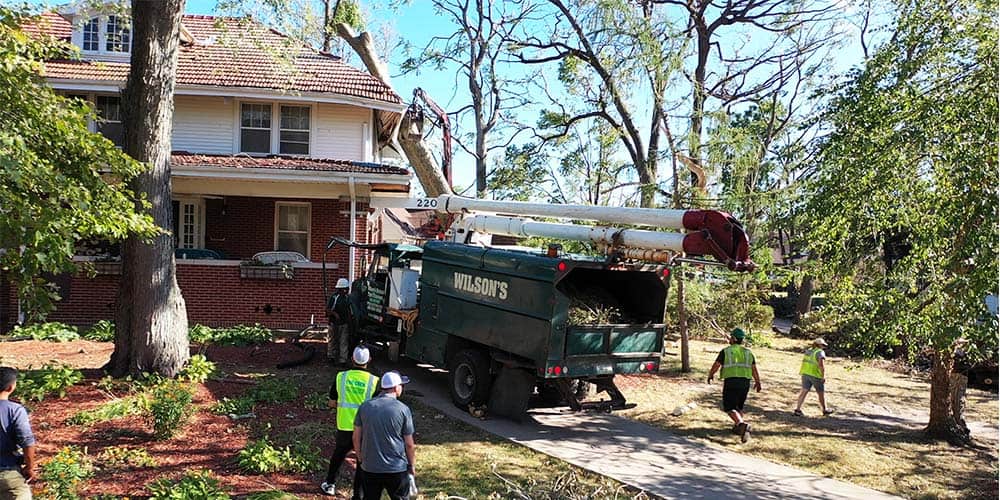 What to Do if Wind Damages Your Roof
If a severe storm has recently rolled through your area...
...you may be wondering if you have wind damage or hail damage to your roof.
Don't wait to contact a professional roofing contractor.
Contact RestoreMasters BEFORE filing a roof insurance claim.
Our team of public adjusters, engineers and building consultants can help you get the correct repair or replacement for your damaged roof.
Emergency Roofing Services & Water Removal
RestoreMasters specializes in responding to large loss claims that occur during severe storms.
The first thing we do is stop the inflow of water into your property.
To do this you need a roofing contractor that specializes in emergency roof repairs.
Emergency roofing services include: structural repairs for catastrophic damage, shrink wrap roofing, tarping, loose lay, temporary repairs and water removal.
After that.
We'll put a plan together to offer a permanent repair or replacement solution.
RestoreMasters Disaster Response Services
Disaster Cleanup
Roof Emergency Sealing
Shrink Wrap Roofing
Roof Tarp Solutions
Site Containment
Emergency Board-up
Debris Removal
Hail Damage Repair
Wind Damage Repair
Commercial Roofing
Residential Roofing
Water Damage Removal
Fire Damage Restoration
Mold Remediation
Restoration Construction
Windows & Doors
Siding Repair
Flood Damage Repair
Interior Construction
Commercial Exterior
Insurance Claims
Learn More About RestoreMasters
Certified & Accredited Restoration Specialists
RestoreMasters is licensed, bonded and insured for your protection. We also maintain industry leading certifications and memberships to offer our clients superior services.
$10 Million General Liability Insurance
Bonding Capacity up to $50 Million
OSHA Safety Trained
Top 100 Roofing Contractor
Inc 5000 Company
Certified General Contractor
Better Business Bureau A+ Rating
Compliance Depot Certified Vendor

EPA Lead Safe Certified Contractor
Owens Corning Preferred Contractor

GAF Certified Weather Stopper Roofing Contractor
CertainTeed Master Shingle Applicator
Union Corrugating Commercial Contractor of the Year
Berridge Certified Installer
Verisco Authorized Flat Roof Installer
Verea Preferred Platinum Elite Installer
Ironstone Master Artisan
Conklin Preferred Contractor