TPO Roofing
The Complete Guide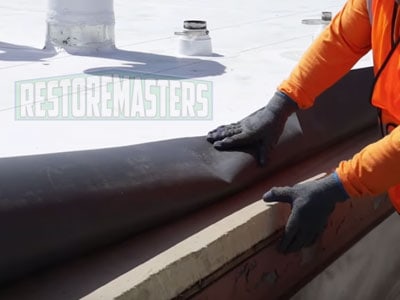 Let's talk about TPO roofing systems.
For commercial buildings with a low-slope or flat roof, a TPO roof is one of the most popular systems.
Why?
One reason is cost, but it doesn't stop there.
There are several other reasons you may want to invest in a TPO roofing system.
In this TPO roofing guide ››
You're going to learn everything you need to know about TPO roofing, so you can make an educated decision about your next roofing project.
What is TPO Roofing?
TPO stands for Thermoplastic Polyolefin. A TPO roof system consists of a single-ply roofing membrane, supported by a properly installed solid substrate - often an engineered insulation system - on flat or low sloping roofs.
The TPO roof membrane comes in different thicknesses - commonly 40-mil to 80-mils or thicker.
And quality varies widely by manufacturer.
The membrane is attached to the roof by mechanical fasteners, adhesives and various methods of heat welding to form watertight seams and seals around roof edges and penetrations.
As is the goal with most roofing systems, TPO roofing systems form an effective barrier designed to repel water, snow and ice.
To keep your building and its contents safe and dry.
While your TPO roofing system may have unique design requirements, the graphic below shows one common type of install.
Image Credit: Versico Roofing Systems
Fully Adhered TPO System
TPO Membrane
Bonding Adhesive
Fasteners & Plates
Insulation System
Roof Deck
TPO Roof Membrane Details
You may be wondering...
What is TPO roofing material made of?
The single-ply TPO roof membrane actually consists of at least three layers, bonded together to create a single membrane.
Thermoplastic Polyolefins (TPOs) are polypropelene based materials that have been modified to provide better tension strength, flexibility and impact resistance, while retaining the chemical resistance of PP products.
While TPO membranes contain thermoplastics, they may also contain EPR or EPDM rubber and other compounds (depending on formulation) like talc, fiberglass or carbon fiber to amplify durability and effectiveness.
TPO membrane formulation include things like: pigments, fire retardants, antioxidants, lubricants and UV absorbers - all designed to enhance performance.
A single-ply re-inforced TPO roof membrane contains the following layers:
A top layer formulated with UV blockers and abrasion resistant compounds
An encapsulated middle layer called "scrim" which is a high-strength polyester mesh material designed to add structure to the membrane, while increasing puncture resistance and tensile strength
A base layer compounded for strength, adhesion and flexibility
Some TPO membranes also include a fleece backing that is used for certain installation requirements.
TPO Roofing Manufacturers
High-quality TPO roofing systems are offered by industry-leading manufacturers. Here are a few of the top companies offering TPO roofing systems. Your professional roofing contractor can help you determine which system best fits your needs.
TPO Roofing Warranties
GUARANTEED BY THE MANUFACTURER
As a Certified Roofing Contractor for GAF and Versico systems, RestoreMasters offers Leak-Free NDL Warranties up to 30 years.
What is an NDL Warranty? An NDL (No-Dollar Limit) Warranty is a warranty guaranteed by the roof system manufacturer - protecting the building owner against roof leaks caused by defects in materials or contractor workmanship. One of the best roof warranties available, as with all manufacturer warranties, certain terms & restrictions apply.
Benefits of a TPO Roof
A TPO roof offers substantial benefits over other roofing systems in key areas.
Here are a few benefits of a TPO roofing system:
Puncture Resistance
Punctures can lead to leaks. TPO offers increased puncture resistance over other commonly used roofing materials. The quality of substrate design and installation techniques can play a big role in puncture resistance, so be sure to choose a first-rate roofing contractor.
Energy Efficiency
Reflective TPO roof membranes come in white and other light colors and can help save money on energy costs compared to dark-colored EPDM. Some buildings see a dramatic drop in heat absorption when using a light-colored TPO roof.
Value & Cost-effectiveness
When comparing costs to other systems like commercial metal roofing, TPO roofing systems offer one of the most cost-effective roofing solutions available, offering a great balance between performance and price. Flexibility of materials and faster installation delivers a lower cost install.
Long-term Weather Resistance
TPO offers superior resistance to long-term heat and damaging UV rays from the sun. TPO resists shrinking so seams and sealants stay in place over time.
Welded Seam Strength
A weather-tight roofing system depends on the strength of its seams. Welded seams as part of a professionally-installed TPO roof system, create a monolithic membrane across your entire roof.
TPO Roofing Installation Steps
The steps below represent a typical TPO roof installation process. Each installation may vary by type and age of existing roof, code requirements, roof sub-structure integrity and many other factors. For multi-day TPO installation jobs, the new roof is sealed to the old roof every day to prevent roof leaks overnight.
How to Select a TPO Roofing Installation Contractor
TPO roof installation requires an experienced commercial roofing contractor. TPO roofing is a specialty field of roof installation. And complex roof systems require careful craftsmanship and adherence to strict manufacturer standards.
If your roof has suffered hail or wind damage, you will want a contractor that can work with you every step of the way. One that is able to perform emergency roof repairs as needed, loose lay TPO temporary roofing if necessary and total installation.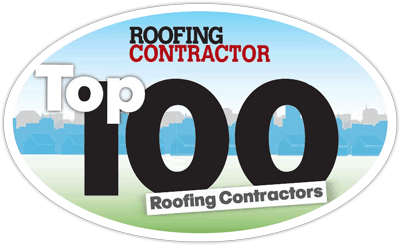 Look for a TPO roofing contractor with the following qualifications:
Is licensed, bonded, and insured in your state
Trained & certified by the manufacturer to offer the best quality and warranty options
Experience installing your type of flat roof on multiple projects
Experience managing staged roofing projects that may require parallel tear-off and installation
Experience working with insurance companies on damage claims
An experienced roofing contractor can help you avoid leaks and major problems and provide a roofing systems that lasts for decades.
RestoreMasters has been honored with multiple years on the Inc. 5000 List of America's Fastest Growing Companies and consistently ranks among the Top 100 Roofing Contractors in the nation.
In addition to TPO roofing installation, RestoreMasters offers: all common types of roofing systems, shrink wrap roofing, roof tarping, loose lay membrane roofing, emergency roofing & repair, water removal, water damage restoration, mold remediation, catastrophic damage inspections, property damage documentation, testing & damage reports, fencing & perimeter security, disaster recovery services, permanent roof replacement, interior restoration services. and general contractor services.
We have roofing & restoration locations across the country to serve you better.
The photos and videos below show TPO roofing projects in various stages of construction. Each project was completed by RestoreMasters.
Call Now For Emergency Services
TPO Hail Damage - Property Assessment
TPO Roof Restoration - Hail Damage
Historical Property - Storm Damage Repair
TPO Full Roof Replacement - Idaho Falls, ID
Hillman Square Center - Jacksonville, FL
Historical Restoration - Marianna, FL
TPO Roof Repairs - Panama City Beach, FL
Hail Damage - Shrink Wrap TPO Roof
Hurricane Damage - Hotel TPO Roof
View more resources about TPO roofing systems. If you have any specific questions, please don't hesitate to reach out to our team.
We hope you enjoyed this TPO Roofing guide!
If the answer is YES ›› do us a favor and share this guide with your friends and colleagues on social media. Thank you! 🙂
If you have a website ›› feel free to share snippets of the article. We just ask that you provide a link back to this post as a thank you.
We appreciate you!
Do you need roofing help?
If you are worried about storm damage or think you may have a roof leak...
Contact us for a complimentary roof inspection & damage assessment ›
RestoreMasters is an experienced full-service restoration contractor - offering turnkey solutions including roofing, siding, windows & doors, interior restoration, exterior repairs & more. With offices nationwide, we are here to serve you!
CALL ››››› (800) 400-ROOF