Metal Roof Repair
Nationwide Services 
Building owners and property managers are tasked with deciding whether a structure needs commercial metal roof repair.
Identifying a leaking roof or obvious damage will usually prompt a responsible professional to contact a metal roof repair contractor.
But proactive measures and noticing telltale signs of high wind or roof hail damage has occurred can be difficult.
If you are unsure about the integrity of your metal roof panels or see signs of water penetrations, consider the following information in conjunction with a prompt roof inspection.
Call Now For Emergency Services
Types of Commercial Metal Roofing Systems
In the event a hurricane or tornado causes metal roof wind damage that requires a complete replacement, it's essential for commercial property owners to understand the type of metal roofing systems available.
A commercial metal roofing company typically installs two types and a wide range of panel options.
These involve either corrugated or standing seam metal roofing systems.
When installing a corrugated system, a metal roof contractor fastens the panels directly to support structures.
The exposed fasteners can be seen from the ground, and washers are employed to prevent metal roof leaks and ensuing water damage.
A corrugated system usually requires a roof inspection every 3-5 years.
High winds or a hailstone storm can loosen the exposed washers and fasteners and require commercial metal roof repair sooner than property owners might anticipate.
By contrast, a standing seam roofing system covers the fasteners beneath the overlapping panels.
With the fasteners not exposed and no drill holes through the metal sheets, leaking roof issues are minimized.
A standing seam roofing system also remains the preferred choice because the design is more conducive to solar panel installations and weather-related accessories.
These rank among the popular panels a metal roof repair contractor installs.
Tee-Panel: These panels often include vinyl weather seal, and the snap-together systems allow an experienced metal roof repair company to use the material in curved architecture.
Double-Lock Zee-Lock Panel: With a 2-inch high-standing seam panel, these metal roofing systems are attached to solid sheathing and reduce the potential for a leaking roof.
Tee-Lock Panel: The 2 3/8-inch standing seam works well over solid sheathing or open-framed commercial structures.
Cee-Lock Panel: This 1 ½-inch high panel uses a snap-lock seam, and adding a vinyl weather seal is optional.
R Panel: A metal roof repair contractor can provide a relatively low-cost installation of his exposed fastener panel for suitable metal roofing systems.
Batten Panel: A two-part system, the roof deck material utilizes a Deep Vee Panel and square snap-on battens. It can be installed over framing or sheathing and uses concealed fasteners consistent with standing seam metal roofing systems.
Double Rib: An exposed fastener panel is attached to the solid sheathing. These wide and economical panels are a cost-effective option in suitable commercial settings.
Bermuda Panel: Offering a traditional Bermuda aesthetic, a metal roof repair company can deploy continuous lengths that eliminate exposed vertical seams.
Metal Spanish Tile: Emulating historic clay roofs, these panels deliver long-lasting durability and are better at withstanding metal roof hail damage.
Metal S Tile: Known for clean lines, these metal roofing systems involve panels upwards of 40 feet long.
Commercial property owners concerned they need metal roof repair services after a severe weather storm are advised to speak with a contractor for a roof inspection.
A leaking roof can lead to significant water damage that impacts structural supports and cause hazardous mold growths. To avoid a costly water damage restoration project and prevent mold from water damage, it's important to address roof repair requirements right away.
When You Need Metal Roof Repair
The need for commercial metal roof repair comes into play after a roof gets old or after severe weather events. If you need emergency roofing services, contact RestoreMasters today.
Following a high-wind storm or hail storm event, even sturdy metal roofing systems can be impacted, even by hailstone strike as small as 1-inch in diameter.
And some storms can rip metal panels from their supports exposing the interior of the building directly to the elements.
The same holds true of outdated panels and those not installed by an experienced metal roof repair company.
The following rank among the common reasons to schedule a roof inspection and have necessary repairs made immediately.
Metal Roof Repair for Hail Damage
Hail storms account for upwards of 70 percent of roof insurance claims.
Hailstones as large as baseballs and grapefruits are pummeling metal roofing systems with increased frequency.
Even when the hard impacts do not necessarily crack open the solid metal panels, the dents and disfiguration will inevitably lead to a leaking roof.
Every time big hail hits a metal roof, you're at risk of microfractures in the metal finish. Microfractures are tiny cracks in the paint covering each metal panel.
And they will eventually rust and cause early failure of your metal roof.
That's why it's important to check your roof insurance coverage and insist even so-called "cosmetic" metal roof hail damage is covered.
Your insurance company's adjuster may write the claim as cosmetic, but prompt water removal measures are necessary to protect your commercial building.
Before the next severe weather storm occurs, it's crucial to review your policy and ensure the roof insurance policy covers hailstone damage.
An expert public adjuster that works on your behalf can help you understand your policy and can also help advocate for you when dealing with an insurance claim.
Metal Roof Repair for Wind Damage
Property owners typically understand that metal roof repair efforts are far less frequently needed than other installations.
For instance, asphalt shingles tear away easily during storms, allowing water to penetrate.
Although metal roof wind damage only occurs during fierce storms, falling tree limbs and flying debris can dent or crack otherwise secure panels and require metal roof repair.
And a previous subpar installation that failed to secure panels to sheathing or left loose flashing can prove problematic.
Consider scheduling a roof inspection following a high-wind storm and ensure even minor metal roof leaks are repaired.
Metal Roof Repair for Hurricane Damage
If you own a commercial building located in an area prone to hurricanes, it's generally wise to carry roof insurance that covers damage from any named storm.
Metal roofing for churches and buildings is less likely to sustain hurricane roof damage than asphalt shingles.
But winds exceeding 100 mph are likely to down trees and propel objects through windows, siding, and smash roof panels.
States along the Atlantic Seaboard and the Gulf of Mexico suffer more than 10 named storms each year, with six rising to hurricane status and inflicting more than $9 billion in commercial property damage.
Hurricane roof damage ranks among the primary reasons property owners file insurance claims for metal roof repair.
Metal Roof Repair for Tornado Damage
Community members often feel blessed after a twister spares their neighborhood.
But the flying debris and strong winds from a near-miss can still cause tornado roof damage.
It may come as something of a surprise, but tornado winds can cause more damage and leaking roof problems than hurricanes.
Twisters create a vacuum effect that literally pulls on the structures around them.
One practical way to grasp this concept is to compare the sucking force of a vacuum cleaner versus the passive air blown by a fan.
Apply that example to the magnitude of a severe weather event, and it's easy to see why tornadoes represent an advanced threat.
Even if metal roofing systems are not torn off by a direct hit or a tornado in close proximity, the vacuum effect can cause roof panels to shudder, vibrating loose fasteners and can cause metal roof leaks to appear later.
My Metal Roof is Leaking
Metal roof repair services are mission-critical when water seeps through panels.
Water penetrations represent the single greatest threat to residential and commercial buildings.
While an experienced metal roof repair company usually performs admirably, minor installation missteps can lead to a leaking roof.
These are some of the ways improperly installed metal roofing systems could become compromised.
Metal Screws: One of the common ways metal roof leaks occur stems from improperly driven screws. These fasteners must be perfectly level with the roof deck panel. If even one is crooked, pushed too deep, or short of the mark, that screw can allow water to seep through.
Flashing: Areas around exhaust piping, chimneys, and other obstacles require tight and weatherized materials to repel rain. When the sun dries and cracks materials, a leaking roof results.
Overlapping Materials: An experienced metal roof repair contractor knows to overlap metal roof panels to prevent water penetrations properly. Seams and overlays must meet products and building code standards to deliver secure protection from the elements.
Scheduling a roof inspection following a severe weather incident can minimize water damage and prevent pest infestations from occurring.
Roofs remain a primary building defense, and property owners may not even realize it needs repair.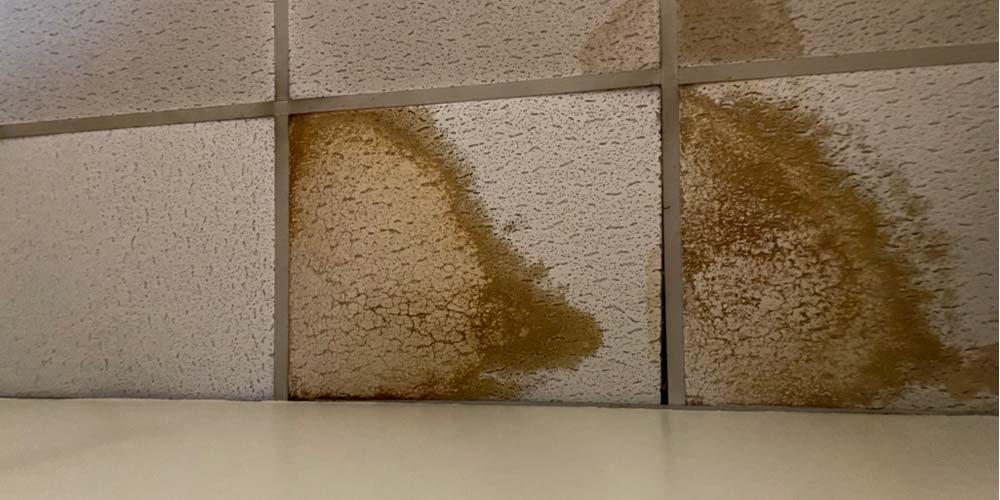 Other Signs You Might Need Roof Repair
Business owners who do not have experience in the construction trades are at a strategic disadvantage when it comes to roof repairs.
It's not unusual to shrug off telltale signs of roof damage as something harmless.
When leaking roofs allow water intrusion and weaken beams or spur mold growths, remediation will only get more expensive.
Contact a metal roof repair company and schedule a roof inspection if you see any of the following telltale signs.
Water Spots on a Ceiling
Moisture forming Around Interior of Windows
Dented Metal Roof Panels
Damaged Gutters
High Wind Damage to Screens or Siding
Raised Roof Fasteners
Misaligned Roofing Materials
Seams or Panels Appear Loose
Hailstone Damage to Areas of the Property
If your roof shows signs of sagging or moss growths, it has probably seen better days.
And if it has simply gotten old, consider scheduling a roof inspection from a reputable contractor.
Metal Roof Hail & Wind Damage Photos
What a Metal Roofing Company Does
A metal roof repair company supports local businesses by conducting thorough inspections and making necessary upgrades that avert avoidable losses.
A technician performs an in-depth roof inspection that involves checking for roof leaks in areas such as loose flashing, damaged panels,
improperly secured materials, and underperforming gutters that cause water to back up into soffits.
An experienced metal roof repair contractor can determine whether the underlying sheathing took moisture,
or the structural integrity of a building has been impacted.
These professionals can promptly secure a leaking roof and begin building restoration measures.
While bringing outdated metal roofing systems up to code, they can tie gutter systems into water removal designs.
An experienced metal roof repair contractor is a soup-to-nuts resource when a metal roof sustains damage.
Can my metal roof be repaired?
The short answer is: Yes, but it depends. A wide range of metal roof repair services are available to local property owners, including repairing leaking roofs, replacing damaged panels, and new installations if necessary.
However, if your roof shows signs of insurable damage from wind or hail, it may be in your best interest to file an insurance claim for roof replacement.
How can elastomeric roof coatings help restore a metal roof?
Elastomeric coatings increase a metal roof's lifespan by sealing minor dents and cracks.
These products also restore the luster of aging metal roofing systems that have begun to fade after decades of direct sun exposure.
Following a roof inspection, a contractor may recommend coating as a cost-saving measure.
Are metal roofs environmentally sustainable?
Metal roofing panels generally use 28 percent recycled materials.
When these long-lasting metal panels time out, they can be recycled again, making them a sustainable product
How often should my metal roof be inspected?
Commercial property owners would be well-served by scheduling a metal roof inspection once per year.
Severe weather, age, and growths can begin to degrade the protections metal roofing systems deliver.
Proactive roof inspections and maintenance help sustain the structural integrity of a building.
What type of maintenance should be done on my metal roof?
An annual metal roof inspection typically turns up minor maintenance issues such as tree sap buildups, loose fasteners, and others.
A metal roof repair services company can schedule annual routine maintenance such as cleaning the roof deck.
While commercial metal roofing systems last longer and stand up to weather better than others in their class, regular maintenance is important.
How much longer do metal roofs last?
A metal roof typically lasts upwards of three times longer than asphalt shingles.
Metal roofing systems can last more than 50 years, and new coatings are extending that life expectancy.
How to Select a Metal Roof Repair Contractor
If your roof has suffered hail or wind damage, you will want a contractor that can work with you every step of the way.
You need a team of professionals that can spring into action and mobilize immediately with the resources needed to get the job done and help you plan for a future permanent roof replacement solution.
It's important to get a professional roof inspection prior to completion of emergency roof repairs. You also want to select a roofing company with extensive experience installing your type of roof.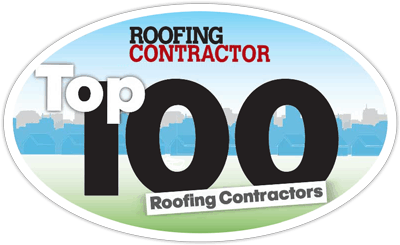 Look for a metal roof repair contractor with the following qualifications:
Is licensed, bonded, and insured
Experience in emergency roofing & repair services
Experience installing the permanent roof solution your property will require
Experience managing staged roofing projects that may require parallel tear-off and installation
Experience working with insurance companies on

 

roof damage claims
An experienced emergency roofer can help you avoid leaks and major problems and provide a permanent roofing solution that lasts for decades.
In 2022, RestoreMasters was ranked #29 of the Top 100 Roofing Contractors in the nation.
In addition to metal roof repair, RestoreMasters offers: all common types of roofing systems, shrink wrap roofing, roof tarping, loose lay membrane roofing, emergency roofing & repair, water removal, water damage restoration, mold remediation, catastrophic damage inspections, property damage documentation, testing & damage reports, fencing & perimeter security, disaster recovery services, permanent roof replacement, interior restoration services. and general contractor services.
Do you need roofing help?
If you are worried about storm damage or think you may have a roof leak... Contact us for a complimentary roof inspection & damage assessment › RestoreMasters is an experienced full-service restoration contractor - offering turnkey solutions including roofing, siding, windows & doors, interior restoration, exterior repairs & more. With offices nationwide, we are here to serve you!
CALL ››››› (800) 400-ROOF